Dir: Dietrich Brüggemann. Germany-France. 2014. 107mins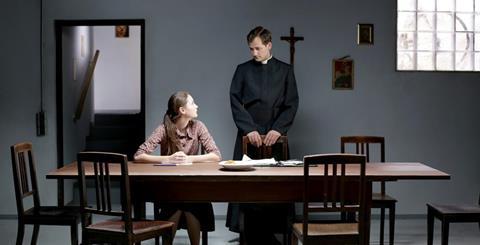 A rigorous, stylistically impeccable tale of a 14 year-old girl who, in a sheer act of faith, sacrifices herself to restore the health of her autistic younger brother, Dietrich Brüggemann's film consists of fourteen ascetic, immobile,takes, each one inspired by the stations of Christ's Calvary on the way to Golgotha. Shades of Michael Haneke and references to classic religious paintings will certainly not go unnoticed, though rest assured the Catholic Church is not about to integrate this new version of the Holy Passion of Christ into its catechism.
Brüggemann, who is out to prove the absurdity of it all, works a bit like a mathematician.
Played by all participants with a straight face which helps underline the bitter irony behind it, the Stations Of The Cross (Kreuzweg) marks the progress of the protagonist towards her inevitable self-immolation. This ferocious satire of the ultra-orthodox Catholics in the south of Germany belonging to the fictitious Society of St. Paul (similar in spirit to the real Society of Pius X, known for rejecting all the semi-liberal reforms adopted by the Vatican since the late sixties) will be highly praised by all those opposing religious fanaticism, but will have little effect on the fanatics themselves, who are unlikely to be ever exposed to it.
Starting with a session of pure indoctrination, which more or less lays the foundations to the type of faith, adolescent Maria (Lea van Acken) is exposed on the one hand to the bullying remonstrations of her rigidly unbending, pious mother (Franziska Weisz), and on the other hand to a gentle advances by a boy her age (Moritz Knapp) whom she chases away.
In the background, vividly described by her parish priest, Pater Weber (Florian Stetter), there is a world full of sins, demonic temptations, satanic traps and untold risks and dangers that she has to fight constantly, as the dedicated soldier of Christ she has vowed to be.
On the verge of Confirmation, which should make her fully responsible for her acts, she is persuaded by her mother's spiteful bickering that she is on the verge of Sin and by her priest's admonitions that she should embrace a life of sacrifice and devotion if she wants to reach the open arms of Jesus, once she goes to Heaven. She starts by giving up every bit of comfort in her life, she wipes out any expression of joy from her face, and ends by convincing herself the only way to preserve her purity is to stop eating altogether and let life ooze out of her before she fails her faith.
Brüggemann, who is out to prove the absurdity of it all, works a bit like a mathematician. He states his intentions in the very first scene as he imposes a style that allows no deviations and sometimes tends to attract more attention than it should. There is little attempt to go beyond their metaphorical purpose, but the casting helps.
The contrast between Florian Stetter's handsome, friendly face and his practically diabolical way of manipulating innocent children makes him even more fearsome and dangerous. Franziska Weisz's mother is a monster of pretentious righteousness and even her final scene of attrition does not change that impression; her husband (Michael Kamp) is no more than a passing shadow and Lea van Acken's pallor establishes her early on as the helpless victim of a callous, unforgiving system.
To make sure that he puts the blame on extremists only, Brüggemann's script has a French au-pair girl, Bernadette (Lucie Aron) who offers a warm, humane, far more sympathetic version of Catholicism. The choice of her name couldn't be an accidental reference to the patron saint of Lourdes, could it?
Production companies: UFA Fiction, SWR, ARTE, Cine Plus Media Service
International sales: Beta Cinema, www.betacinema.com
Producers: Jochen Laube, Leif Alexis, Fabian Maubach
Co-producers: Stefanie Groß, Barbara Häbe, Frank Evers, Helge Neubronner
Screenplay: Dietrich Brüggemann, Anna Brüggemann
Cinematography: Alexander Sass
Production designer: Klaus-Peter Platten
Main cast: Lea Van Acken, Franziska Weisz, Florian Stetter, Lucie Aron, Moritz Knapp, Michael Kamp, Birge Schade, Hans Sischler, Ramin Yazdani, Georg Wesch