Dir. Michael Polish. US. 2009 109 minutes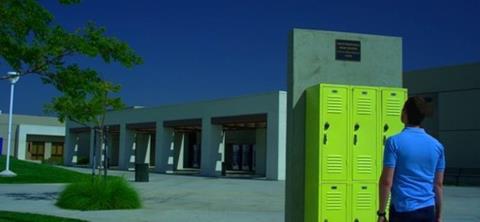 Whether charting the yearnings of Siamese twins (Twin Falls Idaho) or residents of a flood-threatened Montana town (Northfork), Michael and Mark Polish have invariably shuffled to the beat of their own drummer. Shifting gears to the uptempo demands of a high-school homecoming comedy, however, the California brothers succumb to a failure of nerve.
Stay Coolhas flashes of cheeky humour and a visual panache one has come to expect from the Polish crew, but, disappointingly, it lacks an idiosyncratic vision potent enough to lure audiences fried from all the tired tropes about the townies and teachers that made school days such a drag.
Garden State fielded Zach Braff as a prodigal son who flees to his Jersey home after a failed bid at Hollywood fame. Here, Mark Polish's 37-year-old Henry McCarthy is a dyspeptic but successsful New York writer returning to his California hometown 20 years later to be the alumni speaker at the high school graduation.
The community Henry lands back in is a soulless suburban sprawl populated by pod people: alcoholic moms, car-obsessed dads and a pair of high school buddies clutching on to their fading youth (Astin, overplaying against type as a gay beautician and Josh Holloway as a tattoo-parlour dude with a serious case of Bill and Ted syndrome). All that's left of his old high school, which has been levelled, is a bank of lockers affixed to a stone monument, an out-of-it principal (Chase) and a censorious schoolmarm (Frances Conroy). Where are the hip, neurotic teachers who inspired Henry to become an artist?
Henry finds romantic refuge in the aptly named Scarlet (Ryder), a fickle pharmacist he carried a torch for as a student. Scarlet is eager, but held back by inner demons and a possessive ex, the high-testosterone school coach. That latter complication overstays its welcome, as does a flirtation by a senior-class tease (Duff, pushing her teen-queen expiration date).
The second half of Stay Cool devolves into a Duran Duran-generation Candide, minus the satiric bite, as Henry gets knocked about by the various predators at his alma mater. Henry's depressive passivity, a character flaw accentuated by Polish's one-note performance, grows more irritating with every scene.
Stay Coolderives some comic bounce from Jessica St. Clair as Scarlet's garrulous girlfriend and Scott Michael Campbell as an aggressive cop who turns out to be Henry's old schoolmate (a recycled gag that was fresher when first used in Garden State). The soundtrack is strong on '80s FM memory lane. End-credit outtakes are business as usual.
Production companies
Prohibition Pictures
Initiate Productions
International sales
Jonathan Sheldon
Producers
Mark Polish
Michael Polish
Jonathan Sheldon
Janet DuBois
Screenplay
Mark Polish
Cinematography
M. David Mullen
Main cast
Mark Polish
Winona Ryder
Hilary Duff
Sean Astin
Chevy Chase