Dir/scr: Naomi Kawase. France-Japan-Spain. 2014. 119mins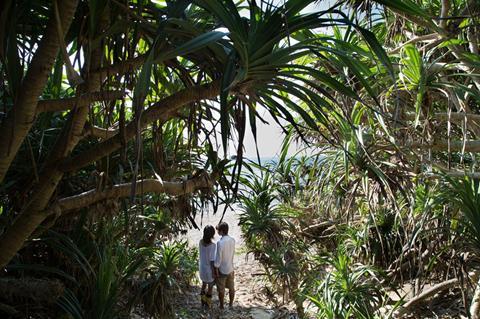 The waves crash into Naomi Kawase's idyllic Japanese island, with two rattling typhoons framing the action in Still The Water, the Japanese auteur's otherwise gentle, contemplative take on death and the passing of generations for two young teenagers who are learning how to live. Kawase delivers a striking meditation on what are clearly deeply personal themes, underscored by a profoundly moving death that gives the film its heart and soul.
Throughout, Still The Water is visually striking, growing in power from early, controlled shots to a more free-flowing climax.
Still The Water is an easier film to watch than some of Kawase's previous work, visually striking in her first collaboration with Kore-eda's regular cinematographer Yutaka Yamazaki. However, the coming of age of two teenagers in love isn't exactly fresh cinematic territory, even in remote tropical locales, and some of its symbolism could be dismissed as obvious – a 500-year-old Banyan tree, for example, seems to exist primarily to be uprooted. Yet other old familiars, in particular the slaughtering of a goat, gain a new perspective as a young girl who is losing her mother watches life depart in ebbing close-up.
Throughout, Still The Water is visually striking, growing in power from early, controlled shots to a more free-flowing climax. On Kawase's island, called Amami-Oshima, nature is all-powerful and commands respect, although the director makes a brief detour to Tokyo during which her love for the city is also palpable. Her message here is about how life goes on – Kawase's waves, like Shakespeare's, signaling the minutes which hasten to their end. This central message may, at times, feel simple and repetitive, but it is beautifully illustrated through the story of young Kyoko (Jun Yoshinaga), whose mother (Miyuki Matsuda), a local shaman, is about to die. "I'm on the threshold between gods and humans," she says.
Kyoko is in love with 16-year-old Kaito (Nijiro Murakami), who came to the island when his parents' marriage fell apart. He lives with his absentee mother, a waitress (the island is a surfer destination), and at the beginning of the movie finds a tattooed body in the ocean in the aftermath of the first typhoon.
Kawase surrounds her young actors with more experienced professionals, including Tetta Sugimoto as Tetsu, Kyoko's surfer father, and old-timer Fujio Tokita as weathered fisherman Kamejiro who talks to the children about the passing of time and the freedom they should carve out to be themselves.
The score is by Kasiken, using piano and songs native to the island as well as traditional sanshin music. Yutaka Yamazaki provides images that are crisp and clear, fluid (as in the underwater shots) and occasionally urgent - from boiling seas to the hand-held work of the tropical storms. Colours are crisp, from the glowing white shirts of the school uniforms to the lushly green tropical vegetation, including, memorably, a tracking shot through a mangrove forest.
Production companies: Wowow Films, Comme Des Cinemas
International sales: MK2, http://www.mk2pro.com
Producers: Masa Sawada, Takehiko Aoki, Naomi Kawase
Cinematography: Yutaka Yamazaki
Editor: Tina Baz
Music: Kasiken
Main cast: Nijiro Murakami, Jun Yoshinaga, Miyuki Matsuda, Tetta Sugimoto, Makiko Watanabe, Jun Murakami, Fujio Tokita