Dir: Conor McMahon. Ireland. 2012. 85mins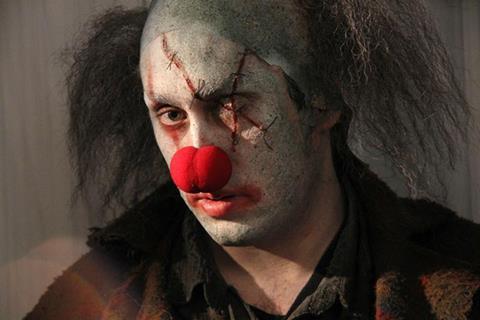 Popular UK TV/radio stand-up comedian Ross Noble makes his acting debut – aside from a bit part in the Comic Strip's The Hunt For Tony Blair – in this Killer Klown-themed horror comedy from Irish director-writer Conor McMahon, previously creator of the zombie movie Dead Meat.
The horror stuff is obvious, but staged with showstopping flair and buckets of blood.
Like the Irish Boy Eats Girl and the British Tormented, Stitches adopts the model of the American high school horror picture, with caricature kids meeting ghastly fates between ghastlier jokes and a general air of teenage misanthropy. The film screened at London's FrightFest event.
Though Noble's shambling clown Stitches retains a touch of end-of-the-pier jackanapesery, this looks to the likes of Troma's The Toxic Avenger or Class Of Nuke 'Em High for inspiration, and has a whiff of '80s direct-to-video product about it, not least in the use of primarily physical(very physical) gore effects rather than CGI to stage the grand guignol set-piece horrors.
It opens in disgraceful mode with drunken, chain-smoking Richard 'Stitches' Grindle (Noble) - a bit too close to Reece Shearsmith's Mr Jelly from Psychoville for comfort - breaking short a sexual encounter with a clown groupie in his caravan to dash off to a birthday party for a sensitive lad.
Not only is his act is sabotaged by the unruly kids, but a freak accident leads to his impalement on a kitchen knife. He is buried in a clowns' funeral and – in a lone touch of the truly sinister – the egg on which his make-up is registered (Stitches is dismissive of this tradition as 'clown shit', but the plot depends on it|) is ceremonially interred in a local clowns' crypt.
Some time later, teenage Tom (Tommy Knight, of the Doctor Who spinoff The Sarah Jane Adventures) remains clown-phobic and his former child guests have grown up to be variously troubled – a compulsive womaniser, an arrogant idiot, an obsessive eater, etc. When Tom is left alone in the house for a weekend, he is persuaded to throw another party and an invitation wafts over to Stitches' grave, summoning him back from the dead for revenge.
Knight and Gemma-Leah Devereaux (as the nice girl heroine) have a sweet, appealing presence but the rest of the cast mug dreadfully so that Noble's actual clowning doesn't seem that exaggerated and it's one of those horror films which mistake having people be relentlessly unpleasant to each other for character development.
The horror stuff is obvious, but staged with showstopping flair and buckets of blood – the kid who sneered at Stitches' balloon-animal skills has his intestines pulled out and looped into animal shapes and then gets his head blown up until it pops.
A last-reel attempt to banish Stitches through sympathetic magic by cracking his personal egg has an interesting idea, but is clumsily developed. Noble manages the trick of playing a failed clown who tells unfunny jokes well enough, but the film would have been stronger if Stitches were funnier at first and scarier later on.
Production companies: Fantastic Films, Irish Film Board, MPI Media, Tailored Films
International sales: MPI Media Group, www.mpimedia.com/
Producers: Julianna Forde, Brendan McCarthy, John McDonnell, Ruth Treacy
Executive producers: Hamza Ali
Screenplay: Conor McMahon, David O'Brien
Cinematography: Patrick Jordan
Production designer: Ferdia Murphy
Main cast: Ross Noble, Tommy Knight, Gemma Leah Devereaux, Eoghan McQuinn, Lorna Dempsey