Dir: Andreas Dresen. Germany. 2011. 110 mins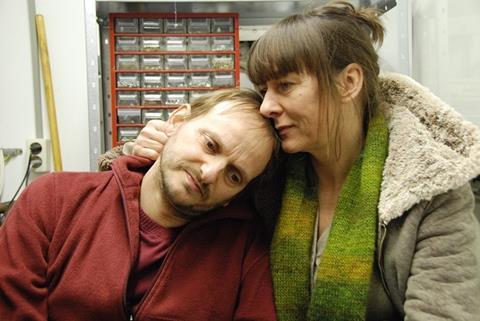 A good life is measured by the quality of its passing in Stopped On Track (Halt Auf Freier Strecke), an emotionally intense, dramatically compelling account of a dying man's last months. Director Andreas Dresen puts the viewer through the wringer in a film that is unrelentingly heartbreaking but also life-affirming.
Dresen's working methods on Stopped On Track adhere closely to the principles of Mike Leigh.
The value of a loving family, loyal friends, fond memories and strong connections never seems as important as in the moment when all of these things disappear forever. There is a commercial price to pay for the commendable candour of his approach. Most audiences would rather watch Johnny Depp chase the fountain of youth than attend a film in which they are confronted by their own mortality.
Director Andreas Dresen has a fondness for boldly going where others fear to tread from septuagenarian sex lives in 2008's Cloud 9 (Wolke 9) to terminal illness in Stopped On Track. Dresen's growing reputation and strong critical support should help Stopped On Track to overcome resistance to the subject matter and attain a respectable theatrical life in line with his previous films.
Dresen's working methods on Stopped On Track adhere closely to the principles of Mike Leigh with all of the dialogue improvised by the actors, genuine members of the medical profession woven into the story and situations culled from a truthful distillation of life rather than the imagination of a screenwriter.
The sledgehammer blow is delivered in the opening scene as a (genuine) doctor informs 40 year-old Frank (Milan Peschel) that his brain tumour is inoperable and that he has a matter of months left to live. His wife Simone (Steffi Kuhnert) must decide how to break the news to their children, 14 year-old Lili (Talisa Lilli Lemke) and eight year-old Mika (Mika Nilson Seidel). The son offers simple, unconditional love whilst the daughter's response is more complex.
The film progresses through all the expected stages of terminal illness from anger to fear, denial and acceptance showing the physical decline of Frank and the impact on his nearest and dearest.
His behaviour becomes unpredictable, his presence a burden as they must attend to practicalities like funeral arrangements. Neil Young's Dead Man is the music of choice for his funeral as long as they can play the entire album.
The film is realistic apart from occasional moments that stray into fantasy-Frank's tumour takes human form - shades of Bertrand Blier's 2010 fllm The Clink Of Ice (Le Bruit des glacons) - and he hears radio bulletins offering progress reports on its development. Those moments feel a distraction from the overall tone but do provide brief and acceptable respite from the unutterably sadness of what is unfolding before our eyes.
Milan Peschel is an effective, everyman presence as the dying Frank whilst Steffi Kuhnert rises to the more emotionally demanding role of the wife coping with everything that life and death throws in her way.


Production companies: Rommel Film E.K., Rundfunk Berlin-Brandenburg, Arte
International sales: The Match Factory, www.the-match-factory.com
Producer: Peter Rommel
Screenplay: Andreas Dresen, Cooky Ziesche
Cinematography: Michael Hammon
Production designer: Susanne Hopf
Editor: Jorg Hauschild
Main cast: Milan Peschel, Steffi Kuhnert, Bernhard Schutz, Talisa Lilly Lemke