Dir: Johannes Roberts. UK. 2012. 87mins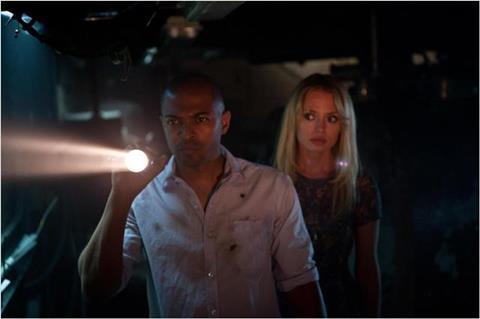 An alien monster on the loose comes up against the equally frightening sight of a couple bickering about the cause of their messy break-up in British sci-fi/horror film Storage 24, which does a pretty good job of sticking to the 'killer in a confined space' rules despite offering nothing massively original to the popular sub-genre.
Noel Clarke does a fine job as the determined everyman whose enthusiasm to fight back stems from the disappointment of a failed relationship.
The film is very much driven by prolific multi-hyphenate Noel Clarke (he produces, originated the screenplay and stars) whose force of personality gives the film its energy. Sitting someway between Alien and a more chilling episode of Doctor Who, the film has the genre chops and gore quota to appeal to international fans of sci-fi horror, and could break-out on a modest level if handled correctly.
Directed with a good deal of imagination and energy by Johannes Roberts (who made British hoodie chiller F), the film takes a nice spin on the old 'monster picking off folk one by one' gambit by making the backdrop a London storage facility that happens to be locked down because of an incident in the city.
That 'incident' happens to be the crash of a military plane carrying a cargo of something not of this world. An alien beastie – all claws and teeth and rather familiar to the one in Super 8 – happens to drop into a storage unit just as five friends arrive there in the midst of their more modest domestic dispute.
Everyman Charlie (Clarke) just can't understand why he has been dumped by long-time girlfriend Shelley (Antonia Campbell-Hughes) and talks about her constantly to best pal Mark (Colin O'Donoghue as they drive to the unit to pick up some household items. At the storage unit, though, Charlie is upset to find Shelley, accompanied by her friends Nikki (Laura Haddock) and Chris (Jamie Thomas King) also picking up a few items.
When the power goes down and the lights go out the bickering bunch find themselves being stalked by something rather nasty, and after piecing together radio and television broadcasts they come to realise it is something not of this world.
Noel Clarke does a fine job as the determined everyman whose enthusiasm to fight back stems from the disappointment of a failed relationship (and a plot twist that breaks his heart even more), and while Antonia Campbell-Hughes (a Berlin Shooting Star this year) shows her acting credentials as the film spirals towards its bloody climax (her character is a little bland to begin with) the real find is Laura Haddock as her best pal Nikki who brings a welcome dose of feisty charm and sense of humour to the proceedings.Her character ends up being more interesting as well as being willing to enter into battle, compared to the weak-willed blokes (Charlie aside) who quiver at the sight of a snarling monster…wimps.
There is plenty of blood and gore as the mismatched group fight back begins (inventively using fireworks and a small wind-up furry toy dog at one point), and despite a few slow moments director Johannes Roberts keeps the film nicely paced and makes great use of the enclosed environment, though an alien invasion ending coda feels like it is just trying too hard given the low-budget nature of the project.
Production companies: Unstoppable Entertainment, Medient Entertainment, Big Yellow Films
International sales: Independent, www.independentfilmcompany.com
Producers: Manu Kumaran, Noel Clarke
Executive producers: Pankaj Rajani, Johnny Fewings, Josh Varney, Pankaj Kapoor
Screenplay: Johannes Roberts, Davie Fairbanks, Marc Small, based on an original idea and screenplay by Noel Clarke
Cinematography: Tim Sidell
Editor: Martin Brinkler
Production designer: Malin Lindholm
Music: Christian Henson
Main cast: Noel Clarke, Colin O'Donoghue, Antonia Campbell-Hughes, Laura Haddock, Jamie Thomas King, Ned Dennehy, Geoff Bell