Dirs: Max Giwa, Dania Pasquini. UK. 2012. 85mins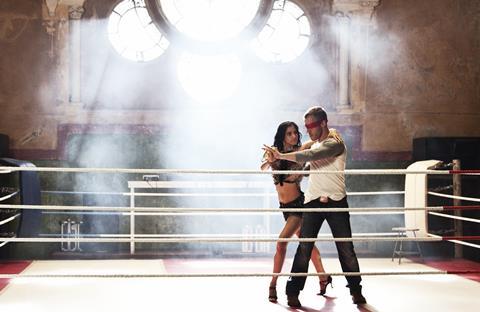 StreetDance heads to mainland Europe in this vibrant sequel which fuses salsa to the already energetic street dance mix and comes up with a bit of fun and frothy 3D entertainment that is aimed fair-and-square at the dance-loving family marketplace.
StreetDance 2 is resolutely family friendly.
The original StreetDance was a breakout success in the UK where it was the highest-grossing UK indie film of 2010, and with an audience appetite for dance films still in place – as evidenced by the Step Up sequels and plethora of dance talent programmes on television – the film should appeal to distribs looks for a musical 3D release.
The sequel – which screened to UK press recently and has a private market screening in Berlin – shot on location throughout Europe, including London, Rome, Berlin and Paris, bringing together a crop of new and talented dancers.
The storyline may well be reassuringly familiar (most dance films have the same structure) but co-directors Max Giwa and Dania Pasquini - who directed the original – know how to make good use of the 3D and when the dance kicks in the film really finds its sense of rhythm.
Street dancer Ash (Hentschel) falls flat in his face when taking part in a dance battle against top crew Invincible, but sees his chance at redemption and revenge when Eddie (George Sampson, who featured in the original film) suggests getting a crew of the best European street dancers together to take part in a high profile street dance event in Paris.
Cue a whistle-stop tour around Europe – leaping from Copenhagen to Barcelona and from Berlin to Paris (with a longish stop-off in Rome for a dance/comedy sequence – before the freshly formed team of Euro talent assemble in a hostel ready for an intense rehearsal period.
After popping into a local bar, Ash and Eddie see something that could possibly give their team the edge – the spectacular and sultry Eva (Boutella, a real find and surely destined to be a big star) whose vibrant salsa dance skills open up the concept of a Latin/Street dance fusion.
The opening Euro tour section is a little clunky, but once Sofia Boutella arrives on the scene the film starts to deliver a needed sense of heat and passion, and before long the expected on-off romance between Eva and Ash comes along.
She is a real vibrant personality, brimming with sex appeal as well as having the acting skills to go alongside some lithe dancing abilities. She has danced in two of Madonna's world tours and was the lead in the promotional video for Michael Jackson's posthumous single release.
She gives the film a real energy. The rest of the dancers are supremely talented, but she has the personality to help drive the to-and-fro of the middle section where she and Ash learn each other's dance styles. Naturally enough, the film spirals off into a tasty dance off climax staged in a brimming ampitheatre.
Some much-needed comedy class comes in the form of Tom Conti, who polishes off his Euro accent to play Eva's uncle Manu, who also happens to own the bar where he dances. Conti is winking-charm personified, and a scene where he also shows of his dance skills with street dancer Bam Bam (Elisabetta Di Carlo) is to be cherished.
StreetDance 2 is resolutely family friendly – things get steamy between Eva and Ash, but never too steamy – and Max Giwa and Dania Pasquini are smart enough to know that 3D dance is what the film is all about…and make sure they deliver a series of toe-tappingly cool and athletic dance sequences.
Production companies: Vertigo Films, BFI, BBC Films
International sales: Protagonist Pictures, www.protagonistpictures.com
Producers: Allan Niblo, James Richardson
Co-producers: Henning Ferber, Maria Grazia Vairo, Marcus Welke
Screenplay: Jane English
Cinematography: Sam McCurdy
Editor: Tim Murrell
Production designer: Richard Bullock
Main cast: Falk Hentschel, Sofia Boutella, Tom Conti, George Sampson, Akai Osei-Mansfield, Elisabetta Di Carlo, Stephanie Nguyen, Samuel Revell, Kaito Masai, Brice Larrieu, Ali Ramdani, Niek Traa, Ndedi Ma-Sellu, Delphine Nguyen