Dir: Andrew Kötting. UK. 2012. 94mins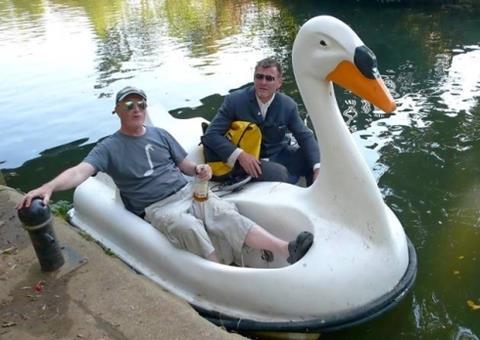 An engagingly eccentric aquatic odyssey, Swandown is an oddball collaboration between artist/film-maker Andrew Kötting and writer and cultural commentator Iain Sinclair as the pair travel by plastic swan pedalo from the British south coast resort of Hastings through waterways to the East London site of the upcoming summer Olympics.
There are moments of tender lyrical beauty.
Despite this sport of wacky journey having the surface appearance of one of those television programmes where a couple of comedians do something funny on the river, get drunk and chat to locals, Swandown is more akin to a gallery installation piece as it blends archival footage, readings and thoughtfully composed sequences. The film opens for a brief UK run prior to the Olympics, though international profile will be doubt to limited to festivals that have previously screened Kötting's work and artist screenings in galleries.
For Sinclair the journey is largely about his annoyance at the London OIympics and more specifically its impact on his beloved Hackney, the suburb of London where he has lived for many years. As comedian Stewart Lee, who takes a stint in the pedalo at one point, comments: "Iain Sinclair hates the Olympics. He doesn't think anything should happen in Hackney without his permission".
For Kötting it is about the "ridiculousness of the gesture", and "spending a month in same clothes", though his investment in the journey is much more physical as he leaps into the sea to launch the craft (which is christened 'Edith', named after the ancient English queen Edith Swan-Neck), swims alongside during the river journey and gets a nasty leg infection after being bitten.
At the end of the film there is a written statement of what the trip involved. 'For four weeks throughout the months of September and October 2011 Andrew Kötting and Iain Sinclair pedalled a plastic swan over 160 miles from the seaside in Hastings to Hackney in East London. They drank 84 litres of water, 2 bottles of whisky, 4 bottles of wine and 24 cans of special brew. They got through 8 pairs of sunglasses, a handmade suit, a pair of walking boots and a camper van. Andrew Kötting wore the same clothes throughout. Iain Sinclair was changed regularly.'
Quite why Kötting opts to wear a suit for his watery odyssey is never really clear, and while the pair are kindred spirits the film makes no real attempt to play on their personal relationship – it is more about grand statements that bothersome bickering – and it is only in the final scenes when Sinclair has to leave the craft to catch a flight that Kötting opens up a little, admitting that Sinclair's absence is "surprising and upsetting" and that he misses the banter.
Others who join the trip en route to help pedal include comic writer Alan Moore, scientist Dr Mark Lythgoe (who talks about black swans) and orator and artist Marcia Farquhar, while others (such as artist Dinos Chapman and artist/film-maker Ben Rivers) never made the final cut.
There are moments of tender lyrical beauty – misty rivers and beautiful backdrops – though these are self-consciously balanced by footage of gritty urban London and filthy rivers, and while some folk aid them along their journey there are just as many who jeer and shout at them. But then, this may well be an editing decision – as a twosome they never seem the happiest of pairs and offer little but quirkiness to those who happen upon them.
Production companies: Fly Film, BFI, Britdoc, Channel 4, Abandon Normal Devices, Cornerhouse Artist Films, Screen South
Contact: Fly Film, http://flyfilm.co.uk
Producers: Lisa Marie Russo
Executive producers: Kate Ogborn, Marc Munden
Screenplay: Andrew Kotting, Iain Sinclair
Cinematography: Nick Gordon Smith
Editor: Cliff West
Music: Jem Finer