Dir: Jim Weedon UK. 2014. 86mins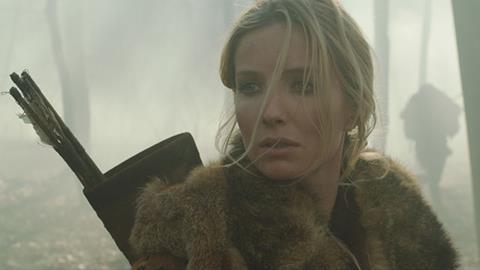 Those who live by the sword die by the sword in Sword Of Vengeance, bloodthirsty action fare in which director Jim Weedon transports a spaghetti western sensibility to the barren landscapes and feuding tribes of 11th century England. A stylish, low-budget production cannily serves up everything a self-respecting genre fan could desire from lashings of blood and noble sacrifice to brief moments of nudity and sex.
It is a film that demands a good deal of sneering, swaggering and posturing rather than deeply felt performances.
The only things that appear to be lacking is an original story and some decent dialogue. Theatrical prospects may be a stretch but niche labels, fantasy festivals and genre lovers should allow it to cut a profitable swathe through ancillary markets following its world premiere at Sitges.
Stanley Weber's Shadow Walker is very much in the Eastwood tradition down to the squint in his eye and the poncho-like garment draped over his strapping shoulders. He is a man with no name but a remarkably good hair stylist to maintain those immaculate cornrows.
Opening titles inform us that the Battle Of Hastings has left Saxon England defeated and the north ruled by the merciless Earl Durant (Karel Roden) and his sons Lord Artus (Gianna Giardinelli) and Lord Romain (Edward Akrout). Shadow Walker is the only one fearless enough to confront them before being taken prisoner by the suspicious Anna (Annabelle Wallis, star of recent horror hit Annabelle) and her tribe. Shadow Walker maintains his status as a taciturn loner even as his bravery becomes a rallying call for Saxon farmers to unite against the tyranny of Durant. It also becomes clear what is motivating his personal quest for revenge.
The plot is pretty basic but served up with some style by Weedon, an award-winning commercials director and editor. His vision of England is bleak, oppressive and uniformly monochrome. It sometimes seems as if the only colour in the palette of cinematographer August Jakobsson is the crimson of fresh blood. There is a good deal of blood though as limbs are hacked off, throats are slit and eyes plucked out with merry abandon.
Weedon keeps it tight and spare but the real drawbacks are the weary plotting and cheesy dialogue along the lines of " vengeance is my only belief" and "make ze most of the hours you have left Saxons."
It is a film that demands a good deal of sneering, swaggering and posturing rather than deeply felt performances. Annabelle Wallis is a little too genteel and laidback for the fiery Anna but Stanley Weber looks a lot more comfortable as an action hero than he did in the romantic comedy Just Another Happy Ending. The film is dedicated to actor David Legeno who died earlier this year.
Production company: Vertigo Films
International sales: Protagonist Pictures, www.protagonistpictures.com
Producers: Rupert Preston, Huberta von Liel
Executive producers: Allan Niblo, James Richardson, Nigel Williams, Matthew Read
Screenplay: Julian Unthank, from a story by Matthew Read
Cinematography: August Jakobsson
Editor: Tommy Boulding
Production designer: Jelena Sopic
Music: Stephen Hilton
Main cast: Stanley Weber, Annabelle Wallis, Ed Skrein, David Legeno, Karel Roden