Szabolcs Hajdu talks to Theodore Schwinke about the inspiration behind and execution of his new film, which recently won the Golden Reel at the 41st Hungarian Film Week.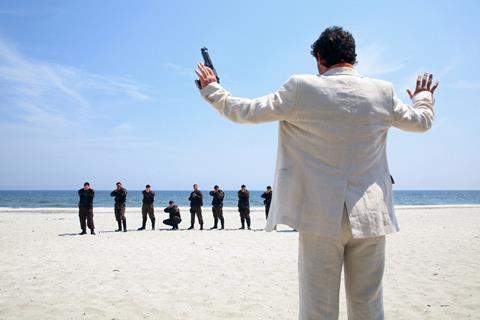 Szabolcs Hajdu's 1997 short Necropolis won the Best Feature award at the Mediawave festival in his native Hungary. His first feature-length film, Macerás Ugyek, won best feature at the Molodist International Film Festival. But it was the moving drama White Palms that quickly raised Hajdu's international profile, screening at festivals in Cannes, Cluj, Karlovy Vary, Toronto and Thessaloniki, among others. Hajdu returns to the international scene this year with Bibliothèque Pascal— part picaresque, part dystopian fantasy.
White Palms was more or less about my childhood. I grew up in a grey housing estate, following the same grey path every day to a very grey school, wearing the same uniform as my classmates. I followed the same pattern for 10 or 12 years. I needed to create a fantasy world to survive that kind of monotony. So while White Palms describes the world of my childhood from the outside, Bibliothèque Pascal is about the kind of internal world that I created.
But isn't that kind of fantasy just the domain of artist and filmmakers?
Not at all. My wife, Orsolya Török-Illyés, who plays the main character in the film, went to jail recently because she didn't pay her auto registration. She could either pay the fine or go to jail. She chose the second option, because that way she would at least gain the experience. Anyway, she was shut up with some prostitutes, one of whom was telling stories all day long — stories about going abroad which became more and more bizarre. Of course she has probably never even been abroad. She stands by the side of the road all day. But this is her version of telling stories to survive.
What locations did you use?
Costanza, Romania; Liverpool, Vienna and Budapest. The interior scenes of the Bibliothèque Pascal itself were shot in Hungary, where we built the sets. For the street scenes outside the club, we shot on live locations in Liverpool. It was too expensive to recreate the street scenes in Romania or Hungary. It was much cheaper to use the live locations.
Why did you use Romanian actors, settings and language in so much of the film?
The central part of Romania - Transylviania, essentially - is mostly Hungarian, linguistically and ethnically. My wife comes from Transylvania, and I lived there for a time, so we have a lot of experience linked to this part of the world. The motifs you can see in the film are also based on my experience there. Plus Romanian actors are very good and very professional.
Why do Eastern European film continue to portray characters escaping to the West, even 20 years after the fall of communism?
We idealise the Western world like it's some kind of paradise. Even the generation born in the 1990s still sees it this way. I thought it had some correlation with communism, but actually it's not linked to politics at all. One reason is economics — the Western world is richer than Eastern Europe. The other is the appeal of Western European culture — the ensemble of German, French, Italian and English cultures.
How did you find Shamgar Amram, who plays Pascal in the film?
I was in London, walking around Covent Garden and I came upon this group of 300 people watching this guy with a unicycle. Only the last 10 minutes involved the unicycle, the other 30 minutes was him just improvising and doing stand-up. I invited him to Budapest for a casting. We only needed half an hour, he was so convincing.
What are you working on now?
I was just at Cinemart in Rotterdam pitching a new project about an African footballer in the third league in Hungary. When he gets involved in a match-fixing scandal, the extremist right-wing fans want to kill him. The person who had bribed him helps escape him to a hiding place in the eastern part of the country, which turns out to be a modern slave camp. From there it becomes a modern Western. I'm co-writing it with Jim Stark. We're looking for co-producers and world sales. We plan to shoot in 2011.