The hotshot Hollywood duo Roberto Orci and Alex Kurtzman explain how they learned the key elements of screenwriting and applied them to some of the biggest pictures in the business.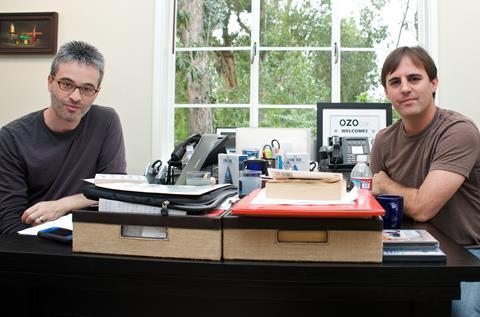 Roberto Orci and Alex Kurtzman might not be household names just yet, but in Hollywood circles they are already famous. The screenwriting duo have won the respect of some of the biggest names in the business - Steven Spielberg, JJ Abrams and Michael Bay among them. They are in the thick of things in summer 2009, having written both Star Trekand Transformers: Revenge Of The Fallen and produced Sandra Bullock comedy hit The Proposal through their rapidly expanding Kurtzman/Orci Productions. For these two 35 year olds, the future looks exceptionally bright.
But sitting in the boardroom of their office bungalow nestled in Spielberg's hillside Amblin compound on the Universal lot, the two young writer-producers explain that their ascent was slow and methodical.
The fact they had been writing together since they met in a French film class at high school when they were 17 meant they already had a fluid working relationship when they took a stab at professional screenwriting in their early twenties. But after a few character-driven scripts, which Orci says were "just terrible", they found their feet in action movies.
"Modern audiences have literally seen every kind of story so one of the ways you can keep things fresh is by playing with the structure."

Alex Kurtzman
"One of the things that was very compelling to us about action movies was that there seemed to be a definitive structure to them," explains Kurtzman. "So we were drawn to the idea of what structure means and how it worked."
"Most people think screenwriting is just the dialogue," adds Orci. "Even more important, potentially, is the order of events. Modern audiences have literally seen every kind of story so one of the ways you can keep things fresh is by playing with the structure. And of course there's a difference between structure and plot. The plot of your life is that you were born, grew up, did this or that and died. The structure can start with your death."
Sitting down with pen and paper, the two young men decided to focus on Martin Brest's 1988 chase movie Midnight Run and analyse what made George Gallos screenplay work.
"It was such a great character movie in the context of a chase movie," says Kurtzman. "So we got the script - not just the shooting script but all the drafts leading up to it because we wanted to see how a script evolves from its original concept. And then we could see how much is [the film's stars Charles] Grodin and [Robert] De Niro improvising. But the structure stayed in place from the start."
Determined to apply their newfound action savvy, the duo got their first job working as staff writers in the syndicated action TV shows Hercules: The Legendary Journeys and Xena: Warrior Princess produced by Sam Raimi and Rob Tapert. They were both just 23.
Breaking into features
Even though they were quickly promoted to head writers on the shows, Orci and Kurtzman knew that syndicated television was not exactly the arena which would grab the attention of Hollywoods movie people, so they wrote a political thriller script called 28th Amendment. As they had hoped, it caused a stir. The story of a young US president uncovering a hidden power structure controlling the nation, the script was sold to Warner Bros in 1999 and Richard Donner was attached to direct.
Although the film didn't happen at the time, it vaulted them onto a new level in Los Angeles. They were hired by Abrams on his then new TV show Alias, on which they worked for two-and-a-half seasons. By 2005, they had two movie credits in the can: The Legend Of Zorro for Spielberg's Amblin and Sony, and Michael Bay's The Islandfor DreamWorks.
A move into production seemed like a natural progression for them and they are in year five of a first-look deal with DreamWorks which is renewable every two years. "This is the house that Steven built," laughs Orci about the offices they sit in just a short walk from Spielberg's own office.
Indeed Spielberg came to them with what would become their first producing project, Eagle Eye.
But production work has not distracted the two from their core business as one of the hottest writing teams in town. In 2005, they were asked by DreamWorks to look at writing a screenplay of Hasbro's popular toy franchise, Transformers. "Even if we love something, were disciplined about not signing on to get a paycheck only to be replaced later," says Orci. "We have to feel like we can actually deliver and we were very skeptical about Transformers. Fortunately, because a live-action movie had never been done before, it felt like an original."
"The one formula we have is to find the character story first and know that it is honest and true and emotional and ask ourselves if we removed all the gloss could we still make a $2m indie out of that story."

Alex Kurtzman
Star Trek, which they boarded in 2006, had the opposite problem. "You've had 10 movies, five TV shows, novels, comics, 43 years of stuff and with that we had to make sure it was a story worth telling. Fortunately there was this unbelievable gap in the Star Trek history of how Kirk and Spock and the Enterprise crew come together."
Kurtzman goes on to explain that in the case of both films, they focused on the character story first. In the case of Star Trek, that is the story of two wildly different characters who have to learn to live and work together.
With Transformers, the story follows a boy who is an outsider and thinks the only way to get the girl is through his car. "Only after he gets the car does he find out the car is an alien robot who is a member of a sentient alien race involved in a 1,000-year-old war," chuckles Orci.
"The one formula we have is to find the character story first and know that it is honest and true and emotional and ask ourselves if we removed all the gloss could we still make a $2m indie out of that story," explains Kurtzman.
Signing on to Revenge
They both insist that taking on Transformers: Revenge Of The Fallen was not an easy decision. "We couldn't just do it because we did the first one," says Orci. "We had to know what we were going to do."
"They came after us really hard and we passed for a really long time," adds Kurtzman. "The movie had already been greenlit with a release date and we were very skeptical."
Ironically, Kurtzman and Orci signed to the project two weeks before the writers strike commenced in late 2007. Teaming with third writer Ehren Kruger, they wrote a 20-page outline, gave it to Bay and DreamWorks and then joined the strike.
"They prepped the movie off the outline, and, when the strike was over, we had three-and-a-half months between the day the strike ended and the first day of photography. We had to write the script like a bat out of hell." Orci and Kurtzman have just finished the script for Cowboys And Aliens ("It's like you're in the middle of The Wild Bunch and then these aliens land") and are about to start the Star Trek sequel. As producers, they have several films in development including, finally, their first sold script, 28th Amendment, which now has Florian Henckel von Donnersmarck (The Lives Of Others) in the directing chair. They have projects not just at DreamWorks but with studios all over town.
"Oddly we don't feel limited by studios or executives expressing their parameters," says Kurtzman. "Certainly everyone says what they would like the film to be, but at the end of the day everybody knows the only way a movie really works is if someone comes in with a really strong point of view."
Roberto Orci and Alex Kurtzman
Both were born in 1973, Orci in Mexico City and Kurtzman in Los Angeles, but Orci relocated to Los Angeles as a child.

The two met in 1990 while attending the Crossroads School For Arts and Sciences in Santa Monica, a private high school with alumni including Amy Pascal and Michael Bay.

They got their first writing jobs, both aged 23, on syndicated TV shows Hercules: The Legendary Journeys and Xena: Warrior Princess for Sam Raimi and Rob Tapert. They sold their first feature screenplay, 28th Amendment, to Warner Bros in 1999.

Screenwriting credits include The Island, The Legend Of Zorro, Mission: Impossible III, Transformers and its sequel and Star Trek.

Kurtzman/Orci Productions' first film, Eagle Eye, was released in 2008

They are also executive producers on Fox TV series Fringe, which they created with JJ Abrams