Iconic film-maker John Lasseter believes animation should be a collaborative process. He tells Mike Goodridge how he creates the right environment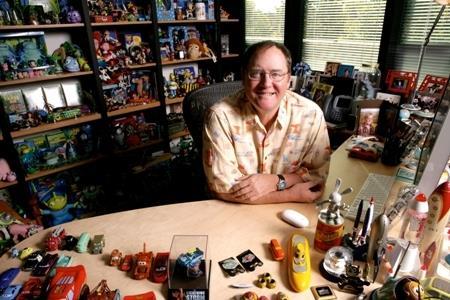 It is perhaps ironic that Pixar Animation Studios' Up is opening the Cannes film festival this year - the first time that an animated film has done so - since Cannes is the home of the auteur film-maker and Pixar practises a system of collaborative film-making which would be entirely alien to the von Triers and Hanekes of this world.
"It doesn't matter whose idea it is. The most important thing is that the best idea gets used."
There is no question that Pete Docter is the lead brain and imagination on Up. He came up with the story and oversaw every creative element, but each step of the way he was assisted by the Pixar 'creative brain trust'. This self-titled group of directors and lead story artists at the studio were shown the film every four months and questioned every move Docter made, adding their own voice and ideas and ensuring the input of everyone helps make the best movie.
"It doesn't matter whose idea it is," says John Lasseter, the iconic film-maker who is chief creative officer at both Pixar and Walt Disney Animation Studios (WDAS). "The most important thing is that the best idea gets used."
On the Croisette where the 'A film by…' credit is commonplace and the auteur theory rules, the Pixar model would seem exceptional. "There's a natural tendency for every creative person to want to get something perfect before they show it to anybody else," agrees Lasseter. "It's inherent in who they are. What we have to do is encourage people to show us their dirty laundry before it's perfect. We live by this phrase coined by my creative partner at Pixar, Andrew Stanton, which is, 'Be wrong as fast as you can.' You are going to be wrong in your first treatment, your first draft, your storyboarding. But you are going to get so much faster to being right by showing it often. That's very hard for creative folks to do."
"There's a natural tendency for every creative person to want to get something perfect before they show it to anybody else."
Lasseter says he is adamant, however, that film-makers at both his studios go through this process every four months of the four-to-five year production process. At each brain-trust meeting, they show a full version of the film. In early stages of production, that full version is composed of storyboards, sound effects, music and dialogue very often recorded by the film-makers themselves. After each session, they have to "refine it, refine it, refine it", according to Lasseter.
"The film-makers might want it to be perfect for me, for the creative leadership of the company, but I'm a director too and I'm used to visualising the final movie in my head even while I'm watching the abbreviated version. The better you can visualise ahead, the better direction you can give if something is going off track."
Proving successful
Lasseter's system of constant collaboration has proved successful in all nine Pixar features to date, which have grossed more than $4.8bn at the worldwide box office. And Bolt, the first Lasseter-supervised film from Walt Disney Animation Studios, was no slouch either, taking nearly $300m worldwide.
Lasseter and Pixar president Ed Catmull have overseen WDAS since Disney's acquisition of Pixar was completed in 2006, and they spend their time between Pixar's campus in Emeryville, northern California, and the WDAS building in Burbank, Los Angeles.
Pixar - whose creative brain trust contains big names such as Lasseter, Brad Bird, Docter and Andrew Stanton - is essentially acting as a model for the new operations of WDAS. When Lasseter came in, he felt the movies were not as good as they should be and that corporate executive culture had become dominant in the Disney creative process.
"Their run of films had been a bit spotty," says Lasseter who worked in Disney's animation department before leaving in 1984 to join the computer-graphics division at George Lucas' Lucasfilm which would later morph into Pixar. "I hadn't been back to the studio for five years or so and I didn't know what I was going to find. What I did find was the most unbelievable talent.
"At Disney we believe in the sincere fairy tale."
So we wanted the two studios to be independent of each other and create their own movies but the one thing we did import to Walt Disney Animation Studios from Pixar is the way we work from the top down, which is that we're a film-maker-led studio and not an executive-led studio."
By ridding the studio of a layer of executives, Lasseter says he eradicated an atmosphere of politics and interference in the creative process which was damaging the films. "It was very hierarchical. Now we have a very strong creative brain trust at Disney like we do at Pixar." Directors at Disney include John Musker and Ron Clements (The Princess And The Frog, The Little Mermaid, Aladdin), Nathan Greno and Byron Howard (Rapunzel, and Aaron Blaise and Robert Walker (King Of The Elves).
Key differences
But there are some key differences between the two facilities and their output. "One difference is that at Disney we believe in the sincere fairy tale," says Lasseter. "So not every movie will be a fairy tale but we will continue to make them. Beauty And The Beast was the last one they made but it's such an important part of Disney as a whole. What's at the centre of every Magic Kingdom the Disney company has? The castle. Look how gigantic the princess brand is within consumer products. You've got to recognise that, and see how important it is to families."
The next WDAS release this November is a return to classic Disney. The Princess And The Frog is in 2D, it is a musical and it features a princess - for the first time, an African-American princess called Tiana.
"I want these talented people to be creatively satisfied for their entire careers and not want to go anywhere else."
Talking to Lasseter, it is sometimes a challenge to get a word in edgewise. He will muse for several minutes on how animators should strive to "make a movie that you and your family can be proud of for the rest of your life". A hard task-master in his insistence on excellence, Lasseter is clearly an inspiration to his staff nonetheless.
His goal, he says, is to make sure that staff at both studios stay put and do not stray to rival companies. "I want these talented people to be creatively satisfied for their entire careers and not want to go anywhere else," he says. "So I tell them to make movies like the ones that inspired them and made them want to dedicate their life to this. As soon as you start doing that, the passion of the entire studio rises because everyone is clear on the task, the vision and the goal, which is to make the movies that we want to watch. Guess what? The rest of the world wants to watch those too. That's what I've discovered."
If he sounds idealistic or even grandiose, Lasseter needs his staff to be committed since, he says, they work "really, really, really hard on these movies. People spend long hours, evenings, weekends during crunch time." His enthusiasm does not just extend to in-house productions but also encompasses direct-to-video sequel production outfit DisneyToon and third-party pickups such as Hayao Miyazaki's Ponyo. The latter is set to open in North America on August 14 in an English-language version featuring the voices of Matt Damon, Cate Blanchett, Tina Fey, Lily Tomlin and Liam Neeson.
Films set to 2012
"[Miyazaki] is a friend and an inspiration to me," explains Lasseter, who is determined to build the US audience for the Japanese master after disappointing showings for Disney releases of Howl's Moving Castle and Spirited Away. "I want to make sure it gets seen. I helped to do the English version which I'm very proud of and I want to make sure it gets marketed and shown. His films are indescribable and it's sort of a mission I have to open people's eyes to him."
"Animation, especially at Pixar and Disney, is the most collaborative art form that's ever been on this earth."
Meanwhile, with Up set to become Pixar's tenth blockbuster hit and Bolt having rejuvenated the fates of Disney's animation unit, Lasseter has two films a year lined up until 2012, including Toy Story 3 and Rapunzel next year, Newt and The Bear And The Bow both from Pixar in 2011 and Cars 2 and King Of The Elves in 2012.
But while he says he "loves to give credit to the film-makers", he never strays from message about the collaborative nature of the process. Egos are allowed, of course, but bad creative ideas driven by egos are not permitted. "Animation, especially at Pixar and Disney, is the most collaborative art form that's ever been on this earth," he declares.
"It has to be, because it takes an awful lot of people to make these movies. The goal with us is to lead them in a way where nobody is working in a silo or trying to do their own thing and protect their idea because it's theirs.
Everybody needs to be working together for the whole."
That may sound straightforward to imitate, but as anyone who has worked in a team of creative people can confirm, it's easier said than done.
Career
Started his career in the animation department of Disney.
In 1984 he moved to the computer-graphics division of Lucasfilm Ltd which was sold to Steve Jobs and renamed Pixar.
An Oscar winner in 1988 for Tin Toy.
In 1995, his Toy Story became Pixar's first feature release, winning a special achievement Oscar and an original screenplay nomination.
He went on to direct A Bug's Life, Toy Story 2 and Cars, and executive produce Monsters Inc, Finding Nemo, The Incredibles, Ratatouille, Wall-E and Up.
In 2006, he became chief creative officer of Walt Disney Animation Studios as well as Pixar.
Education
Character Animation programme at the California Institute of the Arts, receiving a BFA in film in 1979.
Family