The tale of a grumpy old man who attaches balloons to his house and flies to Latin America took five years and hundreds of animators to produce. Director Pete Docter and producer Jonas Rivera take Screen through the process.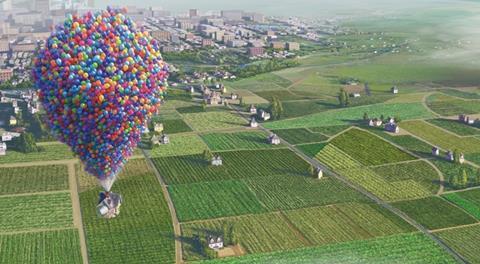 Pete Docter started crystallising the ideas for Up in early 2004 after he had spent most of 2003 on promotional duty for his first Pixar movie, Monsters Inc, and working on the first treatment for last year's Pixar classic Wall-E. He and Bob Peterson, who would end up as head writer and co-director on Up, initially came up with the notion of a film revolving around a grumpy old man
"One of the things that appealed to us was grouchy old men," Docter recalls. "It seemed like a lot of entertainment there and once you got into it, there was also a lot of opportunity for emotion and sympathy for this guy. That comes with the idea of a floating house.
"One of the things that appealed to us was grouchy old men. It seemed like a lot of entertainment there."

Pete Docter
I, like a lot of animators, spend time thinking about escape and so this floating house really came to appeal. And so we started asking ourselves questions like why is the man in the house, where is he going, where did he come from and what led to this?"
And so began the five-year process of Up, as Docter, Peterson and head of story Ronnie Del Carmen started to work up a script, story reels and movie simulations to be shared every four months with Pixar's creative brain trust, John Lasseter, Andrew Stanton, Brad Bird et al. Some sequences, says Docter, were rewritten 40 times. "You keep working until it feels right."
Spirit of the story
Docter, who joined Pixar in 1990, animating and directing commercials before working on story and characters for Toy Story, explains the film was divided into 30 sequences. At the beginning of the process, two or three key sequences are storyboarded.
In Up, the first to be locked down and go into animation was dubbed 'Carl Goes Up', in which an old man and his house lift off from the city, buoyed by thousands of balloons. "That scene was the heart and spirit of the story," adds producer Jonas Rivera, "so we knew that no matter what happened in the second or third act or what we needed to change in the set-ups, we knew he was going to fly away."
Naturally the costs start rising once a scene goes into production, since each animator is working at a rate of about four seconds of finished film a week.
Light and shade
Animation production lasted 13 months with 60 animators working full time at its height. After animation, the production moves to another 12 to 13-month process of lighting and shading, where textures are added to each character and about 50 people light the film using virtual lights.
"Everything is adjustable," says Docter. "You can put shadows on it, you can affect the colour of the shadow, you can attach light to characters' faces."
"To be honoured by Cannes, it feels like the film community is responding to what we do."

Jonas Rivera
Rivera, who joined Pixar in 1994 as a production-office assistant on Toy Story, was originally associate producer on Up, rising to sole producer in summer 2006. "Pete is the vision and I'm the guy that has to figure out how to get that vision on the screen but preserve it as we balance computer science and art," he says. "I balance the needs of the crew, production and director. I try to cast the film with the right animators and lighting people and voice talent. I manage the production schedule with my team. It's all about time and how much time we have and how many people we have." As the delivery date approached, as many as 300 people were working on the film.
Rivera is grateful to Cannes for taking Up seriously. "For us working in animation, it sometimes feels like you're sitting at the little kids' table at Christmas dinner. We don't think of it that way. We don't think of these as kids' movies, we rarely even think of them as animated movies. So to be honoured by Cannes, it feels like the film community is responding to what we do. People are treating it as a movie."