Dir: Kornel Mundruczo. Hungary-Germany-Austria. 2010. 105mins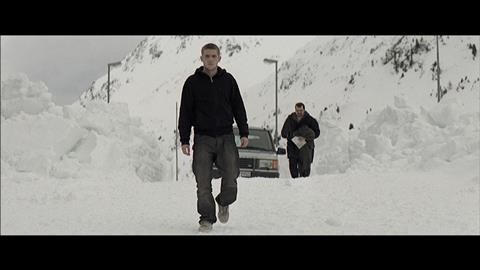 Coming back to one's inauspicious roots is a recurrent theme in Kornel Mondurczo's films and the opening gambit of his new one as well. This time, however, as the film's subtitle indicates, it is grafted on the Frankenstein myth, which he has already explored in a much gorier cutting edge stage show which toured all over Europe.
The concept behind it all is clear enough and very similar to Mary Shelley's Frankenstein intentions: Humans create monsters and then blame them for what they are.
Though displaying the visual sure-handed confidence already evident in Delta carries him along for a while, the script doesn't quite manage to deliver the dramatic impact that would do full justice to his intentions. Tough going in any case, it was not helped by late Cannes slot, for its demanding but impatient audiences, already enervated by a long run of non-masterpieces, and may generate less than flattering word-of-mouth. Arthouse fare in the best of cases, it promises to be an uphill fight from there on.
Viktor, a stage and film director (very much like Mundruczo himself, who plays the role) is testing non-professionals for his new film. Having rented a flat in an old evacuated apartment house, he asks every one of his helpless candidates to cry and laugh in front of the camera. He is intrigued by 17 year-old Rudi (Frecska), a sombre, silent, young man, who stumbled into the improvised sessions by mistake and refuses to respond as expected.
At this point, film-making quickly vanishes out of the picture, as Rudi murders - for unclear reasons - the girl he was supposed to test with and runs away. He hides in the cavernous, rotting house but constantly returns to the caretakers flat, the only one still occupied by an older woman (Monori), living with a brute of a man (Szekely) and a young relative, Magda (Csikos).
Soon enough it turns out the older woman is Rudi's estranged mother who had let him rot in an orphanage and hasn't much use for him now either; Viktor, the film director, is the father whose identity Rudi has come back for and Magda is the girl of his dreams, though he had never set eyes on her before.
After a couple of additional murders he commits unintentionally (or maybe not), he escapes the building and is picked up by Viktor, who at first intends to bring him back to the orphanage. But when Rudi refuses, he takes him up towards an snow-covered Austrian mountain resort, where the two of them might work their way towards becoming father and son.
The concept behind it all is clear enough and very similar to Mary Shelley's Frankenstein intentions: Humans create monsters and then blame them for what they are. Viktor who fathered Rudi with a much older woman than himself, refused at the time to complicate his life and take on a father's responsibility. The same goes for the mother, and sooner or later their absence is bound to come back and haunt them. To underline Viktor's identity as a creator, he is a film director attempting to manipulate innocents and turn them into one-time pieces of fiction for his needs. The journey from the decay of the past to the purity of snow which invades the screen in the final sequence is Mundruczo's way of trying to express some kind of muted hope that at some point, Viktor and Rudi come together.
Whether this points at parental responsibility, carries a political undertone (rulers ignoring their subjects) or a general philosophical message, this makes perfect sense in theory but in practice, there are too many pitfalls here that would draw the attention away from the real sense of the tale.
Far from being a monster, Frecska is too tender and obviously unthreatening, even after the murders, not to elicit the audience's sympathy and forgiveness. Therefore his crimes, particularly the first, need more elaborate treatment. Theoretically, again, this might suggest monsters are not revealed by their appearance but their acts, but dramatically, it doesn't quite work. The precise direction, the minute set-up of every shot, minimalist acting (though Mundruczo's on-camera presence is quite impressive) and inexorable pace of the plot, all possibly hint at the immutable course of fate, but at the same time keep the audience at a distance… observers but never participants in a tragedy which ultimately should concern each and every one of them intimately.
Production companies: Proton Cinema, Essential Filmproduktion, Film Partners, KGP Kranzelbinder, Gabriele Production, Laokoon Film
Producers: Viktoria Petranyi, Susanne Marian, Philippe Bober, Gabriele Kranzelbinder, Gabor Kovacs
International Sales: The Coproduction Office (+33) 1 5602 6000
Screenplay: Kornel Mundruczo, Yvette Biro
Cinematography: Matyas Erdely
Production Design: Marton Agh
Editor: David Jancso
Music: Philip E. Kumpel, Andreas Moisa, Gyorgy Kurtag, Peter Zombola, Kitty Csikos
Main Cast: Rudolf Frecska, Kornel Mundruczo, Lili Monori, Miklos Szekely