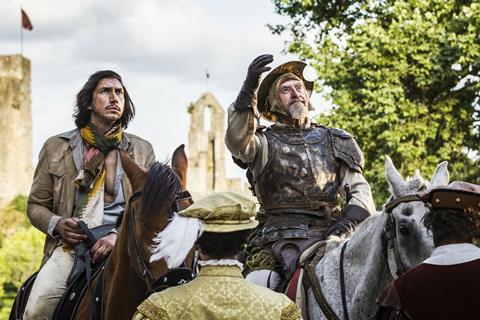 Terry Gilliam's The Man Who Killed Don Quixote has been acquired for North America by Screen Media, with the distributor planning a national theatrical release, in partnership with Fathom Events, for March 2019.
Eighteen years in the making, the film had its world premiere out of competition on the closing night of this year's Cannes festival.
Adam Driver, Jonathan Pryce and Stellan Skarsgard star in the story of a frustrated filmmaker and disillusioned advertising executive who gets pulled into a world of time-jumping fantasy when he is mistaken for Sancho Panza by a Spanish cobbler who believes he is Don Quixote.
Gilliam directed and wrote the script with Tony Grisoni. Producers are Mariela Besuievsky, Amy Gilliam, Gerardo Herrero and Gregoire Melin.
Screen Media president David Fannon commented: "Terry Gilliam is a true auteur and his latest film does not disappoint. It is the perfect pairing of a film with a filmmaker, the story of Don Quixote, a man who believes in things that seemingly no one else believes in, until finally, they share his vision. Screen Media is thrilled that US audiences will finally get to see Terry Gilliam's quest."