Dir: Dante Lam. Hong Kong-China. 2014. 112mins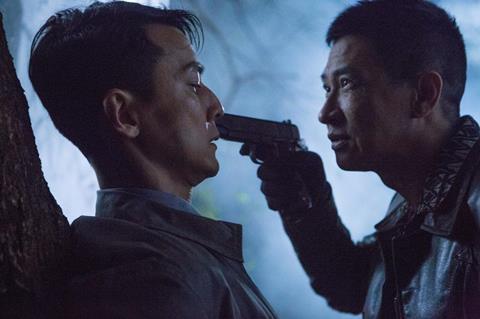 Dante Lam conjures up an inferno in That Demon Within (Mo Jing) a dark twisted trip through one Hong Kong cop's explosive meltdown. Possessed by the afterlife, Lam's story plays out in funeral parlours and graveyards where the director's action and special effects coordinators go about setting the city on fire.
That Demon Within boasts an inexhaustible visual energy.
Although it opts for a tricksy narrative with fussy flash-backs and hallucinations delivered in the widest-possible variety of styles, That Demon Within is bleak at its core, a dark, hopeless tale of death, corruption and mental illness shadowed by spectres. Dante Lam is a towering box office presence in Southeast Asia and with Daniel Wu in the lead opposite regular player Nick Cheung the Hong Kong director will test his audience's appetite for an introspective thriller that blends kinetic action with Taoist superstition when it opens on April 18.
Despite a slightly opaque and somewhat overblown narrative, That Demon Within is a professionally executed production, laden with impressive special effects shots and bone-crunching violence. Some set pieces are particularly innovative, and Lam's visual manifestations of mental illness are striking. Like Infernal Affairs, two male characters on opposing sides of the good/evil tightwalk lead the charge: Wu as troubled policeman Dave Wong and Nick Cheung as his nemesis, Hon Kong, leader of "the gang from Hell".
When Hon is injured in a chase during which he murders two policemen, he winds up at the hospital policed by Wong. Not realising who Hon is, the cop donates blood to save his life, an event which begins to tear apart Wong's carefully constructed world and shatter his all-important beliefs in right and wrong.
It turns out the upright Wong is a copper with a particularly fiery past, and as the dreams, hallucinations and flashbacks mount up, so does the body count - gangsters, family members, policemen, scores of civilians; at times it looks as if nobody in Hong Kong is going to get out of this fast-and-furious film alive.
Much of That Demon Within takes place in the dark including several key action sequences and meetings in the Kowloon Funeral Parlour with "the Gang From Hell", Hon's group of robber-killers who use the mask of The Demon King as disguise. Such an extensive use of graveyards, funeral paraphernalia and effigies is unusual for a Hong Kong action film, and may test the superstitious in home markets.
The tortured Wong, meanwhile, is helped by his superintendent and her psychiatrist sister while his efforts to look after his "granny" are prompted by a level of guilt that threatens to crack his fragile psyche, and the film, apart. That Demon Within boasts an inexhaustible visual energy; Dante Lam never lets up and the effects within a single hypnosis montage with its floating scenarios and twisting perspectives, for example, are beyond the scope of many of his Western counterparts across an entire film.
Production companies: Emperor Film Production Company, Sil-Metropole Organisation Limited
International sales: Emperor Motion Pictures, enquiry.emp@emperorgroup.com
Producers: Candy Leung, Albert Lee, Ren Yue
Executive producers: Albert Yeung, Song Dai
Co-producers: Cheung Hong-tat, Stephen Lam
Screenplay: Jack Ng, Dante Lam
Cinematography: Kenny Tse
Editor: Patrick Tam
Production designer: Lee Kin-wai
Music: Leon Ko
Main cast: Daniel Wu, Nick Cheung, Christie Chen, Andy On, Liu Kai-chi, Lam Kar-wah, Lee Kwok-lun, Stephen Au, Chi Kuan-chun