Dir: Marc Webb. US. 2012. 137mins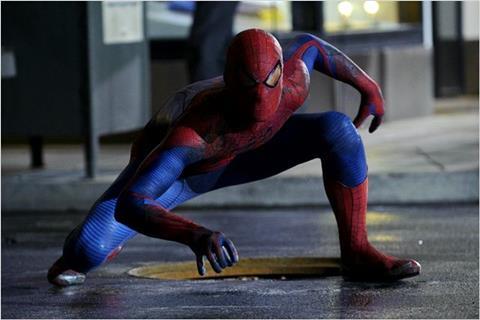 Ten summers after releasing Spider-Man — and in the process giving birth to a franchise that grossed nearly $2.5b over three films — Sony starts all over again with The Amazing Spider-Man, a sufficiently entertaining origin story that doesn't quite reach the dramatic depths it aspires to achieve. Anchored by Andrew Garfield's heartfelt performance as the lovably nerdy Peter Parker, this effects-laden spectacle can't help but feel a touch familiar, even though certain significant story beats have been altered from the 2002 film starring Tobey Maguire. The results may not be Amazing — but they're certainly good enough.
Recruiting Garfield for the role proves to be one of Amazing's smartest moves.
Opening in a few territories at the end of June before arriving in the US and UK on July 3, The Amazing Spider-Man will be competing not with other new releases but, rather, the gaudy returns for The Avengers, the expected haul for the forthcoming The Dark Knight Rises, and the commercial success of the original Spider-Man movies. Still, with the assistance of rising stars Garfield and Emma Stone — not to mention the reliable veteran presence of Sally Field and Martin Sheen to lure older audiences — this Spider-Man should be swinging through theatres for a good long while before scooping up ample ancillary dollars.
Ever since his parents left him as a child in the middle of the night for unexplained reasons, brainy, weakling teen Peter Parker (Garfield) has lived with his Uncle Ben (Sheen) and Aunt May (Field). But although things start to look a little brighter after attracting the interest of pretty Gwen Stacy (Stone), Peter experiences a life-changing occurrence after being bitten by a genetically modified spider in the lab of Dr. Curt Connors (Rhys Ifans), a scientist who knew his parents.
Those well-versed in the basic plot points of the Spider-Man story will recognize The Amazing Spider-Man's setup, even though director Marc Webb makes some alterations, such as excising Peter's love interest Mary Jane Watson (played by Kirsten Dunst in the earlier films) for Gwen Stacy, another character in the Marvel universe. But despite such differences, including a new villain, The Amazing Spider-Man essentially stays true to the comic book character's essence as an archetypal teenaged misfit whose powers serve as a metaphor for the strange changes that happen to the body during puberty.
Recruiting Garfield for the role proves to be one of Amazing's smartest moves. Displaying the brooding tone of his Boy A performance mixed with the edgy, haunted intelligence of his turn in The Social Network, Garfield plays Peter as less of an awkward dork than Maguire did, instead focusing on the kid's smarts and repressed anger. Rather than making Peter a walking punch line, Garfield conceives him as a sweet, sensitive oddball, and although the actor seems a bit old to play a high-schooler, his meekness helps sell the illusion.
A dicier proposition is the presence of Webb behind the camera. Previous to Amazing, Webb's only feature was the refreshingly idiosyncratic indie romantic comedy (500) Days Of Summer, and while that movie demonstrated his ease with actors, it didn't necessarily suggest a director with a bold visual eye perfectly suited to comic book films. It would be inaccurate to say that Amazing doesn't deliver from an action perspective, but the film lacks the overriding confidence that Sam Raimi brought to the original trilogy. There are plenty of muscular sequences — and the effects throughout are as stunning as one would imagine — but Amazing doesn't boast many moments that reach the sublime. It's a polished, professional blockbuster, but not a particularly inspired one.
Likewise, Peter's emotional journey as laid out by screenwriters James Vanderbilt, Alvin Sargent (a veteran of Spider-Man 2 and 3), and Steve Kloves is precisely mapped out, although the execution can be a little forced on occasion. Perhaps this is in part a symptom of déjà vu for those who remember the original Spider-Man, but Amazing can feel perfunctory in its exploration of how Peter learns to take on the mantle of a hero. Luckily, Garfield and Stone's chemistry is such that one tends to forgive the problem rather than letting it dampen the experience.
Speaking of Stone, she's been a welcome firecracker in films as different as Easy A and The Help, so it's somewhat frustrating that she's primarily just playing the potential girlfriend here. But with her natural spunk, which gives her and Garfield's onscreen relationship the potential for an enjoyably cute-geek quality, the hope is that her role will be further expanded in the sequels.
Sheen and Field are total pros in their supporting roles, while foul-mouthed comic Denis Leary seems to be relishing playing the no-nonsense police chief. Ifans wisely underplays Connors, eschewing any mad-scientist shtick. Sadly, however, two of Amazing's strongest presences are ones that are no longer with us. Production designer J. Michael Riva, who died in early June, gives the film's dingy sewers and high-tech labs a beautifully eye-popping comic book look, while producer Laura Ziskin, who died last June, was as instrumental as anyone in shepherding Spider-Man to the screen a decade ago.
Production companies: Columbia Pictures, Marvel Entertainment
Worldwide distribution: Sony Pictures, www.sonypictures.com
Producers: Laura Ziskin, Avi Arad, Matt Tolmach
Executive producers: Stan Lee, Kevin Feige, Michael Grillo
Screenplay: James Vanderbilt and Alvin Sargent and Steve Kloves, story by James Vanderbilt, based on the Marvel comic book by Stan Lee and Steve Ditko
Cinematography: John Schwartzman
Production design: J. Michael Riva
Editors: Alan Edward Bell, Pietro Scalia,
Music: James Horner
Website: www.theamazingspiderman.com
Main cast: Andrew Garfield, Emma Stone, Rhys Ifans, Denis Leary, Campbell Scott, Irrfan Khan, Martin Sheen, Sally Field, Embeth Davidtz, Chris Zylka