Dir: Jodie Foster. US. 2010. 91mins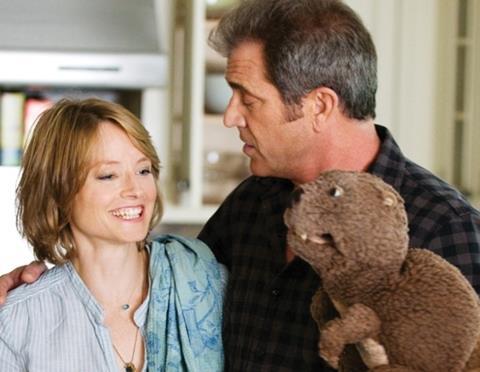 The Beaver is a strange creature. Marital melodrama, social satire, dark comedy, coming-of-age tale, father-and-son story: Director and co-star Jodie Foster's film is emotionally bold, willing to follow the lead of its main character (played with real passion by Mel Gibson), who is very slowly having a complete mental breakdown. But despite its ambitious tonal sweep, The Beaver ends up feeling like pieces of a lot of different films, making it a movie that's more interesting than it is great.
Gibson and Foster demonstrate a real rapport.
Screening at Cannes and opening in limited release in the US on May 6 before expanding two weeks later, this Summit film will both be hurt and helped by the controversy surrounding its star. With Gibson's name more associated of late with tabloid scandals involving racist and anti-Semitic comments than with moviemaking, curiosity may be piqued to see him in a film in which he plays a deranged individual, which is dangerously close to his public persona at this point. Still, with its dark subject matter and bizarre plot about a man who uses a beaver hand puppet to interact with the world, The Beaver is resolutely an indie offering, thereby limiting its potential box office.
Suffering from depression and watching his marriage fall apart, Walter (Gibson) seems to have hit rock bottom when one night he finds a beaver hand puppet in a dumpster. After an accident in which he gets hit on the head by a television, he wakes up and begins to believe that the puppet is a separate personality, whom he gives a British accent and keeps attached to his hand at all times. He tells his disbelieving wife Meredith (Foster) and resentful older son Porter (Anton Yelchin) about this development, only speaking to them through the voice of the beaver, whom Walter believes will help him turn his life around.
Jodie Foster's third film as a director (after Little Man Tate and Home For The Holidays) almost from the beginning flaunts a style that mixes between dark humour and seriousness. Anchored by Gibson's fully committed performance as a man who absolutely believes the puppet is real, The Beaver is a bit of a tightrope act as Foster tries to ground Walter's behaviour in reality while at the same time cuing the audience to be shocked and amused by the ludicrous situation he's putting his family through.
But while Gibson's hangdog vulnerability and gradual mental collapse are performed with precision, the rest of the film isn't nearly as tightly focused or consistently affecting. Even though Yelchin is superb as Walter's son who fears he possesses the same self-destructive, depressive characteristics as his father, too much of Kyle Killen's screenplay studies Porter's burgeoning relationship with his high school's valedictorian cheerleader (played by Winter's Bone's Jennifer Lawrence), which feels like a pale mirroring of the movie's larger themes about trying to find your voice.
Also distracting is a comedic through-line in which Walter's odd beaver friend helps inspire an idea for his floundering toy company that saves the business. This in turn makes Walter a celebrity because of the fact he talks through a hand puppet, but the filmmakers don't invest enough time into these ideas to give them much comedic or satiric value.
When The Beaver settles on the damaged relationship between Walter and Meredith and "the beaver's" attempt to repair it, Gibson and Foster demonstrate a real rapport that suggests the ups and downs and sustaining love of 20 years of marriage. Otherwise, Foster the director hasn't given Foster the actress much of a role to play, sticking her with a drab wife/mother character that mostly serves to react to Walter's growing instability.
Production companies: Participant Media, Imagenation Abu Dhabi, Anonymous Content
Domestic distribution: Summit Entertainment, www.summit-ent.com
Producers: Steve Golin, Keith Redmon, Ann Ruark
Executive producers: Jeff Skoll, Mohammed Mubarak Al Mazrouei, Paul Green, Jonathan King
Screenplay: Kyle Killen
Cinematography: Hagen Bogdanski
Production designer: Mark Friedberg
Editor: Lynzee Klingman
Music: Marcelo Zarvos
Website: www.thebeaver-movie.com
Main cast: Mel Gibson, Jodie Foster, Anton Yelchin, Jennifer Lawrence, Cherry Jones, Riley Thomas Stewart