Dir: Eric Lartigau. France. 2010. 114mins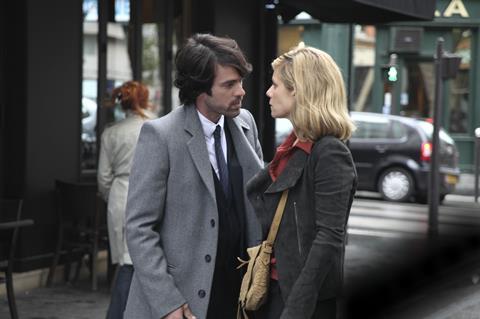 A successful lawyer and happy father uncovers his wife's infidelity and accidentally kills her lover, but rather than face the consequences he opts for another strategy: assume the other man's identity. That intriguing premise sets the gears in motion for The Big Picture, a character-driven drama with the soul of an existential thriller. A French adaptation of an American novelist's work, director Eric Lartigau's film suffers from a few plot holes, which are compensated for by Romain Duris' understated performance and a script that asks more questions than it answers about the nature of identity and the possibility of second chances.
Vaguely reminiscent of Michelangelo Antonioni's The Passenger, another film about a character who assumes a dead man's identity and goes on a journey of personal exploration.
Set to open November 3 in France, The Big Picture could follow in the footsteps of another French thriller based on an American novel, Guillaume Canet's Tell No One, which grossed over $6m in the US. However, Lartigau's contemplative film is less pulpy and mainstream than Canet's, which may dampen its commercial prospects. Still, with American audiences becoming more familiar with Duris after his roles in The Beat That My Heart Skipped, Paris and Heartbreaker, this new vehicle could find respectable art-house business.
High-powered attorney Paul (Duris) is married with two children whom he adores. But his seemingly enviable life starts to unravel when he discovers that his wife Sarah (Marina Fois) has been sleeping with Gregoire (Eric Ruf), an aspiring photojournalist – a profession Paul had considered in his youth. After Sarah demands a divorce, Paul confronts Gregoire at his home, and a heated argument leads to Gregoire accidentally being killed in the punch-up. Frightened, Paul hides the body but soon latches onto the idea of faking his own death and assuming Gregoire's identity, venturing to Eastern Europe to become the other man.
Vaguely reminiscent of Michelangelo Antonioni's The Passenger, another film about a character who assumes a dead man's identity and goes on a journey of personal exploration, The Big Picture grows increasingly more mysterious and satisfying as it moves past Paul's angst over his failing marriage and into his intricate plan to become Gregoire.
Part of the film's pleasure is that the script, written by Lartigau and Laurent de Bartillat, takes its time laying out Paul's strategy, resisting easy explanations for why he makes the choice that he does or exactly how he plans on carrying it out. Admittedly, after strongly establishing Paul's life of bourgeois privilege, some of the particulars of his plan, which includes a fake passport and explosives, seem far removed from the comfy world that Paul knows. And yet, The Big Picture's matter-of-fact presentation of Paul's transformation helps bring credibility to these scenes, hinting at the deep commitment he's made to shedding his old life.
Before his death, Gregoire informs Paul that the affair occurred partly because Sarah admired Gregoire's willingness to chase his dreams but also because she became weary of her husband's constant self-loathing. And while Paul decides to start a new life in order to have a fresh start, the filmmakers cleverly imply that he is still exhibiting that same self-loathing, not just assuming Gregoire's life as a photographer but also adopting the man's disdain for Paul. It's a nice, slow turn of the knife that as Paul unexpectedly begins to find success (and maybe love) as a photographer, it's actually at the expense of his old self, which he must keep running from lest his ruse be exposed.
As he demonstrated in The Beat That My Heart Skipped, Duris is a stunningly handsome actor with real grit who's well equipped to handle darker, more nuanced material. The Big Picture affords him another such opportunity, and he superbly sells Paul's metamorphosis, particularly the sense that the man is making it up as he goes along, quietly amazed that his scam might just work. The supporting cast are all top-notch, especially Niels Arestrup as an unlikely ally in Paul's new life.
Those expecting a white-knuckle thriller will be disappointed, as Paul's journey is more of an internal struggle than anything resembling a chase picture. At the same time, though, the filmmakers make Paul's subterfuge a little too easy on occasion, allowing room for certain narrative conveniences to keep the story moving forward. But while these plot issues are unfortunate, in a way they do play into the movie's off-kilter form of suspense, as if teasing the audience with the possibility that Paul's luck could run out at any moment.
Production companies: EuropaCorp, TF1 Films, CIBY 2000, Canal +, Cinecinema, Cofinova 6
International sales: EuropaCorp, www.europacorp.com
Producer: Pierre-Ange Le Pogam
Screenplay: Eric Lartigau, Laurent de Bartillat, based on the novel by Douglas Kennedy
Cinematography: Laurent Dailland
Production designer: Olivier Radot
Editor: Juliette Welfing
Music: Evgueni Galperine, Sacha Galperine
Main cast: Romain Duris, Marina Fois, Niels Arestrup, Branka Katic, Eric Ruf, Catherine Deneuve