Dir: Ascanio Celestini. Italy. 2010. 96mins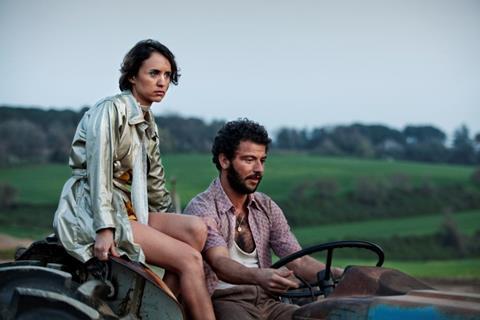 That the infirm of mind make for troublesome film subjects is demonstrated once again in Ascanio Celestini's striking but over self-conscious feature debut, The Black Sheep, one of three Italian films in this year's Venice competition. Told by an unreliable asylum-inmate narrator who is too unreliable from the start to really engage our sympathies, this blackly comic denunciation of the casual way in which people can be committed to mental institutions has the audience caught in a cleft stick between compassion for the quirky social outcasts the film depicts and depression at the sheer sadness of it all.
There's no doubting the actor-director's passion and commitment.
Celestini, who also plays the adult lead in the film, is a multi-tasking writer, performer and director well-known in Italian theatre circles for his painstakingly-documented dramas, books and monologues on social and political issues. The Black Sheep was based on three years of research and interviews with asylum staff and patients, but while there's no doubting the actor-director's passion and commitment, the film shows that what works in a literary and agit-prop theatre context doesn't always translate onto the screen.
Local distributor BIM should give it a respectable Italian arthouse release, but elsewhere sales are likely to be slack. It doesn't help that the film's over-cute, over-literary dialogue translates reads even more pretentiously in the subtitles.
The film weaves together the present-day story of unkempt but apparently not too loopy asylum inmate Nicola (Celestini), who is in a nun-run mental institution somewhere in Italy, with that of his childhood self, 35 years earlier. The primary-school Nicola, played with impressive intensity by youngster Luigi Fedele, is a poor kid with a fervent imagination whose mother is already in the asylum where he will end up. Told in quirky sketch format, Nicola's parallel lives converge, the aim being to show how easy it was (and perhaps still is) for those who don't fit into society's neat boxes to be institutionalised.
Photographed in slightly hyper-real colour and clarity by Sicilian cinematographer Daniele Cipri, the film shares some of the deliberately stylised oddball tics of US indie darling Todd Solondz. And in the end, it also shares some of the problems of a film like Palindromes, the main one being that, for all its heart, The Black Sheep's stylised, auteurish surreality works against the audience's identification with the characters.
Production companies: Madeleine, Rai Cinema
International sales: Beta Cinema, www.betafilm.com
Producers: Alessandra Acciai, Carlo Macchitella, Giorgio Magliulo
Screenplay: Ascanio Celestini, Ugo Chiti, Wilma Labate
Cinematography: Daniele Cipri
Production design: Tommaso Bordone
Editor: Giogio Franchini
Main cast: Ascanio Celestini, Giorgio Tirabassi, Maya Sansa, Luisa De Santis, Nicola Rignanese, Barbara Valmorin, Luigi Fedele, Teresa Saponangelo