Dir. Scott Hicks. Australia/UK. 2009. 104 mins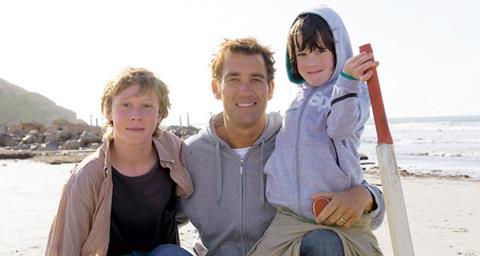 On the basis of The Boys Are Back, director Scott Hicks should never be allowed to work outside Australia again. His first Australian feature in the thirteen years since the award-winning Shine is also his most satisfying work from that entire period. His adaptation of Simon Carr's memoirs offers a sensitive, expertly crafted exploration of the bond between a father and his sons. It has the same understanding of male emotions as a Nick Hornby bestseller and could be that rare warmhearted weepie with an appeal that spans the genders and generations.
An appealing mainstream drama that comes straight from the heart
Clive Owen plays Joe Warr, a jet-set sports reporter whose idea of parenting is to make sure he remembers a present on the return from his latest overseas jaunt. When his wife Katie (Laura Fraser) dies of cancer, he is left alone to care for their six year-old son Artie (Nicholas McAnulty).
Joe slowly learns that every crisis or tantrum cannot be solved with a bag of crisps and a soft drink. His burden grows when Jack (George MacKay), a teenage son from a previous marriage, arrives from London to spend some quality time with his long absent father.
The Boys Are Back is a poignant, heartfelt tale. Cinematographer Greig Fraser does a great job of capturing the Australian outdoors as he serves up vistas of golden fields, sparkling blue seas and blood orange sunsets. He ensures that the film is always a treat for the eyes.
Alan Cubitt's cinematic reworking of Carr's The Boys Are Back In Town is occasionally a little too literary, although that could be excused by the fact that the lead character is a wordsmith.
Joe's thoughtful narration and moments when his dead wife appears to offer him advice and support almost tip the film towards an unacceptable level of sentimentality but then Hicks pulls back to a moment of family life that rings entirely true and the film is back on track.
There is nothing particularly surprising about The Boys Are Back but the film's skill lies in making it all believable and engaging. After a succession of gun-toting tough guys and international men of mystery, it is good to see Clive Owen using his charm and charisma to play a more everyday figure.
His Joe is such an overgrown child himself that it is easy to understand his tolerance of a chaotic household in which he lets the boys run free and follows a policy of least resistance.
Joe is too busy being their friend to try and become the kind of parent who instils discipline, sets boundaries or lays down the rules. Surveying a scene of carnage and mayhem, he ruefully observes: "It's like Home Alone except there are three of us."
Despite his many failings, we always believe that Joe's actions are motivated by the very best of intentions. We are easily convinced that Joe's ways are unconventional and even irresponsible but also that nobody knows the recipe for perfect parenting.
Hicks has chosen extremely wisely for both of the boys. Nicholas McAnulty is a scene-stealing screen natural who never puts a foot wrong in conveying all the swings of wild abandon and moods of sullen despair that come to define's Artie's new world in the aftermath of his mother's death.
George MacKay brings the same level of conviction to the reticent, awkward Harry who may be on the cusp of manhood but still longs for his father's love and comfort.
The quality of the performances, the beauty of the images and the honesty of the emotions all help to make The Boys Are Back an appealing mainstream drama that comes straight from the heart.
To sign up for Screen's weekly Reviews Newsletter with all the week's new releases, internationalopenings and full festival reviews delivered free to your mailbox every Friday, please click HERE
Production companies
Tiger Aspect Pictures
Southern Light Films
International sales
HanWay Films
44 207 290 0750
Producers
Greg Brenman
Tim White
Screenplay
Alan Cubitt based on The Boys Are Back In Town by Simon Carr
Cinematography
Greig Fraser
Production design
Melinda Doring
Editor
Scott Gray
Music
Hal Lindes
Main cast
Clive Owen
George MacKay
Laura Fraser
Nicholas McAnulty
Emma Booth