Dir: Xavier Durringer. France 2011. 105 mins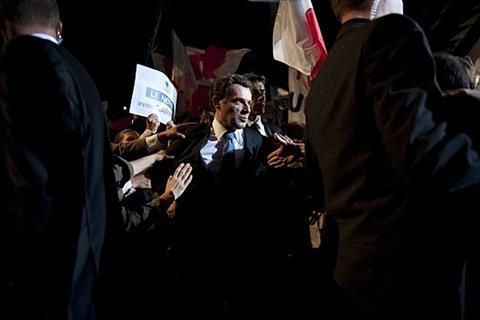 Corridors-of-power satire The Conquest (La Conquête) may not be the most trenchant of current-affairs studies, but it's still a classy, witty portrait of French president Nicolas Sarkozy - and a very rare example of a political biopic made while the subject is still in power.
The film's many political in-jokes are guaranteed to tickle local audiences.
Closer to Stephen Frears's Blair-and-Brown drama The Deal than to either Oliver Stone's W. or Paolo Sorrentino's Il Divo, Xavier Durringer's film is a realistic but mischievous portrait of Sarkozy, successfully blending a dash of cartoonishness with a still-fresh-from-the-front-page energy.
Headline-generating subject, plus a terrific lead from Denis Podalydès, will provide significant box-office clout in France, where the film's release coincides with its Cannes debut. But while The Conquest is immensely watchable for non-initiates, many elements will be opaque to non-French viewers, limiting export potential to upmarket niche outlets and festivals.
The film, framed as a series of flashbacks, begins on May 6 2007, the day that Sarkozy was elected president. As he awaits the result of his electoral duel with Ségolène Royal, the centre-right politico wonders where his wife Cécilia (Pernel) has got to, a series of episodes covering his ascent and the breakdown of his marriage.
In 2002, he has a meeting with president Jacques Chirac (le Coq), who tells him that he's offering Sarkozy the No. 2 job on his cabinet, as Minister of the Interior. "Why can't you trust me to be No. 1?" carps Sarkozy, who has his eyes on better things - setting a note of insolence and insecurity that define him from then on.
Sarkozy tells his staff that he intends to get ahead by being hyper-energetic and permanently visible - ' Headline Minister', in fact - and becomes a master of media spin, with Cécilia helping mastermind the public profile which presents him as a dynamic, down-to-earth executive type.
Sarkozy, however, is condescended to, and distrusted by Chirac and Foreign Minister Dominique de Villepin (played with silky condescension by Labarthe), who increasingly becomes both rival and arch-enemy. Sarkozy is later elected leader of the UPM party, triumphing at a flashy rally that he hopes will come across as his equivalent of a Johnny Hallyday concert.
By this point, however, his relationship with Cécilia is fraying, and by the time the presidential elections come round, Sarkozy knows his only chance of winning is by pressurizing her into returning, however briefly, to his side after she has left him for her lover. Meanwhile, Sarkozy's own extra marital affairs are hitting the headlines. The film, an opening title announces, is based on facts but categorically a fiction - a statement greeted by much laughter at its Cannes screening.
Throughout, the film's many political in-jokes are guaranteed to tickle local audiences. French viewers will also relish the impersonation factor, Le Coq in particular raising chuckles with his repertoire of high-statesman gestures as Chirac.
Witty but sometimes oppressively wordy, the film has a major selling point in the always excellent Podalydès, who brings Sarkozy a certain tormented grandeur, even while playing up his tetchiness, narcissism and savage self-importance.
Easily rivaling Michael Sheen's celebrated Tony Blair, the performance isn't just a series of bang-on mannerisms, but captures the essential insecurity of a man who's desperate to sell himself less as a series of principles, but as a product - tellingly, boasting of his energy, he compares himself at one point to the Duracell battery bunny. You get less sense of Sarkozy's political values - but that may be part of the film's argument.
Slickly mounted and energetic, the film is executed with pace and smarts by director and co-writer Durringer. Nicola Piovani's music, heavily alluding to Nino Rota's Fellini scores, highlights the folly of the whole political circus.
Production companies: Gaumont, Mandarin Cinéma
International sales: Gaumont, www.gaumont.fr
Producers: Eric and Nicolas Altmayer
Screenplay: Patrick Rotman, Xavier Durringer
Cinematography: Gilles Porte
Production designer: Eric Durringer
Editor: Catherine Schwartz
Music: Nicola Piovani
Main cast: Denis Podalydès, Florence Pernel, Bernard le Coq, Hippolyte Girardot, Samuel Labarthe