Fox's 3D animation holds onto top spot for third consecutive weekend; Vertigo's Spring Breakers debuts with $528,000 (£345,153) from 181 sites.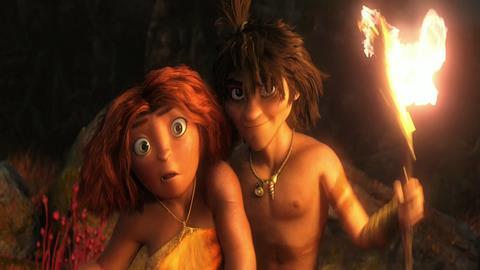 With little direct competition opening, The Croods recorded a comfortable third straight weekend as the UK's number one film.
Fox's 3D animation added a confirmed $3.6m (£2.3m) to climb to $27.1m (£17.7m) in the UK, surpassing How to Train your Dragon's $26.6m (£17.4m) UK haul in the process. The Croods is now the third biggest grosser of 2013 to date, behind Les Misérables and Wreck-It Ralph. Fox estimates that The Croods will end up in the £25m-£30m bracket.
Only Les Misérables has gone four consecutive weeks as the UK's number one this year and with the arrival of Oblivion this week, it seems unlikely that The Croods will be able to repeat the feat of Tom Hooper's musical.
Also for Fox, Trance added a $1.1m (£722,027) for $5.1m (£3.3m) to date, to drop to fourth. It's worth noting that on Fri-Sun alone, Trance would still be third.
Holding firm in second was Paramount's G.I. Joe: Retaliation as it battled its way to an additional $1.6m (£1.06m).
The 3D sequel is now up to $8.5m (£5.6m) in the UK, just under £1m away from G.I. Joe: The Rise of Cobra's final UK tally of $9.9m (£6.5m) after only two weeks in play.
Momentum's Dark Skies was this week's highest new entry as it opened on 386 sites for a solid $1.6m (£1.03m) debut, including previews of $494,000 (£323,289). That already marks director Scott Stewart's best-ever UK performance, overtaking Priest's final tally of $1.4m (£937,575).
Also for Momentum, In the House added $186,000 (£121,243) from 67 sites for $799,000 (£521,828) to date.
Rounding off this week's top five was Warner Bros' Jack the Giant Slayer with a $1.1m (£705,122) weekend. That puts Bryan Singer's 3D fantasy at $9.1m (£5.9m) after three weeks in the UK.
Disney's Oz the Great and Powerful stayed in sixth thanks to a $879,000 (£574,102) gross from its 533 sites, propelling it to $20.9m (£13.7m) after five weeks. 3D has accounted for $11.3m (£7.3m) of its overall gross to date.
Also for Disney, The Odd Life of Timothy Green debuted with $412,000 (£269,465) from its 281 sites. That's down on director Peter Hedges' previous UK release, Dan in Real Life, which grossed $924,000 (£603,860) from 348 sites on its way to $2.4m (£1.6m) overall.
Finding Nemo 3D stands at $1.2m (£801,588) after ten days in play.
Harmony Korine's much-talked about Spring Breakers scored a $528,000 (£345,153) debut in the UK, including $14,000 (£8,956) from four previews, from its 181 sites through Vertigo Films for a strong site average of $2,920 (£1,907).
The debut means Spring Breakers is already Korine's highest-ever grosser in the UK - unsurprising given that Korine's previous widest release belonged to Gummo's four sites - and it also ranks as the sixth biggest UK opening for Vertigo, narrowly behind Monsters' $534,000 (£348,577) debut from 164 sites.
Curzon Film World's A Late Quartet debuted to $171,000 (£111,289), including previews, from 49 screens for a healthy average of $3,490 (£2,271), an auspicious start for the rebranded Curzon Artificial Eye label which will release "commercially driven English language films", while Artificial Eye will focus on independent, art-house and foreign language distribution.
This week sees saturation releases for Universal's Oblivion (opens April 10) and Entertainment's Scary Movie 5, while StudioCanal's The Place Beyond the Pines receives a wide release of 114 cinemas nationwide. Metrodome's The Gatekeepers and Eureka's Simon Killer are among the films receiving a limited release.
For more of Screen's box office news, analysis and charts, visit our Box Office section by clicking the icon below.