Dir: Christopher Nolan. US. 2008. 152 mins.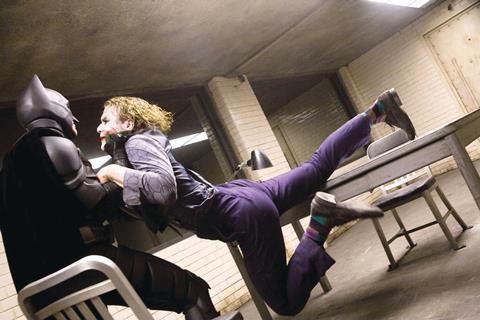 Christopher Nolan's The Dark Knight stands poised to leave a substantial summer footprint, both commercially and critically. Batman has long been a top-shelf comic property, and with fans now familiar with this series' new players, widescale embrace awaits.
Expanding on the darker moods and true-crime instincts of 2005's Batman Begins, The Dark Knight cleverly balances its action with an exploration of optimism and decency's combined power and potential fallibility in a world gone mad. While anticipation of the late Heath Ledger's tongue-wagging, lip-smacking turn as the villainous Joker will draw in some new interest, it's the novelistic density and moral complexity on display here that will drive repeat viewings and help The Dark Knight far outscore its predecessor's tally. International receipts should also soar, especially given a brief but effective use of Hong Kong as a location.
Picking up within a year of the events in Batman Begins, the film finds Batman (Christian Bale) and his police department counterpart and ally, Lieutenant Jim Gordon (Gary Oldman), experiencing some success in stemming the tide of crime in Gotham City. As the bold, hard-driving new district attorney Harvey Dent (Aaron Eckhart) works to dismantle the all-powerful criminal syndicates that have long had a stranglehold on the city, Batman and Gordon must determine whether or not they can trust the charismatic idealist.
Proceeding with caution, their partnership proves effective, especially after Batman visits Hong Kong to dazzlingly extricate the criminal sects' accountant, Lau (Chin Han). Dent ties all the crime bosses together in a 2,500-count conspiracy indictment, and Batman, in the form of billionaire daytime alter ego Bruce Wayne, throws his support behind the district attorney with a dazzling fundraiser, convinced that Dent is the new public face of decency and order.
The Joker, though, has other plans, unleashing a reign of terror built on shifting motivations. At first he offers to kill Batman for the city's crime bosses; later he threatens serial deaths until Batman reveals his true identity. In the end, of course, it's all a guise for his own games of anarchic indulgence.
Scripted by Nolan and his brother, Jonathan, from a story devised with David Goyer, a co-writer on Batman Begins, The Dark Knight may be the first movie of its kind to substantively, intellectually address the mythos of comic-book action in something vaguely resembling the real world. There is a lot of discussion about, and action driven by, the symbolic value of Batman, and the limits of what he can accomplish versus the publicly-empowered Dent.
In fact, it's the depth of the latter storyline, of the tragically-doomed district attorney, that is perhaps the most surprisingly effective part of this film. His soul-of-the-city struggle parallels Batman's quest, and has important implications when vigilantism and law-bending later creep into play in an effort to defeat the Joker. The film's weak point is that a shift involving Dent's personality, after he is wounded, is handled in mad-dash fashion, undercutting the sensitivity and care of all this set-up.
Nolan shows a much more refined hand with action here than he did in the first film, though these movies will never compete with the whiz-bang, state-of-the-art thrills of something like the Matrix films. There's an emphasis on functionality over showsmanship with respect to the action scenes, and Nolan doesn't pad these sequences with affected angles, stuffed shots or orgiastic CGI.
Bale delivers another solid, brooding performance as Wayne/Batman, and Maggie Gyllenhaal subs in for Katie Holmes as Rachel Dawes, the childhood crush of Bruce Wayne, now romantically involved with Dent.
There is undeniably a bit of a pall cast over the proceedings by Ledger's death, but it doesn't last long, so starkly defined is his portrayal. There's no cackling buffoonery here, just a grimness to match the material.
Other technical credits are superb across the board. In particular, Hans Zimmer and James Newton Howard's score for the film again eschews hammy signature tones, instead trading in moods and rhythms; most striking is the theme for the Joker, a processed string arrangement which effectively evokes dread.
Production companies
Warner Bros. Pictures
Legendary Pictures
DC Comics
Worldwide distribution
Warner Bros.
Producers
Emma Thomas
Charles Roven
Christopher Nolan
Screenplay
Jonathan Nolan and Christopher Nolan
Story
Christopher Nolan & David Goyer
Director of photography
Wally Pfister
Production designer
Nathan Crowley
Music
Hans Zimmer and James Newton Howard
Main cast
Christian Bale
Heath Ledger
Aaron Eckhart
Gary Oldman
Michael Caine
Maggie Gyllenhaal
Morgan Freeman
Eric Roberts