Paramount's comedy prevents The Avengers from going four straight weeks at the top; Momentum's The Raid opens in fifth.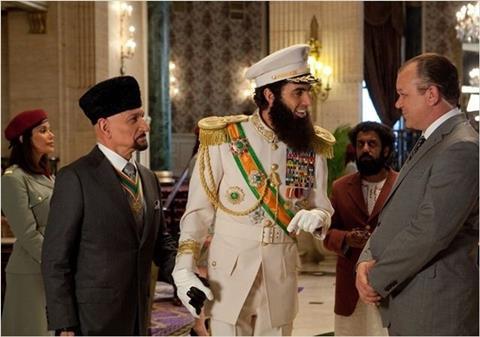 Sacha Baron Cohen's latest creation The Dictator reigned supreme on its debut at the UK box office, usurping Marvel/Disney's superhero epic The Avengers at the top of the chart.
Paramount's comedy opened strongly on an estimated $7.8m (£4.97m) from its 511 sites, including two days of previews. Its debut is on par with Cohen's previous film Brüno, which opened with $8.1m (£5m), but is down, however, on Borat which made $10.1m (£6.2m) on its UK bow.
While it failed to make it four weeks at the UK's summit, Marvel/Disney's behemoth The Avengers - Marvel Avengers Assemble in the UK - still continued its relentless box office charge, fighting its way to an additional $4.4m (£2.8m) for a stunning $71.1m (£45.0m) to date.
A highly respectable holdover with just a 35% drop saw Warner Bros.' Dark Shadows add a further $2.5m (£1.6m) to cross the £5m mark and stay third.
The eighth collaboration between Tim Burton and Johnny Depp stands at $8.4m (£5.2m) after ten days in play, overtaking Edward Scissorhands' $7.2m (£4.5m) tally and Corpse Bride's $7.9m (£5.0m) overall gross. It still has some way to go to become the fourth most fruitful Burton/Depp outing though, currently the $15.9m (£10.0m) haul of Sleepy Hollow in 2000.
Despite comic competition arriving in the form of The Dictator, Universal's American Pie: Reunion still laughed its way to $2.2m (£1.4m) in fourth. It has now amassed $23.6m (£14.9m) after three weeks in play, overtaking the original American Pie's $22.6m (£14m) tally in the process.
Another new entry rounded off the top five with Momentum's The Raid taking approximately $690,000 (£438,000) from its 296 screens. The debut of Gareth Evans' critically acclaimed Indonesian action thriller is the best for a foreign language film in the UK this year.
This week sees saturation releases for Sony's threequel Men In Black 3 and Lionsgate's comedy What To Expect When You're Expecting. Universal's Cannes opener Moonrise Kingdom receives a wide release.
For more of Screen's box office news, analysis and charts, visit our new Box Office section by clicking the icon below.