Dir: Istvan Szabo. Hungary-Germany. 2011. 94mins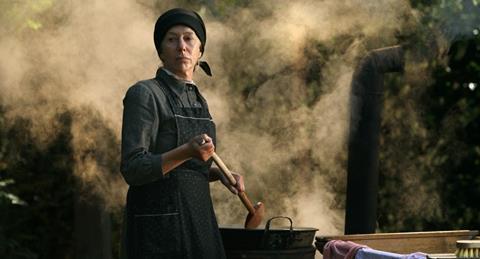 A mannered, stagey and straight-forward period drama distinctive only for its grumpy lead central performance by Helen Mirren, The Door flirts with Euro-pudding status due to its dodgy dubbing of certain roles and simplistic and old-fashioned story and is saved only by Mirren's cold-eyed and focussed performance and that fact that it is made by veteran director Istvan Szabo.
The Door is a resolutely old-fashioned film that trades in its look and mannered quality.
An English-language (though naturally dubbed for many European territories, which may aid release) adaptation of the acclaimed novel by Magda Szabo (no relation), the film is distinctive due to its elegant production design and striking cinematography, but never manages to be involving or moving…the two important aspects to a story that proved a success in print. The high quality cast and crew should attract buyer interest, though The Door (which has a special screening at the Karlovy Vary International Film Festival) is unlikely to break-out, and seems more likely destined for further festivals and television than big-screen success.
Set in 1960s Hungary, bourgeois would-be novelist Magda (Martina Gedeck, from The Lives Of Others) is looking for a cleaner to tend the large house occupied by herself and her husband Tibor (Karoly Eperjes) while she sits at her typewriter. She manages to recruit the terrifyingly grumpy Emerenc (Mirren), who is a wonderfully efficient cleaner but lacks any kind of grace or charm.
In fact Emerenc and Magda seem to do nothing but battle and bicker as they try and get used to each other. One of the biggest problems with the film adaptation is the leap of belief that the pair would gradually become friends (or at least have respect for each other) with the characters barely developed beyond their first introduction.
The dramatic twist waiting towards the climax relates to Emerenc's small house and the fact that she will never let anyone beyond her front door (the 'Door' of the title). When the final revelations as to what lies behind the door come they are intriguing, but perhaps never as dramatic or moving as they should be, mainly because the film never really sets up drama of the relationship between the two women to its full effect.
The unsmiling and impressively frumpy Mirren looks the part, though her staccato line delivery is uncomfortable at times and tends to accentuate the rather jarring back-and-forth structure of the film – as the two women go back and forth between each other's houses in a strange kind of courtship – and hamper its flow. Gedeck is given much less to do – the film is essentially a platform for Mirren's undoubted charisma – and her character rather uninteresting.
The Door is a resolutely old-fashioned film that trades in its look and mannered quality to give the impression that it is far more profound than it actually is. There certainly are moments to enjoy, but it is in the end all rather forgettable rather than a moving period drama that it sets out to be.
Production companies: Filmart Studio, Intuit Pictures, ARD Degeto, Head Gear Films
International sales: Bankside Films, www.bankside-films.com
Producers: Jeno Habermann, Sandor Soth
Screenplay: Istvan Szabo, Andrea Veszits, based on the novel by Magda Szabo.
Cinematography: Elemer Ragalyi
Editor: Reka Lemhenyi
Production designer: Volker Schaefer
Music: Robert Schumann, Istvan Lorand
Main cast: Helen Mirren, Martina Gedeck, Karoly Eperjes, Gabor Koncz, Eniko Borcsok, Mari Nagy, Agi Szirtes, Peter Andorai, Erika Marozsan, Anna Szandtner, Reka Tenki, Denes Ujlaky, Jiri Menzel