Dir: Zal Batmanglij. US. 2012. 117mins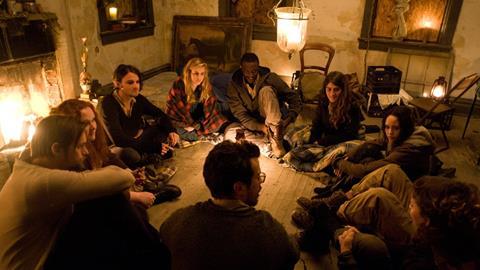 The seductiveness (and danger) of cults served as the thematic undercurrent in director/co-writer Zal Batmanglij and star/co-writer Brit Marling's fine first film together, Sound Of My Voice, and so it is again, to much less successful effect, in The East, a polished thriller that grows muddled and predictable as it zooms along. The film demonstrates that Batmanglij has the chops to deliver a smoothly efficient Hollywood vehicle, but this tale of an undercover operative infiltrating a domestic terrorist organization never becomes as riveting as one would hope.
The East feels more like an idea for a high-concept thriller than a thoughtful, compelling film.
The East, which premiered at Sundance, will be released through Fox Searchlight and was produced by Scott Free, the production company of Ridley Scott and his late brother Tony. No doubt the film's marketing will target fans of smart thrillers, and a cast that includes Marling, Alexander Skarsgård and Ellen Page will help stir interest as well.
The movie stars Marling as Sarah, an ambitious former FBI agent who now works for a private firm that does elite damage control for large corporations. Much to her excitement, she is assigned to a high-profile case: bringing down an underground corporate terrorist organisation called the East. Gaining the group's trust, she becomes close to their leader, Benji (Skarsgård), in the process losing her connection to her real life and being drawn deeper into the anarchists' plans to expose corporate negligence in increasingly more antagonistic ways.
The East's overall arc is highly reminiscent of the one in Sound Of My Voice, which concerned a documentary team becoming members of a secretive cult fronted by a charismatic leader. The similarity between the two films doesn't do The East any favours, nor does it help matters that the script (again co-written by Batmanglij and Marling) doesn't stray too far from the typical tale of an undercover cop who starts to identify with his targets.
The one novel twist is the film's questioning of anti-corporate advocacy. Benji and his followers (including Page) want to strike back against powerful, rich conglomerates that are poisoning the environment and endangering lives with relative impunity, but is breaking the law and doing harm to the leaders of such groups the answer? It's a provocative question that, sadly, The East largely dodges by making it rather clear from the outset that this group's actions shouldn't be condoned.
But why then does Sarah get seduced by the East? Unfortunately, the filmmakers don't adequately sketch out her fascination with the group, robbing The East of the potential drama that would come from Sarah wrestling with her conscience. (Surely part of her fascination with the East has to do with her growing bond with Benji, but unlike Marling's eerily enchanting leader in Sound Of My Voice, Skarsgård isn't magnetic enough to justify Sarah's attraction.)
This is but one questionable plot point that bends credibility. Indeed, the group's willingness to accept her into their ranks seems rather hasty, as does a later revelation about why one member wants to go after a particular corporation. It's also disappointing how naïve the seemingly worldly Sarah can be when it comes to being surprised by the nefarious agenda of her firm.
Despite these logic problems, though, The East is a clean-running machine that keeps one engaged. There's a slickness to the proceedings that can temporarily distract from the script issues, and Batmanglij shows growth as a creator of suspense sequences. But whether it's the East's dangerous covert missions or Sarah's personal transformation from loyal employee to budding anarchist, The East feels more like an idea for a high-concept thriller than a thoughtful, compelling film. One hopes that as Batmanglij and Marling move forward in their career they don't lose their Voice.
Production company: Scott Free
US distribution: Fox Searchlight, www.foxsearchlight.com
Producers: Ridley Scott, Michael Costigan, Jocelyn Hayes-Simpson, Brit Marling
Executive producer: Tony Scott
Screenplay: Zal Batmanglij & Brit Marling
Cinematography: Roman Vasyanov
Production designer: Alex DiGerlando
Editors: Andrew Weisblum, Bill Pankow
Music: Harry Gregson-Williams, Halli Cauthery
Main cast: Brit Marling, Alexander Skarsgård, Ellen Page, Toby Kebbell, Shiloh Fernandez, Julia Ormond, Patricia Clarkson