Dir: Michael Dowse. Canada-Ireland. 2013. 99mins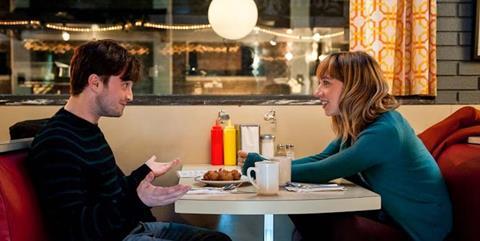 The F Word offers a sweetly engaging 21st century variation on When Harry Met Sally, milking laughter and tears from the eternal dilemma of whether men and women can ever be just friends. The combination of believable characters, likable performances and attractive Toronto and Dublin locations makes for a very commercial package that should readily attract romantic comedy audiences who have previously snuggled up to (500) Days Of Summer and the films of Richard Curtis.
Daniel Radcliffe is drily witty as Wallace and Zoe Kazan is a charming Chantry.
The F Word marks a surprising and successful departure for director Michael Dowse, who is better known for broader, bruising bad taste comedies like Fubar (2002) and Goon (2011). Working from a smart screenplay by Elan Mastai he has created something with a good deal more charm than his previous films. The F Word also allows the versatile, hardworking Daniel Radcliffe to prove himself as a viable romantic lead.
Radcliffe's Wallace is a man with unrealistic expectations of love. His parents messy divorce and his own disappointments have left him lonely and vulnerable until he heads to a party where he meets Chantry (Zoe Kazan).
They share a similar sense of humour and a mutual antipathy to social gatherings and awkward small talk. She seems ideal for him apart from the fact that she has a perfectly nice boyfriend in Ben (Rafe Spall). The offer of friendship is one that Wallace accepts whilst secretly harbouring hopes that something else might develop. Ben even welcomes him into their world despite the fact that he winds up in hospital after their first meeting.
The film contrives to put Ben out of the picture when his work with the UN requires him to spend six months in Dublin. It is one of the weaker elements of the screenplay but one that viewers will accept as necessary to turn up the heat on the will-they, won't nature of the Wallace/Chantry relationship. Wallace provides the shoulder to cry on, the friend who is always available for cosy chats but both Wallace and Chantry begin to accept that they are not being entirely honest with each other.
The snappy banter of the dialogue and the circle of concerned friends that surround Wallace and Chantry occasionally gives The F Word the familiar air of a smart television comedy as the likes of Wallace's best pal Allan (Adam Driver) and Chantry's sister Salia (Megan Park) offer advice tot he lovelorn.
That impression isn't necessarily a bad thing, just a sign of its accessibility and familiarity. Daniel Radcliffe is drily witty as Wallace and Zoe Kazan is a charming Chantry. Together, they make a cute couple that you want to see wind up together. The film has the sense to ensure that this is not going to be easy also makes us believe that whatever the outcome this kind of love is worth all the struggles and heartache.
Production companies: No Trace Camping, Fastnet Films, Caramel Films
International sales: Entertainment One Films International, http://entertainmentone.com
Producers: David Gross, Macdara Kelleher, Andre Rouleau
Executive producers: Jesse Shapira, Jeff Arkuss, Hartley Gorenstein, Michael Dowse, Bryan Gliserman, Patrice Theroux, Mark Costa, Ford Oelman
Screenplay: Elan Mastal
Cinematography: Rogier Stoffers
Editor: Yvann Thibaudeau
Production designer: Ethan Tobman
Music: AC Newman
Main cast: Daniel Radcliffe, Zoe Kazan, Megan Park, Adam Driver, Mackenzie Davis, Rafe Spall