Dir: Justin Chadwick. UK. 2010. 103mins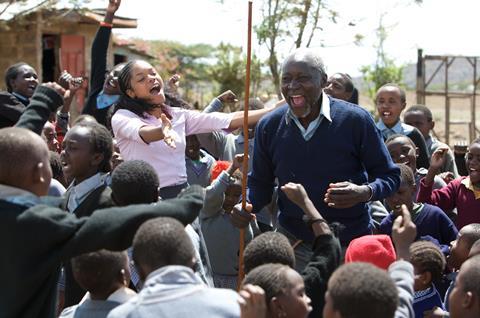 The unlikely true story of Kimani N'gan'ga Maruge, an 84-year-old Kenyan who took advantage of his country's new free-education program to attend primary school, has been turned into a depressingly mediocre inspirational drama in The First Grader. Changing course radically after the bodice-ripping costume-drama The Other Boleyn Girl, director Justin Chadwick exhibits a restrained approach, but that doesn't keep narrative clichés from wounding this well-meaning piece of moral uplift.
Chadwick avoids a satisfied self-righteous tone in his presentation, letting the story's emotional weight come primarily from the understated interplay of Litondo and Harris.
With no stars and a little-known story at its core, The First Grader, which screened at Telluride and Toronto, will need to rely on strong reviews and good word-of-mouth to entice audiences. While its programmatic structure may bother some, the film's tried-and-true formula of pitting heroic ordinary people against government bureaucracy and corruption could prove potent with moviegoers looking for a feel-good message.
In a poor Kenyan village, octogenarian Maruge (Oliver Litondo) arrives at his local primary school, informing the teacher, Jane (Naomie Harris), that he wants to enrol, citing the country's new law allowing free education for everyone. Jane insists that the law is meant for children, but Maruge argues that no such stipulation has been set forth, thereby allowing him to attend.
Impressed with his resilience, she brings Maruge into her school, giving him a chance to learn to read, as well as come to terms with the brutal treatment he suffered decades ago at the hands of the British government when he was part of the Mau Mau uprising. However, some of Maruge's countrymen (including those in government) are displeased that he's exploiting a loophole to become educated, prompting a backlash against both him and Jane.
The First Grader has two goals in mind, dramatising Maruge's inspirational quest to become literate while at the same time delving into the scars that still linger among Kenyans even after the African nation became independent of Britain in 1963. Specifically, the film sheds light on the turmoil between those Kenyans who rebelled against the British (and faced torture and the death of their loved ones) and those who were loyalists, a rift that leaves the country divided more than 40 years later. But while this intriguing subject matter hasn't been explored in much detail in previous films, the problem with The First Grader is that its story has been put together in such a generic, easily accessible way that the specifics of the politics get smoothed over so that they can adhere to a tidy three-act structure.
Much of the fault falls on the shoulders of writer Ann Peacock, who offers no surprises in her screenplay. Whether it's the predictable series of flashbacks that slowly spell out the reasons for Maruge's hidden heartbreak or the requisite scenes in which Jane must stand up to all those around her to defend the importance of education, The First Grader never shakes a sense of creative timidity, fearful of breaking out of narrative constraints to find a more bracing way to honour the story it's telling.
As Maruge, Litondo's relative lack of acting experience helps give the character a quiet, anonymous dignity that would have been difficult to duplicate if he had been played by a more famous actor. Without much unnecessary flourish, Litondo portrays Maruge as a simple man trying to mask the pain of the past with a stoic but amiable demeanour. Though based on a real person, who died last year from cancer, the Maruge of The First Grader is often written as little more than a symbol of silent defiance, but Litondo succeeds in fleshing out the character with his gentle humanity.
Likewise, Harris must contend with playing a blandly determined character, but her innate warmth goes a long way to make her an appealing and sympathetic figure. As with Litondo, she doesn't deliver a false or forced note, a testament to the actors' belief in material that, frankly, isn't worthy of their efforts.
Despite its faults, one of The First Grader's saving graces is that, unlike other cinematic portraits of Africa (such as The Constant Gardener) which tended to romanticise the continent's "foreignness," Chadwick and cinematographer Rob Hardy mostly eschew travelogue visuals, although they can't help but include a few rapturous shots of the Kenyan countryside. Even if the filmmakers' tale isn't executed with much originality, at least Chadwick avoids a satisfied self-righteous tone in his presentation, letting the story's emotional weight come primarily from the understated interplay of Litondo and Harris.
Production companies: BBC Films, UK Film Council, VideoVision Entertainment, Lip Sync, ARTE France, Sixth Sense Productions, Origin Pictures
International sales: Goldcrest Films International, www.goldcrestfilms.com
Producers: Richard Harding, Sam Feuer, David M. Thompson
Executive producers: Joe Oppenheimer, Anant Singh, Norman Merry, Helena Spring
Screenplay: Ann Peacock
Cinematography: Rob Hardy
Production designer: Vittoria Sogno
Editor: Paul Knight
Music: Alex Heffes
Website: www.thefirstgrader-themovie.com
Main cast: Naomie Harris, Oliver Litondo, Vusi Kunene, Tony Kgoroge, Israel Makoe, Alfred Munyua