Dirs: Dayna Goldfine, Dan Geller. US. 2013. 120mins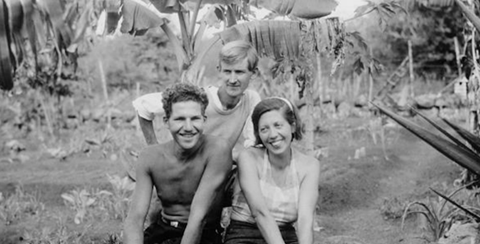 At the highly charged dramatic core of Dayna Goldfine and Dan Geller's intriguing documentary there is a drama feature film version crying out to be re-made. Sex, violence, bitter conflict and an unresolved murder mystery are the defining aspects of its story of how a plan to set up a new life in a idyllic island location goes so badly wrong.
Home film footage, photographs and newspaper accounts of their new life provide a vivid glimpse into this new Eden.
The film, which has been shorn of some nine minutes since its first screening at the Telluride Film Festival, may be rather too padded with tangentially linked contemporary interviews, but at its heart there is some wonderful material and a gripping real-life story. The film should interest buyers (it has been picked up by Zeitgeist for the US) as well as other film festivals. The voice casting of top talents such as Cate Blanchett, Thomas Kretschmann, Diane Kruger and Connie Nielsen will also be appealing.
Dayna Goldfine and Dan Geller (who made acclaimed documentary Ballets Russes) focus on an idealistic plan in 1929 by 43 year-old Berlin physician Friedrich Ritter, who left his wife and brought his younger lover, the also married Dore Strauch, to live in isolation on Floreana, one of the Galapagos Islands. He was determined that they should live off the land around them – he was a vegetarian and devotee of Nietzsche's notion of the Superman – though she was not as physically able to cope with the rigours of their new life.
Home film footage, photographs and newspaper accounts of their new life provide a vivid glimpse into this new Eden…a solitary paradise that was interrupted by new arrivals. First were the rather staid married couple Heinz Wittmer, his pregnant wife Margret and their teenage son Harry, who appeared three years later, inspired by what they had read about Ritter.
He just about managed to put up with them, but the relative harmony of the island was thrown into disarray with the arrival of the so-called Austrian Baroness Eloise von Wagner Bosquet (who carried a copy of Oscar Wilde's The Picture of Dorian Gray with her wherever she went) and her gigolos Robert and Rudolf. She was a personality of epic proportions, and while hardly beautiful she brimmed with sensuality and relished her unconventional sexual arrangement.
Most fascinating – and evocative – is the 16mm footage of a narrative "movie" of the Baroness and her lovers playing at being battling castaways on an island. This, combined with copious letters and memoirs help paint a vivid portrait of a would-be idyllic lifestyle that was always destined to fall apart. Following a drought in 1934 there were a series of fatal incidents and people vanishing from the island never to be seen again – prompting one interviewee to say it would take Sherlock Holmes to solve the mystery.
The fact that the character voiceovers are handled by actors such as Cate Blanchett (Dore Strauch), Thomas Kretschmann (Friedrich Ritter), Diane Kruger (Margret Wittmer), and Connie Nielsen (the Baroness) gives the film an additional edge. The film does veer into melodrama at times, and there is a niggling sense that contemporary interviews with tangentially-linked locals provide rather distracting padding when what the viewer wants is the story of Ritter, the Baroness and their fractured Eden.
Production company: Geller Goldfine
International sales: The Film Sales Company, www.filmsalescorp.com
Producers: Dan Geller, Dayna Goldfine, Celeste Schaefer Snyder
Executive producer: Jonathan Dana
Screenplay: Dayna Goldfine, Dan Geller, Celeste Schaefer Snyder, based on the books, journals, articles and letters of Dore Strauch, Margret Wittner, Friedrich Ritter, Heinz Wittner, John Garth
Cinematography: Dan Geller
Editor: Bill Weber
Music: Laura Karpman
Voice cast: Cate Blanchett, Diane Kruger, Connie Nielsen, Thomas Kretschmann, Sebastian Koch, Josh Radnor
With: Octavio Latorre, Fritz Hieber, Jacqueline, Gil De Roy, Tul De Roy