With its generous array of finance and an ever-expanding pool of talent, Germany is a natural location choice for film shoots from around the world. Martin Blaney looks at how the territory's muscular production sector is strengthening its international links.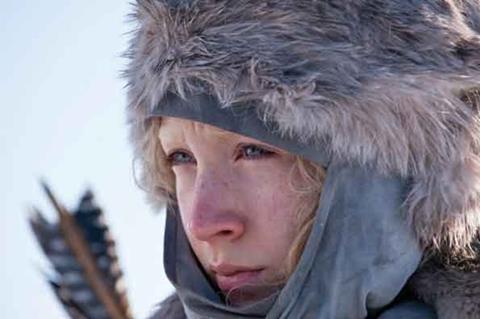 German producers have something of a Midas touch if the winners of the world's major film festivals are anything to go by.
A year ago in Cannes, Berlin-based powerhouse X-Filme Creative Pool was the majority producer on Michael Haneke's Palme d'Or winner, The White Ribbon. Four months later, Venice awarded its Golden Lion to Israeli film-maker Samuel Maoz's war drama, Lebanon, which was co-produced by Cologne-based Ariel Films. And this year's Berlinale saw Heimatfilm's Bettina Brokemper and Johannes Rexin join Turkish film-maker Semih Kaplanoglu on the stage of the Berlinale Palast to receive the Golden Bear for their co-production Honey (Bal). The German connection was even in evidence at the Oscars, with no less than 13 nominations for German co-productions, from Inglourious Basterds and The White Ribbon to The Last Station and Ajami.
Welcome to the new Germany, an expanding hub which is financing and co-producing both international arthouse and large-scale US production. Located at the centre of Europe, Germany's producers have always had an international approach. And although the huge investment in US projects by Germany's private media funds a decade ago is over, there is still significant financial support for foreign projects.
Germany's network of regional funds offer more than $229.4m (€170m) a year, complemented by $94.5m (€70m) from the national German Federal Film Board (FFA) and another $81m (€60m) annually from the German Federal Film Fund (DFFF). Last year, the DFFF allocated $29.8m (€22.1m) to 38 international co-productions and a range of big-budget features such as Inglourious Basterds, Anonymous and Unknown White Male have managed to combine the DFFF incentive with regional funding.
"German funders are very open-minded about the kinds of films supported, as shown by the international assortment of films from Tarantino to Haneke," says Egoli Tossell Film's Jens Meurer. "You can do English-language films here."
"There's a very high level of professional experience among the younger and older German producers and a very open-minded approach to non-German subjects, [film-makers] and languages," notes producer Cédomir Kolar of Paris-based ASAP Films. Although Kolar had never previously co-produced with Germany, he worked on four films last year with German partners: with Razor Film on Benedek Fliegauf's first English-language film Womb, starring Matt Smith and Eva Green and Danis Tanovic's romantic saga Cirkus Columbia; with Pallas Film on Aktan Arym Kubat's comedy The Light Thief; and with Neue Pegasos for Marion Hänsel's Black Ocean.
Growing skills base
Kolar was impressed by his experience of working in Germany, particularly with the production and post sectors where the territory offers an expanding pool of experienced crew and acting talent. "Four or five years ago, it would have been inconceivable that you would have so many Germans as heads of department on the international productions," says Studio Babelsberg Motion Pictures managing director Henning Molfenter. Joe Wright's thriller Hanna, for example, has Alwin Küchler as DoP, Lucie Bates as costume designer and Roland Winke as sound man, while Sebastian Krawinkel was hired as production designer for Roland Emmerich's Anonymous after serving as supervising art director on such projects as Inglourious Basterds and Ninja Assassin at Babelsberg.
As Quentin Tarantino's Basterds and Stephen Daldry's The Reader showed, German actors can also cut it in international films. Sebastian Koch, Stipe Erceg and Bruno Ganz were cast in Dark Castle's thriller Unknown White Male which wrapped at the end of March, while Martin Wuttke joins Cate Blanchett, Saoirse Ronan and Eric Bana in Focus Features' Hanna.
Given all of these factors, it is not surprising foreign producers are returning to Germany. US-based Lloyd Phillips produced Tom Tykwer's The International in Germany in 2007 and was back a year later for Inglourious Basterds. "I think to come back a second time indicates the first one was a great experience," Phillips says.
H20 Motion Pictures' Andras Hamori shot Stephen Frears' Chéri at Cologne's MMC studios for 19 days in 2008. Now Hamori is back with The Gate 3D; the horror remake is shooting from August and is co-produced by the studios' production arm MMC Independent. "We're not clients this time, we're partners on this project and we're working together on every phase of the development, pre-production and financing," he explains (MMC studios will also host David Cronenberg's A Dangerous Method, which starts shooting this month).
Such relationships are an example of how Germany is partnering more with the films that come to the territory. Studio Babelsberg has deals with Joel Silver's Dark Castle Entertainment, for example, and is looking to strike similar co-production deals with others.
Foreign producers coming in to Germany have a great deal of co-production expertise to draw on. And even US independent productions in the $3m-$8m budget range could have a new entree to shooting in Germany through Twistville, a film and TV production company based in Berlin. "A lot of the projects for independent film-makers are dying right now because the equity portion of their financing plans is falling apart," says Twistville's German-American co-founder Philipp Barnett. "We aim to come in as a genuine co-producer to set up projects that can shoot and spend here and are attractive for local broadcasters and distributors to co-finance."
Case Study: Learning Italian
Kevin Reynolds' $35m action comedy Learning Italian is set entirely in Sicily, but the film will shoot partly at Munich's Bavaria Film Studios later this year. Starring Kevin Costner, who is also producing, the film was lured to Germany through a combination of technical considerations and finance.
So far, the production has already attracted up to $1.5m (€1.1m) in local funding: $1.1m (€800,000) in production support from the Bavarian regional film funding body FFF Bayern and an additional $400,000 (€300,000) from the BavarianBankFund (BBF) which allocates conditionally repayable loans as gap financing to commercially promising projects.
Also set to shoot in Sicily, Learning Italian will spend 15 of its 58 shooting days at Bavaria Film Studios' Geiselgasteig lot for green and blue-screen work, with visual effects to be handled by the internationally renowned Scanline. Based on the Bavaria lot, Scanline's credits include Roland Emmerich's 2012. "The technical package we could offer made sense for the production to come to Germany," says Bavaria Film's head of sales and service Markus Vogelbacher.
Learning Italianwas originally scheduled to begin in May but has now been postponed until after the birth of Costner's child.
The production is something of a coup for the Bavaria region, which has looked on with increasing envy as big international productions made their way to Babelsberg. After hosting some large local films, such as Constantin Film's Perfume: The Story Of A Murderer and Rat Pack's Vicky The Viking, Bavaria Film Studios is now taking a more internationally minded approach to acquiring projects.
To this end, Bavaria Film set up the production company Bavaria Film Partners last autumn with Vogelbacher as managing director to co-produce Learning Italian and other future projects. The film's studio shoot will be based completely in Munich where all post-production and visual effects will be undertaken.