Dir: David Fincher. US. 2011. 158mins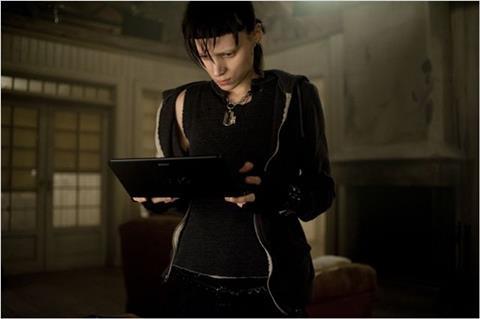 Monstrously skilful and powerfully engrossing, director David Fincher's American remake of The Girl With The Dragon Tattoo is such a taut thriller that it's a pity it overstays its welcome with an extended finale that isn't nearly as satisfying. Based on Stieg Larsson's bestselling novel, this new Dragon Tattoo comes hot on the heels of the 2009 Swedish version, making it impossible not to compare the two. In the final analysis, Fincher's is the stronger movie, although it could have used some of the character development of the original.
Fincher's elegant tension is front and centre in this remake, which makes for a propulsive, if somewhat chilly, thriller.
Despite audience familiarity with Dragon Tattoo and its vivid heroine Lisbeth Salander, Sony is taking a risk releasing this extremely dark and occasionally kinky thriller on December 21 during the midst of the holiday season, when family fare usually reigns. Additionally, Daniel Craig remains a box office star, but the question remains how loyal viewers are to him when he's not playing James Bond, which proved problematic for the underperforming Cowboys & Aliens and Dream House. Of Christmastime's high-profile offerings, Dragon Tattoo will be among the films that requires strong reviews and word-of-mouth to help ensure its commercial success.
As Dragon Tattoo opens, journalist Mikael Blomkvist (Craig) finds himself disgraced and penniless after a libel conviction for an investigative piece he wrote. Fortuitously, he is approached by Henrik Vanger (Christopher Plummer), an aging, wealthy businessman who hires Mikael to investigate the disappearance of his niece Harriet, who went missing more than 40 years ago. Needing assistance digging into the mystery, Mikael befriends Lisbeth Salander (Rooney Mara), a young Goth woman cursed with deep emotional issues but blessed with superb sleuthing abilities.
Fincher has just come off three "prestige" pictures – Zodiac, The Curious Case Of Benjamin Button and The Social Network – so consequently Dragon Tattoo might seem like a throwback to his early career when he was directing moody, twisted thrillers like Seven and The Game. But his new film doesn't feel like slumming: Rather, Dragon Tattoo is a gloriously electric and vibrant crime-thriller that zips along with ferocious force, helped immensely by Jeff Cronenweth's dreamlike cinematography, editors Kirk Baxter and Angus Wall's brisk pacing, and Trent Reznor and Atticus Ross's haunting score. (Notably, all these collaborators worked on The Social Network as well.)
While Craig has been criticised in the past for his sometimes one-note dour air, that grizzled resignation serves him well as Mikael, a man who's lost his good name and is juggling two women: a wife and a mistress (Robin Wright in an underwritten role). His quiet authenticity is a crucial element to the film, giving the audience a solid rooting interest as he investigates the Vanger family's dark past.
The trickier (and showier) role belongs to Mara, who has to contend with the audience's connection to Noomi Rapace, who authoritatively played Lisbeth in Niels Arden Oplev's 2009 original. Mara doesn't have the kinetic danger or sex appeal that made Rapace so magnetic, but her Lisbeth is its own creation, an alluring (albeit nearly asexual) outcast who seems hopelessly withdrawn until she's called upon to assault a rapist or thief, which she does with frightening efficiency.
Those who have seen the 2009 film will notice that Fincher and screenwriter Steven Zaillian haven't extensively changed the story … until the movie reaches its last 30 minutes or so. Unfortunately, as with the Swedish original, Fincher's film is better in its setup of its two characters' worlds – which ultimately will intersect – than in the final resolution of its mystery plot. The sleek style Fincher brings to the Swedish locales gives his movie a grandeur that's somewhat undone by the plot's anticlimactic reveal and overly pulpy showdown between our heroes and the movie's surprise villain.
But what really keeps Dragon Tattoo from ranking with Fincher's recent best is that it fails to create much connection between Mikael and Lisbeth. While their eventual romantic relationship is meant to be surprising, the filmmakers don't really establish much rapport between the leads, which dilutes the emotional payoffs that are meant to happen later in the movie. While Lisbeth was clearly the star of the original Dragon Tattoo, one could argue that Fincher's elegant tension is front and centre in this remake, which makes for a propulsive, if somewhat chilly, thriller.
Production companies: Columbia Pictures, Metro-Goldwyn-Mayer Pictures, Scott Rudin Productions, Yellow Bird
Domestic distribution: Sony Pictures, www.sonypictures.com
Producers: Scott Rudin, Ole Søndberg, Søren Stærmose, Ceán Chaffin
Executive producers: Steven Zaillian, Mikael Wallen, Anni Faurbye Fernandez
Screenplay: Steven Zaillian, based on the book by Stieg Larsson
Cinematography: Jeff Cronenweth
Production designer: Donald Graham Burt
Editors: Kirk Baxter, Angus Wall
Music: Trent Reznor & Atticus Ross
Website: www.dragontattoo.com
Main cast: Daniel Craig, Rooney Mara, Christopher Plummer, Stellan Skarsgard, Steven Berkoff, Robin Wright, Yorick van Wageningen, Joely Richardson