Dir: Hilla Medalia. Israel. 2014. 90mins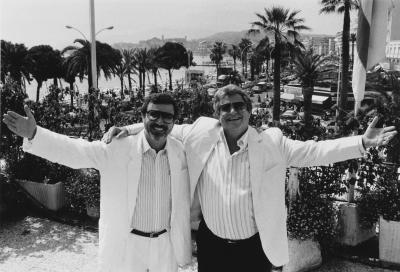 A delightful delve into the film-orientated antics of Israeli-born cousins Menahem Golan and Yoram Globus who specialised and delighted in subverting the film industry as they made more than 300 films – a blend of high-brow art house and full-on exploitation – and challenged the traditional ways of selling and marketing films.
It is an entertaining look back at a rather strange and wonderful time in movie production.
It is richly appropriate that Hilla Medalia's film premieres in the Cannes Classics section. It was in Cannes – with their hefty sales and marketing campaigns – that they cheerfully pre-sold packages of films via Cannon Films and Golan-Globus, embraced the publicity their vibrant personalities brought to the marketplace and relished their place in the international film business.
While Medalia's film is relatively straightforward, tracing their origins as young Israeli film fans through to their attempts at breaking into the Hollywood mainstream, this actually works in its favour, gradually revealing a bold story that has to be seen to believed.
Golan was a film director whose company in Tel Avi was busy making modest successes in the 1960s, and he was encouraged to find a place for his cousin – who had an eye for finances – Globus within the operation. The surprise success of teen film Lemon Popsicle (1978) saw them move operations to Hollywood, where – after a disastrous musical called Apple in 1980 almost saw them collapse – they hit the teen music zeitgeist with breakdance film Breakin' in 1984.
This opened the floodgates to their unique blend of art house and action, with the Cannon roster famously blending Chuck Norris, Charles Bronson and Michael Dudikoff with Franco Zeffirelli, Robert Altman, Roman Polanski and Andrey Konchalovsky. Things came to a head, however, with the relative failure of Superman IV: The Quest For Peace and a few other ambitious projects, though Menahem Golan is reticent about discussing the company's financial issues on screen. But while they may be less than forthcoming, to Medalia's credit she is more than happy you fill in the blanks and discuss their financial wranglings and occasional errors of judgment.
Of course the joy of the film lies in the copious amount of clips from their films, ranging from the early Israeli musical and dramas through to their action epics. Andrey Konchalovsky happily admits he owes a debt of gratitude to Golan and Globus while American Ninja star Michael Dudikoff comments on how his entire career was built around their action films.
It is an entertaining look back at a rather strange and wonderful time in movie production, and while this film may not spark a full retrospective of their work (though it does make you want to track down Apple) it is a fascinating delve into the background of a brand that rose high and then fell heavily.
Production company/sales: Other Angle Pictures, otheranglepics@gmail.com
Cinematography: Oded Kirma
Editor: Daniel Sivan
Music: Jonathan Bar Glora
With: Menaham Golan, Yoram Globus, Sylvester Stallone, Eli Roth, Chuck Norris, Charles Bronson, Franco Zeffirelli, Tom Pollock, Boaz Davidson, Michael Dudikoff, Jon Voight, Andrey Konchalovsky