Dubai has worked hard to put itself at the centre of the Arab film-making world, with the Dubai International Film Festival and Dubai Studio City. But has the financial crisis placed a roadblock in its path? Mohammed Rouda reports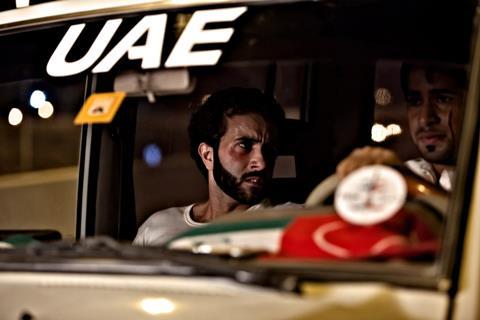 At the beginning of 2010, Dubai sent the world a message with the opening of the 818m-high Burj Dubai, the tallest tower in the world. Building work had started back in September 2004 and cost around $4.5bn.
What Sheikh Mohammed Bin Rashid Al Maktoum, the ruler of Dubai, hopes the successful completion of the skyscraper signifies, is the financial stability of the Gulf state. After all, just a few weeks earlier, a debt crisis had forced the Abu Dhabi government, the capital of the United Arab Emirates (UAE), to stage a $10bn bail-out of Dubai in a rare show of neighbourly unity between the two emirates.
But many believe Dubai has a long way to go before it can regain the stability and international financial standing it fought so hard to attain over the past decade.
Nurturing local film-makers
Indeed some international festival-goers at the 6th Dubai International Film Festival (DIFF) noted the event felt a little muted this year compared to previous editions. Held December 9-16, the festival tried not to miss a beat, bringing over Gerard Butler and Mandy Moore in their quest to transport some Hollywood glamour to the Gulf, as well as a stream of Bollywood celebrities to celebrate DIFF's tribute to the Indian film industry.
Significantly, the line-up of local films and initiatives also showed the festival is beginning to fulfil its promise to nurture and support film-making in the region. The two big Muhr Award winners were acclaimed Palestinian director Michel Khleifi's comeback picture Zindeeq, which won the best Arab picture award, and Brillante Mendoza's Filipino-French film Lola, which won the Muhr AsiaAfrica award.
"What we have created is a place where Arab talents and professionals meet with international companies to work together and build up a connection."

Jane Williams, DIFF
DIFF also hosted the world premiere of the first multilingual Emirati film.The $7m City Of Life, directed by London-based Ali Mostafa, is not the first UAE-financed film but it is the most expensive to date.
The numerous prizes handed out - 28 in total with a combined value of $750,000 - reflect the festival's desire to become the nucleus of Arab cinema. Although Abu Dhabi's three-year-old Middle Eastern Film Festival (MEIFF) offers the bigger total prize money - $1m - Dubai has decided to present itself as an Arab cinema-friendly event where producers, distributors and directors can meet and forge alliances.
"The idea of turning the Dubai festival into an event from which Arab film-makers could benefit is staggering,"says Rashid Masharawi, a Paris-based Palestinian producer and director and frequent attendee at both DIFF and MEIFF.
The festival has also sealed a partnership with the Royal Film Commission in Jordan (RFC) to promote Jordanian film-making. DIFF will help Jordanian scriptwriters to sell their scripts through the festival's pitching and financing event, the Dubai Film Connection (DFC). The RFC's Rawi Middle East Screenwriters Lab already has a similar agreement with the Sundance Film Festival.
Launched three years ago, the DFC is beginning to achieve tangible results. Under the guidance of Jane Williams, DFC has helped to bring 33 projects to fruition, with two finished films screening in competition at the festival: Cherien Dabis' Amreeka, which first premiered at Sundance in 2009, and Haider Rashid's London-set film Tangled Up In Blue, a UK-UAE co-production.
Williams underlines the importance of this achievement. "What we have created is a place where Arab talents and professionals meet with international companies to work together and build up a connection in which both sides can work together before the film is made."
However, though the debt crisis may not yet have knocked the festival off its tracks, it has certainly dampened the ambitious plans of the country's wider industry to become a major player in the international film world.
"[Dubai's] entertainment sector will most certainly have to go in for a close check-up,' says Talaat Captan, an Abu Dhabi-based distributor and consultant to Qatar-based financier Al Noor Media. "Dubai's film sector needs to use this opportunity to readjust and make sure of its future steps."
Studio in search of shoots
One early casualty is the $400m Dubai Studio City (DSC), a state-of-the-art facility which includes two 25,000 sq ft soundstages. The studio opened at full capacity just before the debt crisis hit (it had previously housed some of Warner Bros' Syriana shoot back in 2004).
"Dubai's film sector needs to use this opportunity to readjust and make sure of its future steps."

Talaat Captan, Al Noor Media consultat
DSC planned to invite international productions to use the facility on the condition they were set up as a full Dubai co-production. But now any potential local equity financing has disappeared, apart from Mostafa's City Of Life no local or international feature has shot at the studio and none are lined up.
"It will take time before it gets so busy. But judging by what has been happening since the labs and the facilities were in place a few months ago, it's been faring well," says DSC executive director Jamal Al Sharif.
But no matter how predictably upbeat DSC management may be, there is no avoiding the fact that, for now at least, Dubai's sky-high international film ambitions have been pulled sharply back down to earth.