Dir. Ali F Mostafa. UAE. 2009. 97mins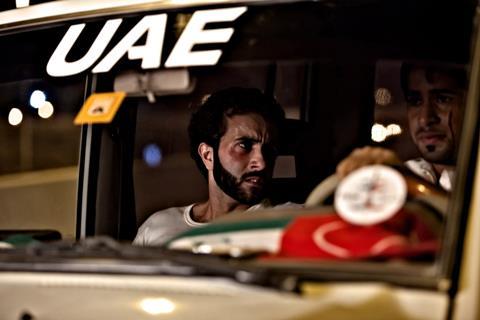 Dubai resident Ali F Mostafa takes a good-looking if superficial look at life in the Emirate city-state currently occupying the financial pages in his much-anticipated City Of Life. Anybody looking for an expose of Dubai's much-reported migrant-labour underbelly will have to wait longer, however, as the film stops short of a penetrating examination of this Arabic east-meets-west enigma.
Mostafa's Crash-like tale of three separate lives which ultimately connect is technically assured and glossily watchable, although its thin characterisations and TV mini-series themes should see its best future prospects on the small screen. Locally, the subject matter will resonate and this could see decent business in the UAE and perhaps amongst upscale Indian audiences.
Indian taxi driver Basu (Sood), air hostess Natalia (Lara), from Bucharest, and rich local Faisal (Al Kaabi) are all struggling with their lives in the Emirate, although they have been awarded markedly soap-style dilemmas to wrestle with.
Basu looks like a Bollywood star and performs at night in a doppelganger show, something that may get him fired from his day job. Former ballerina Natalia falls for smoothie playboy Guy (Flemyning) while her jealous flatmate (Dormer) looks on. And, despite his fast cars and credit cards, Faisal is somewhat aimless; his best mate Khalfan (Alsalman) is an aggressive firebrand who keeps landing them in trouble.
Mostafa cuts between the stories with confidence and keeps the multilingual threads clearly in play. He can't resist showing off the city with fast cars, swimming pools and yachts, however, even though the type of audience which might be attracted to the low-star-wattage City of Life will be looking for the "real" Dubai behind them. Basu's segment is the most challenging in this respect; while his accommodation is dismal, it's far from the squalor and abuse that newspaper articles hint at and his biggest problem seems to be that he might have to become a waiter.
The air hostess segment is the soapiest, with an unplanned pregnancy, a Single White Female flatmate and some wooden acting. And although the characters of Faisal and Khalfan potentially offer more of an insight, they're the most underwritten of all Mostafa's chess pieces.
Technically, this performs above expectations, showing the Dubai can-do attitude with nicely-shot night sequences and a well-staged crash, amongst other highlights.
Production company/international sales
Filmworks
+97143473085
Producers
Tim Smythe
Leigh Clarke
Ali F. Mostafa
Screenplay
Ali. F Mostafa
Jonny Brown
Tim Smythe
From a story by Ali F. Mostafa and Gerry Sherard
Cinematography
Michael Brierley
Production design
Christopher Bass
Editor
Raul Skopecz
Main cast
Sonu Sood
Saoud Al Kaabi
Natalie Dormer
Alexandra Maria Lara
Jason Flemyng
Yassin Alsalman
Ahmed Ahmed
Javeed Jaaferi
Susan George