Dir: Peter Jackson. US. 2012. 170mins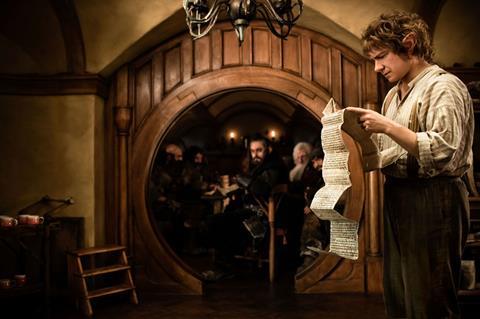 Director Peter Jackson's return to the land of Orcs, Dwarves, Elves, Wizards and Hobbits turns out to be a happy homecoming. The Hobbit: An Unexpected Journey recaptures much of the epic spectacle of the filmmaker's massively successful Lord Of The Rings trilogy, smoothly setting in motion another large-scale adventure that will be carried forward in two subsequent films over the next two years. Boasting an appreciably dark tone and a seemingly endless array of visual astonishments, this Hobbit suggests that, nine years removed from his last J.R.R. Tolkien adaptation, Jackson has lost none of his ability to deliver this sort of brawny mainstream entertainment, even if a bit of déjà vu hovers over the proceedings.
Jackson's dynamic dramatic sense is such that his battle scenes have a mythic grandeur to them, successful achieving a storybook sweep that has little concern for realism.
Opening across most of the planet by December 14, The Hobbit hopes to follow in the footsteps of the first three films, which grossed worldwide more than $2.9b and earned a combined 17 Oscars. Fantastic box office seems assured, the only minor question being whether a portion of the audience will feel some sort of Tolkien fatigue and decide they don't want to invest three more years in another of these trilogies.
Based on Tolkien's 1937 book, which predated his Lord Of The Rings novels, The Hobbit recounts the exploits of Bilbo Baggins (Martin Freeman), a modest Hobbit who is recruited by Gandalf the Grey (Ian McKellen) to take part in a grand quest. Thorin (Richard Armitage), a battle-tested Dwarf, is leading a handful of his fellow warriors to reclaim their homeland from a dangerous dragon named Smaug. Though he at first feels unworthy of such a perilous adventure, Bilbo eventually decides to join in the Dwarves' journey, but their path will be beset by frightening villains — such as the merciless Orcs — almost from the outset.
Though set 60 years before the Lord Of The Rings films, this first chapter of the Hobbit trilogy shares with the first Rings film, The Fellowship Of The Ring, a slow build-up in which the major characters and stakes are introduced before getting down to the business of delivering one gripping sequence after another. With several Rings participants involved in this prequel — including McKellen's Gandalf, Cate Blanchett's Galadriel, and Hugo Weaving's Elrond — the new movie has constant comforting echoes from the earlier trilogy, although this can also create a nagging familiarity that can leave the viewer feeling that he's seen all this before. (Once again, a timid Hobbit, with the help of a wise Wizard, goes off to find himself in the big, scary world.)
But while such problems are perhaps inevitable, The Hobbit largely overcomes them by being robustly entertaining and well-paced, despite its 170-minute running time. Jackson has shown a penchant for action overkill — not just with the Rings films but also King Kong — and The Hobbit continues in that tradition, stretching sequences to their breaking point with outlandish feats and dizzyingly large armies of CG enemies tossed about the screen. This can occasionally become exhausting, but Jackson's dynamic dramatic sense is such that his battle scenes have a mythic grandeur to them, successful achieving a storybook sweep that has little concern for realism. (Consequently, it's not unusual for Bilbo and his chums to fall from great heights and barely blink an eye before moving on to the next challenge.)
Elijah Wood, the star of the Rings films, has a brief cameo in this new movie, so replacing him as the story's centre is Freeman, an English actor possibly still best known in the States from the original BBC series The Office, where he played the lovelorn, deadpan Tim. Freeman wields the same sort of understated comic timing as Bilbo, a fussy homebody who decides that he needs a little adventure in his life. The Rings trilogy sometimes suffered from overly broad or awkward stabs at humour, but Freeman gives The Hobbit a light touch that complements the otherwise lingering unease and terror surrounding our heroes.
Of the new faces, the other to leave an impression is Armitage, wholly authoritative as the stoic, haunted Thorin who longs to avenge his slain father king. In comparison to its muscular action sequences, The Hobbit isn't as confident in its attempts to craft tension between the gruff, heroic Thorin and the affable, unsure Bilbo, but Armitage's fierce glances are enough to create an imposing, if somewhat one-dimensional warrior.
Much of the returning Rings cast has little more than cameos, with the crucial exceptions of McKellen — still just right as Gandalf, a fount of sage advice and commanding presence — and the invaluable Andy Serkis as Gollum. While it might be hard to forget what a groundbreaking technological achievement Gollum once was, to see this pathetic creature back on the screen is to remember that it was also a tremendous acting feat as well. Once again Serkis, through motion capture, produces a performance with real wit and menace, and certainly his arrival in The Hobbit, where he squares off with Bilbo, is the movie's centrepiece sequence. If other elements of this new Tolkien film have lost some of their novelty, Gollum remains a galvanising figure, still as wicked and twisted as ever.
As would be expected, the film's look is almost flawless, although a few effects shots aren't quite as seamless as one would hope. Working with many of the same below-the-line craftsmen that assisted on the Rings trilogy — although some, like current production designer Dan Hennah, have been promoted since then — Jackson has crafted a Middle Earth that is just as evocative as it was on film a decade ago.
Whether it's Howard Shore's resonant score or Andrew Lesnie's striking cinematography, which easily transitions from the bucolic beauty of Bilbo's Shire home to the cruel carnage of the battlefield, The Hobbit is utterly immersive. Even screened in conventional 2D and 24 frames per second — the movie is also available in 3D and a sharper 48 frames per second — the power of the images is such that it conjures up a sense of the otherworldly that's incredibly potent. The Hobbit may ultimately be more about its spectacle than it is about any emotional stakes, but Jackson is so adept that his grand vision sweeps you up all the same.
Production companies: New Line Cinema, Metro-Goldwyn-Mayer Pictures, Wingnut Films
Domestic distribution: Warner Bros. Pictures, www.warnerbros.com
Producers: Carolynne Cunningham, Zane Weiner, Fran Walsh, Peter Jackson
Executive producers: Alan Horn, Toby Emmerich, Ken Kamins, Carolyn Blackwood
Screenplay: Fran Walsh & Philippa Boyens & Peter Jackson & Guillermo del Toro, based on the novel by J.R.R. Tolkien
Cinematography: Andrew Lesnie
Production design: Dan Hennah
Editor: Jabez Olssen
Music: Howard Shore
Website: www.thehobbit.com
Cast: Ian McKellen, Martin Freeman, Richard Armitage, James Nesbitt, Ken Stott, Cate Blanchett, Ian Holm, Christopher Lee, Hugo Weaving, Elijah Wood, Andy Serkis