Dir-scr: Im Sang-soo. Korea. 2010. 106 mins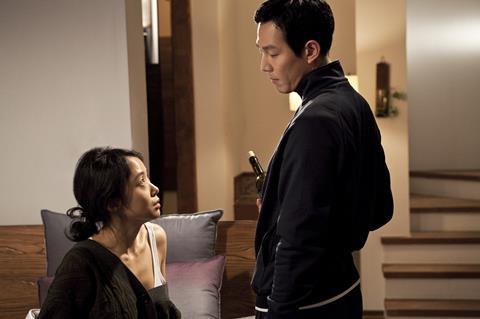 Tasty, full of black humour, but finally upended by the mannerist games it plays so ably, erotic thriller The Housemaid is a smart but shallow remake of Kim Ki-young's cult 1960 Korean movie of the same name.

Outside of Korea, few will be playing the comparison game, so perhaps it matters little that Im Sang-soo's glossy refurbishment has none of the scary weirdness of the original. But given the director's obtrusive namechecking of Hitchcock prior to the film's Cannes competition debut, a little more suspense would have been nice.
The most seductive thing about the film is the hyper-real ambience of the upscale Korean household it plays out in.
That said, this is a calculatedly commercial number that should do better than any of Im's films to date, A Good Lawyer's Wife included. In Korea, where the film was released on May 13 to coincide with its Cannes press screening, the continuing notoriety of Kim's original and the recognisability of the cast (including veteran You Yuh-Jung, who starred in two of Kim's post-Housemaid films in the early 1970s) should ensure a strong opening. Internationally, Pretty Pictures' acquisition of the film for France (where it opens on September 15) should be the first of many bites for Mirovision.
It's not Old Boy by a long, long chalk, but it'll do for the Asian cult fans until something more substantial comes along.
Perhaps the most seductive thing about the film is the hyper-real ambience of the upscale Korean household it plays out in - the biggest and most expensive purpose-built set in Korean film history.
The mansion that belongs to wealthy businessman Hoon (Lee Jung-jae) and his pregnant trophy wife Hae-ra (Seo Woo) is a perfect simulacrum of the cultured consumer lifestyle, with its expensive valve amplifiers, scenographic techno-fireplace, carefully placed contemporary paintings and melodramatic-minimalist piano room. In fact, if there's a true Hitchcock echo it's here: as in North by Northwest, a spikily modern house becomes a menacing presence.

Jeon Do-youn, who picked up the Cannes Best Actress award in 2007 for her role in Secret Sunshine, plays Eun-yi, a naïve and childlike woman of uncertain background who is taken on as a junior housemaid by stern matron Byung-sik (Youn Yuh-Jung), a housekeeper to Hoon, Hae-ra and their eerily perfect and solemn little daughter Nami (Ahn Seo-hyun).
Eun-yi immediately hits it off with Nami but is treated more distantly by her posh bimbo mother, huge with twins, who spends much of her time flicking through coffee table books the size of coffee tables.

Hoon is soon exercising his droit de seigneur over the new maid, who turns out to be up for it - not as a practiced seductress, more as a kid let loose in an erotic sweet shop. Meanwhile, show-stealing Byung-sik, who supplies most of the comic moments but is also the films most interesting character, plays a double game, professing her contempt for the masters she serves, yet shopping Eun-yi to Hae-ra's cold and calculating mother Mi-hee (Park Ji-young) as soon as she discovers the new maid is pregnant.

It's not until this point, a good forty minutes in, that the film remembers that it's supposed to be not so much a stylised study of power and servitude as a thriller. But despite some appetising performances, The Housemaid never builds anything like the tension of its fifty-year-old inspiration.

The problem is partly one of poise: the rhythms are just too measured, the crane shots, overhead shots and set pieces all a little too studied. If only some of the energy that had gone into getting the look right had been expended on the story: the ending, in particular, seems like a desperate afterthought. played for spectacle rather than dramatic truth.

Production companies: Mirovision Inc, Sidus FNh
International sales: Mirovision Inc, +82 2 3443 2553
Producer: Jason Chae
Executive producer: Choi Pyung Ho, Seo Bum-seok
Cinematography: Lee Hyung Deok
Production designer: Lee Ha-jun
Editor: Lee Eun-soo
Music: Kim Hong-jip
Main cast: Jeon Do-youn, Lee Jung-jae, Youn Yuh-jung, Seo Woo, Ahn Seo-hyun, Park Ji-young