Anne Fontaine's drama claimed the COLCOA Audience Award as the nine-day celebration of French cinema came to a close in Los Angeles.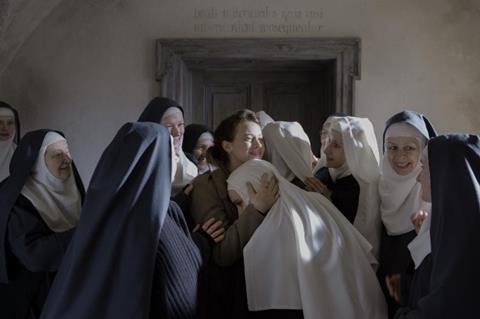 Music Box holds US rights to the film (pictured) about wartime atrocities committed by the Nazis at a Polish convent.
Christian Carion's Come What May earned the COLCOA LAFCA Critics Award and will open in the US through Cohen Media Group.
Made In France by Nicolas Boukhrief won the Audience Special Prize while the Critics Special Prize went to Bouli Lanners' The First, The Last.
The Best Documentary Award went to Tomorrow co-directed by Cyril Dion and Mélanie Laurent, while The First Feature Awards went to Film Movement's Neither Heaven Nor Earth by Clément Cogitore.
It's Caviar by Sarah Lelouch won the audience award in the Short Competition category, while Mother(s) from Maïmouna Doucouré won the jury award.
Natalie Beder's Millions Of Tears won both the juried award and the audience special prize, and Enemies Within by Sélim Azzazi, also earned a special prize from the audience.
The COLCOA Coming Soon Award, given in association with KPCC 89.3, to a film presented with an attached US distributor, went to Rémi Chayé's animated feature Long Way North. Shout! Factory will distribute in the US.
COLCOA reported a record attendance of 25,000 attendees at its Directors Guild Of America hub from April 18-26.
Thirty-four features and documentaries, nine TV drama and series, and 21 shorts competed for the 2016 COLCOA Awards.