Dir: Brad Furman. US. 2011. 119mins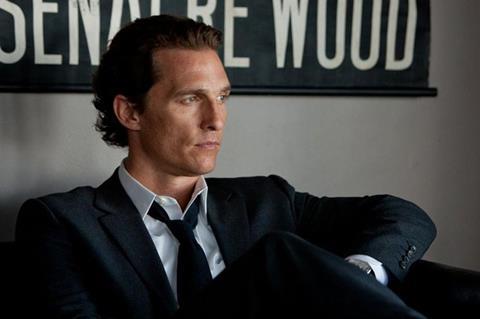 A good-old-fashioned courtroom thriller, The Lincoln Lawyer offers modest but sturdy pleasures, chief among them a strong cast and a page-turner of a story. Based on crime novelist Michael Connelly's book, this tale of a slick defence attorney who takes on a dangerous high-profile case is notable first and foremost for the platform it provides Matthew McConaughey to give one of his best performances in far too long.
McConaughey shows a charisma and presence that suggests he needn't rely on fluffy romances when he's choosing roles.
Opening March 18, this Liongate release will be squaring off with Limitless, another thriller aimed at adult audiences. With McConaughey lately focusing on romantic comedies, it's an open question how wide an audience there is for him in a serious role. Consequently, The Lincoln Lawyer may only do moderately well theatrically, finding a more hospitable home in ancillaries.
Los Angeles defence attorney Mick Haller (McConaughey) is a cocky, charming guy who loves representing low-life clients nobody else will. Mick is recruited by Louis Roulet (Ryan Phillippe), a rich, spoiled playboy who's been accused of brutalizing a young woman he met at a club. Mick agrees to take the case, but Louis' insistence on his innocence starts to run counter to the evidence Mick uncovers.
For his second feature, director Brad Furman (The Take) does a good job capturing the energy and diversity of Los Angeles, specifically its urban downtown area. But more importantly, he manages to give The Lincoln Lawyer a taut authenticity so that this world of small-time lawyers, disgruntled detectives and dogged private investigators feels plausible, albeit a bit too colourful for its own good at times.
As one might expect, Mick's sleuthing reveals more levels to this case than there would appear to be at first glance, but despite its two-hour running time The Lincoln Lawyer for the most part is nicely paced so that the film's wealth of characters are sharply developed while the machinations of the mystery plot move with efficiency. Beyond Mick's client Louis, we also come to know Mick's ex-wife (Marisa Tomei) and his partner and close confidant (William H. Macy). This attention to detail gives the movie a texture that makes it feel lived-in in a way most films don't.
In truth, The Lincoln Lawyer's setup of its mystery is more rewarding than its payoff, particularly because the attempts to dramatise Mick's growing of a conscience are less than compelling. But after years of starring in lazy romantic comedies like Failure To Launch, McConaughey shows a charisma and presence that suggests he needn't rely on fluffy romances when he's choosing roles. And he's surrounded by a skilful group of performers, with Tomei and Macy both believably portraying regular working people just trying to get by. And as the playboy who may be hiding something, Phillippe strikes a nice ambiguous note, never entirely revealing what Louis might be thinking.
Production companies: Lakeshore Entertainment, Sidney Kimmel Entertainment, Stone Village Pictures
Domestic distribution: Lionsgate, www.lionsgate.com
Producers: Sidney Kimmel, Richard Wright, Scott Steindorff, Tom Rosenberg, Gary Lucchesi
Executive producers: Eric Reid, David Kern, Bruce Toll
Screenplay: John Romano, based on the novel by Michael Connelly
Cinematography: Lukas Ettlin
Production designer: Charisse Cardenas
Editor: Jeff McEvoy
Music: Cliff Martinez
Website: www.thelincolnlawyermovie.com
Main cast: Matthew McConaughey, Marisa Tomei, Ryan Phillippe, Josh Lucas, John Leguizamo, Michael Pena, Bob Gunton, Frances Fisher, Bryan Cranston, William H. Macy