Dir: Michael Winterbottom. UK. 2013. 105mins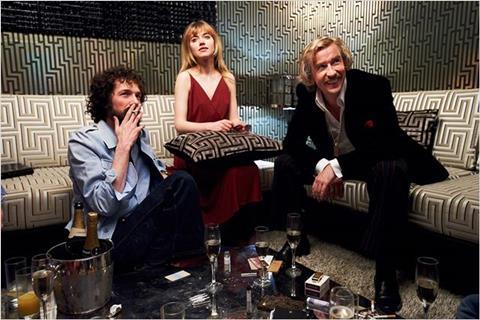 The hedonistic lifestyle of Paul Raymond, the man dubbed the 'king of Soho,' makes for a stylish, glamorous and ultimately desperately sad real-life story, with Michael Winterbottom's impressive film delving brilliantly into the empire of gentlemen's clubs, real estate deals and erotic magazines that brought Raymond great wealth balanced with a personal life that featured a failed marriage, troubled children and great tragedy.
While Steve Coogan's impressive performance as the core of the film, it is the three actresses who make the most striking impact.
The film, which had its world premiere at the Sundance Film Festival, is also the perfect platform for the undeniable talents of Steve Coogan who has championed the project for years and he is remarkable and convincing as a complex, charismatic and challenging man who was a mass of contradictions… relishing his scandalous life but eventually devastated by the untimely death of his daughter. A strong cast, genial sense of smuttiness and the real-life story aspect should make it appealing for buyers, though the bountiful full-frontal female nudity may have an impact for some territories.
The spine of The Look Of Love is Raymond's relationship with his daughter Deborah (an impressive Imogen Poots), which borders on the obsessive as he tries to carve out a career for her as a singer and is complicit in her drug-taking, but in truth the film's strength is the interweaving story of the three women in his life – daughter Deborah, wife Jean (Anna Friel) and lover Fiona Richmond (a startling fine performance by the talented and woefully underused Tamsin Egerton), all of whom offer him love and support but are ultimately slowly pushed away from him in different ways.
The other key personality in the film is the West End area of Soho itself. Director Winterbottom shot his low-budget film Wonderland there (using hand-held cameras and a small crew), but The Look Of Love, with its plentiful period details (costumes, vehicles, locations etc) is a bigger challenge. But he pulls it off, with Soho pubs, restaurants and clubs - such as Kettners and L'Escargot and jazz club Ronnie Scott's – offering the perfect atmospheric backdrop for the story.
The film opens with Paul Raymond in the back of his ubiquitous Rolls Royce (number plate PR II) driving through Soho with his young granddaughter, counting off the properties he owns, before switching to the 1950s (presented in black-and-white) and his early days presenting nude revue shows and making regular appearances in court on obscenity charges. But with the 1960s comes colour and a sense that sex and sophistication go hand-in-hand as he opens his famous Raymond's Revue Bar.
He has a loving but open relationship with wife Jean (a perfect role for Anna Friel), but things change when he auditions actress Amber St George for a role in his racy play Pyjama Tops. He falls for her, renames her Fiona Richmond and she goes on to be columnist and model for his new magazine Men Only. He leaves his wife and moves Richmond into his 'stylish' London penthouse flat (style and furnishing designed by Ringo Starr he proudly announces), with the couple leading a champagne lifestyle of clubs, fun, sex, drugs and more fun.
When his daughter Deborah is expelled from her boarding school she announces that she wants to be singer. Richmond indulges her and stages an expensive production, but the public response is less than enthusiastic and he eventually decides to close down the show…upsetting Deborah and seeing her take to drugs. But he always had faith in her and she becomes his closest confidante and designated heir, taking over running parts of his empire. But her life is cut short in 1992 when she died of a drug overdose at the age of 36, with her death prompting Paul Raymond's withdrawal from public life.
While Steve Coogan's impressive performance is the core of the film, it is the three actresses who make the most striking impact. They are complex and charismatic characters, while to a certain extent Paul Raymond is such a blank and self-absorbed personality that while he spends much of the film cavorting with naked women, snorting drugs and quaffing champagne he is also relatively emotionless. Coogan looks the part and imbues Raymond with a smutty charm and leering panache, and is especially impressive in the film's closing scenes when he has to try and deal with his daughter's death.
Production companies: Revolution Films, Baby Cow Productions
International sales: StudioCanal, www.studiocanal.com
Producer: Melissa Parmenter
Executive Producers: Andrew Eaton, Jenny Borgars, Katherine Butler, Norman Merry, Danny Perkins, Piers Wenger
Screenplay: Matt Greenhalgh
Cinematography: Hubert Taczanowski
Editor: Mags Arnold
Production designer: Jacqueline Abrahams
Music: Antony Genn, Mark Slattery
Main cast: Steve Coogan, Imogen Poots, Tamsin Egerton, Anna Friel, Chris Addison, James Lance, Matthew Beard, Simon Bird, David Walliams