Dir: Joshua Oppenheimer. Denmark-Indonesia-Norway-Finland-UK. 2014. 100mins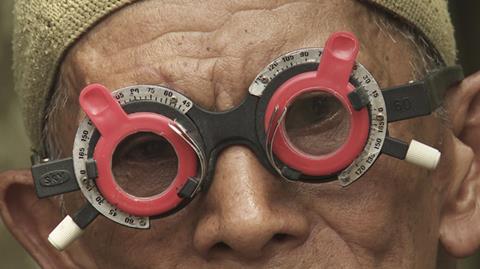 Joshua Oppenheimer's astonishing documentary The Act Of Killing made several critics' best-film lists in 2012 and 2013, and justifiably so: edgy, inventive, sly and angry, it staged a sort of surreal national drama of buried truths and lack of reconciliation by persuading some of the perpetrators of a wave of government- and army-supported massacres of 'Communists' in Indonesia in 1965 to re-enact their atrocities. The Look Of Silence returns to the same subject matter, but this time presents the point of view of one victim's family.
Ari's affectionate relationship with his own kids – whose scholastic disinformation he patiently corrects – provides the glimmer of hope for the future that was lacking in The Act Of Killing.
It's a less flashy exercise, and far more intimate, finding its human and dramatic core in a soft-spoken country optometrist, Adi, and his need to ask tough questions about the murder of a brother he never even met. He does this by confronting – sometimes with the excuse of giving them eye tests – killers who still live in neighbourhood, and who still wield the power and influence that come from being on the right side of the goodies and baddies narrative Indonesia has constructed to deal with the trauma of 1965. (A primary school history class attended by Adi's young son underlines the point: the Communists of those years are presented as godless bandits who kidnap generals and gouge their eyes out).
There's no more assassins' remorse on display here than in that previous outing, but a kind of closure, or at the very least a kind of comeback, still emerges from a film that deserves to be seen back to back with The Act Of Killing. Detractors may argue that it's something of a DVD-extras appendage to that other film, but in fact it stands apart. If Act sometimes entered into uneasy complicity with its former machete-wielding subjects in order to lull them into a false sense of security, The Look Of Silence takes the quiet dignity, anger and courage of Adi and his elderly mother as its tonal measure.
It's a gripping but also often tense and uncomfortable viewing experience as Adi confronts men who were all in varying degrees responsible for his brother's death and that of thousands of others – and is variously stonewalled, told not to rake up the past, given the 'I was only following orders' line, and challenged with not-so-veiled threats (also couched in the end credits, where several crew members, including a co-director, appear as 'Anonymous' – for fear, we presume, of reprisals). Oppenheimer's latest will get plenty more festival play following its Venice debut and Toronto airings, and looks sure to secure some niche arthouse distribution, with the prospect of Act/Look double bills for those with an appetite for strong doses of documentary therapy.
Oppenheimer's twin Indonesian documentaries are not mere records; they make things happen (something that earned Act accusations of manipulating its subjects, which sort of misses the point of a film that uses filmic manipulations as an antidote to national brainwashing). The way films can make things happen is central to The Look Of Silence: it was the footage the director shot of death-squad members' testimonies between 2003 and 2005 (some of which ended up in Act, and which is amply replayed here) that provoked Adi to set out on his quest for the killers of a brother he never knew – or at least this is how the causality comes across.
What makes this follow-up more than just a crescendo of uneasy confrontations with perpetrators and their families is the frame of Adi's home life. His elderly mother – the documentary's co-star and emotional lodestone – has never forgotten Ramli, a brother Adi (it is revealed) was brought into the world to replace. We see her washing Adi's near-blind, deaf and toothless father; a caring counterpoint, perhaps, to all those visceral tales of bodies ripped and slashed, heads and genitals cut off, and human blood drunk by killers in the belief that it would save them from going mad.
Adi's centenarian father's memory losses and sensory isolation wave in the direction of state-of-the-Indonesian-nation metaphor – though thankfully (like the eye tests Adi administers), this is never rammed down our throats. And Adi's affectionate relationship with his own kids – whose scholastic disinformation he patiently corrects – provides the glimmer of hope for the future that was lacking in The Act Of Killing. Sure, there's a sense once again of a director with a very strong agenda that he's determined to steer through; but when history is actively denied, you feel the end justifies the means. And he by no means forgets his own country's part in fomenting the anti-Communist witchhunt: in some really quite remarkable footage from a 1967 NBC TV documentary, a US correspondent comments approvingly, or at the very least dispassionately, that "in some prison camps, Communists are starved to death, or released periodically to be killed by the citizens".
Production company: Final Cut for Real
International sales: Cinephil, philippa@cinephil.co.il
Producer: Signe Byrge Sorensen
Executive producers: Werner Herzog, Errol Morris, André Singer
Cinematography: Lars Skree
Editor: Niels Pagh Andersen