Dir: Harald Zwart. US/Germany. 2013. 130mins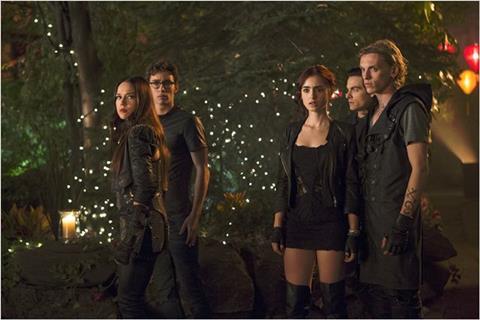 A bewildering mixture of painfully familiar tropes and dishearteningly under-sketched characters gets the blender treatment in the latest big screen adaptation of young adult adventure fiction, based on the series of five novels by Cassandra Clare. Vampires, werewolves, warlocks, demons, portals to other dimensions and enough symbology to make even Dan Brown giggle all feature prominently in The Mortal Instruments: City Of Bones, a sci-fi/fantasy quest of awakened destiny that starts out strongly but loses steam after a half-hour, cycling through a catalogue of tween-stamped CGI mayhem en route to a conclusion less thrilling than shrug-inducing.
Bower has a bit of snarky charm that distinguishes him from the anonymous and often interchangeable bumper crop of small screen talent which usually populate these prefabricated hunky roles.
A sequel with the same major creative players is already in the works — shooting this fall for a planned release next year, when a sixth book will also be published — but the franchise debut will try to get a jumpstart on a weak slate of wide openers by releasing on Wednesday, August 21. With lukewarm at best word-of-mouth, however, international returns will have to be a major player for City of Bones to realise a truly healthy profit.
The story centers around Clary Fray (Lily Collins), a modern-day New York City teenager who discovers that she's been kept in the dark as to her true heritage. When her mother Jocelyn (Lena Headey) goes missing and her quasi-stepfather Luke (Aidan Turner), who turns out to be a werewolf, is also kidnapped, a panicked Clary doesn't know where to turn.
After sword-wielding "shadow hunter" Jace (Jamie Campbell Bower) saves both Clary and her dutiful, smitten, long-suffering best friend Simon (Robert Sheehan), a love triangle quickly materialises, along with their eye-opening introduction to a "downworld" of which "mundanes" (that would be regular humans) are completely unaware. Jace takes the pair to a magically concealed institute for shadow hunters in the middle of the city, which is presided over by Hodge (Jared Harris), who would be this story's Charles Xavier or Trevor Bruttenholm, if only given anything interesting to do or say. It's there that Clary learns of her special ability, hidden in her memory by her mother, to retrieve a magic cup desired by the power-hungry Valentine (Jonathan Rhys Meyers).
City of Bones certainly has a lot going on. Amongst all sorts of half-breeds, commingled bloodlines and familial subplots, there are spell-casting runes, energetic fight sequences, double-crosses and swells of doubt and distrust. Watching it, one can easily understand the appeal of the source material, in that on a theoretical level it feels like a perfectly distilled super-size offering of all the magic, adolescent yearning, forced maturation and hero's journey questing of young adult serial box office sensations like Harry Potter, Twilight and The Hunger Games.
The adaptation, though, is something of a mess. Centuries-old vampire and demon mythologies, doled out in flashbacks, never quite fully cohere and meaningfully feed into the present-day mission. Certain merrily tossed-off asides (composer Johan Bach was a shadow hunter, and houses of worship of all religious denominations have caches of vampire-slaying weapons) suggest a campiness with which the rest of the movie, with its earnest Simon-Clary-Jace love story, is clearly not comfortable. With motivations so blurred, the movie leans on one's intuitions rather than clarity and sense for most of its physical clashes. And if Valentine has an evil plan, well, it's quarter-formed at best.
City Of Bones is nominally noteworthy and interesting in that it features a plot strand in which a fellow shadow hunter (Kevin Zegers) nurses a gay crush on Jace, but Jessica Postigo Paquette's first produced screenplay dashes through this without giving it a fully realised emotional weight.
The more charitable big-picture take is that Paquette (also adapting the second movie) is laying the groundwork for expansive future explorations of this world, but the fact that she otherwise fails to carve out much worthwhile for her supporting characters to do, coupled with the rising tide of basic questions that swamp the second and third acts, belies that interpretation.
Shot in Toronto substituting for New York City, City Of Bones features some nice special effects work early on; an attack by a demon dog is particularly pulse-quickening, and its gooey reconstitution is a bit of icky fun. Director Harald Zwart, though, leans too heavily on CGI and quick edits later in the movie, robbing it of any distinctive personality.
Both owing to the way his character is written and his delivery, Bower has a bit of snarky charm that distinguishes him from the anonymous and often interchangeable bumper crop of small screen talent which usually populate these prefabricated hunky roles. Collins, though, while pretty and present for the more emotional scenes, lacks a roused warrior princess attitude that could give City Of Bones more lift.
Meyers, meanwhile, dials up the intensity, trying to find Shakespearean grandiosity in the material. It's not there, alas.
Production companies: Screen Gems, Constantin Film International GMBH, Unique Features (TMI) Inc.
Domestic distribution: Sony Pictures
Producers: Robert Kulzer, Don Carmody
Executive producers: Bob Shaye, Michael Lynne, Martin Moszkowicz
Co-executive producers: Veslemøy Ruud Zwart, Joél Negrón
Screenplay: Jessica Postigo Paquette, based on the novel by Cassandra Clare
Cinematography: Geir Hartly Andreassen
Editor: Jacqueline Carmody
Production designer: François Séguin
Music: Atli Orvarsson
Visual effects supervisor: Edward J. Taylor IV
Website: www.TheMortalInstrumentsMovie.com
Main cast: Lily Collins, Jamie Campbell Bower, Robert Sheehan, Kevin Zegers, Lena Headey, Kevin Durand, Aidan Turner, Jemima West, Godfrey Gao, Robert Maillet, CCH Pounder, Jared Harris and Jonathan Rhys Meyers