Dir/scr: Natalia Almada. US-Mexico. 2011. 66mins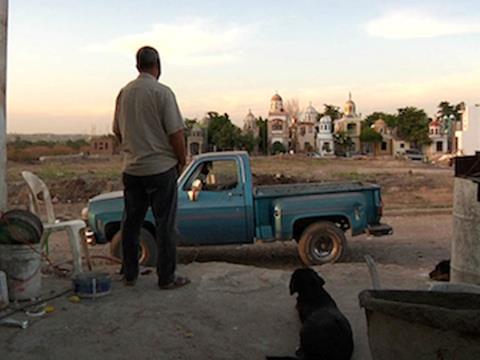 Despite its brief running time, enticing title and sociologically rich subject matter, The Night Watchman (El Velador) overstays its welcome. An assiduously contemplative portrait of a vast Mexican cemetery that's a popular final destination for drug kingpins whose reigns are up, docu-maker Natalia Almada's (The General, from Sundance 2009) leisurely film is educational and handsomely made but not particularly compelling.
The world beyond the cemetery may be lawless and violent but Martin the custodian's realm is rather pretty and calm.
Sort of told from the POV of dusk-to-dawn caretaker Martin, the doc makes its ironic points early and, like the decaying bodies in their lavish mausoleums, has nowhere else to go. It takes a lot of live people to build monuments to the dead and keep them squeaky clean. Life goes on, etc.
There is scant exposition besides the soundtrack's intermittent bursts of radio and TV reports of drug cartel damage. As the media dutifully enumerate fatal shoot-outs, severed heads, bodies found in trash bags or chopped into pieces - and impart the stunning statistic that there have been 21,915 apparently drug business-related casualties in the three years the current president has been in office - the camera watches with greater patience than most viewers will possess.
The multi-storied above-ground tombs, some of which sport spiral staircases, chandeliers and marble fixtures worthy of a top hotel are startlingly interesting the first time around, but become routine to behold. Many of the dead are shockingly young - barely 20 in some cases. In what the filmmaker calls a "narco-cemetery," there is no violence.
The world beyond the cemetery may be lawless and violent but, except for the noise from graveside parties, Martin the custodian's realm is rather pretty and calm. If you didn't know this was a cemetery, certain stretches look like a residential community whose thoroughfares are lined with peculiar homes influenced by Disneyland, Istanbul and Red Square. Widows clean almost comically ostentatious mausoleums, children play, dogs give birth.
Along with grave-digging and wreath-transporting, the construction biz is booming and workers labour in the hot sun to keep up with demand for outsized final resting places built to stand the test of time.
Meanwhile, Martin's ramshackle shack looks as if a strong wind might demolish it. Life is cheap, but eternity can be expensive. The caretaker, who makes do with a hovel while the deceased reside in palaces, waters the dirt in front of a ritzy mausoleum as clouds come and go, ever so gradually altering the light.


Production companies: Altamura Films, American Documentary/POV in association with Latino Public Broadcasting.
International sales: Doc & Film International, www.docandfilm.com
Producer: Natalia Almada
Associate producers: Laurence Ansquer (Tita Productions), Charlotte Uzu (Les Films d'ICI)
Cinematography: Natalia Almada
Editors: Natalia Almada, Julien Devaux