Dir: Lee Daniels. US.2012. 107 mins.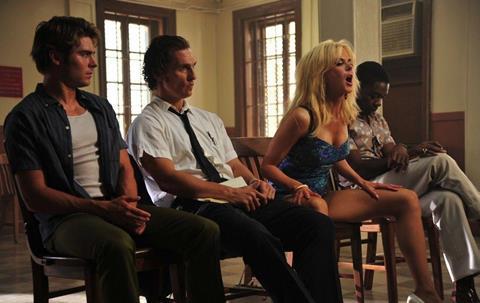 A curious selection for Cannes competition, Lee Daniels' first film since Precious (which was in Un Certain Regard) is an enjoyably lurid potboiler with a keen sense of humour, which has more in common with Daniels' guilty pleasure feature debut Shadowboxer than with the urban drama of Precious. Based on a novel by Pete Dexter (Paris Trout) and set in a sun-drenched summer in Florida 1969, it's a film of vivid colours, steamy atmosphere and sexual desire rather than tight plotting, but no less entertaining for that.
Daniels abounds with confidence and playfulness here and there are some deliciously camp scenes.
If highbrow Cannes critics don't take it seriously, audiences might be more attracted to the hip blend of Daniels and a high-calibre cast led by Zac Efron, Matthew McConaughey and Nicole Kidman. The inbred racism of the sixties deep south pervades every frame, giving us a timely glimpse into the US apartheid system which was still going full blast just 40 years ago. Indeed international audiences might respond more favourably to this warts-and-all portrait of the American underside than domestic.
Based on a true story, the film revolves around two brothers Jack Jensen (Efron) – a sensitive 20 year-old swimming jock newly kicked out of college who is back in his smalltown working as a paperboy – and Ward Jensen (McConaughey), a hotshot journalist from Miami who arrives in town to pursue a story that could make his career.
The story concerns a Death Row inmate called Hillary Van Wetter (Cusack), sentenced to death forkilling a cop, and Ward and his British black writing partner Yardley (Oyewolo) believe that his trial was a sham and that he is innocent. They enlist the help of Charlotte Bless (Kidman), a death row groupie who is engaged to Van Wetter even though she hasn't met him yet. Using her correspondence with the sentenced man as the basis, Ward and Yardley set about investigating the case, using Jack as a driver.
Jack, meanwhile, develops a crush on Charlotte who teases and flirts with him as she does with everyone. As the facts of the case become murkier, the five characters are unwittingly set on a collision course in which all their secrets, ambitions, lies and passions come brimming to the surface.
The narrator of the story and constant presence in the Jensen household is the put-upon family maid Anita (Gray) with whom Jack has a special bond.
Daniels abounds with confidence and playfulness here and there are some deliciously camp scenes – Charlotte and Van Wetter having sex with each other across a crowdedprison visiting room, Charlotte peeing on Jack after he has been bitten by jellyfish, the discovery that Ward is gay with a penchant for rough sex with black men, the revelation that Yardley is putting on his posh English accent.
The story is somewhatforgotten in amid the sex and style: it is never clear why Ward is interested in the Van Wetter case, what makes Charlotte tick or who actually killed the cop in the first place.
But the actors keep it engaging. Efron – whose hard body is extensively lingered on by Daniels' camera – does a nice job as the lovestruck youngster and Kidman has a blast as Charlotte Bless, all bright dresses and gold pants, gaudy makeup, pushed up breasts and blond wigs. John Cusack, looking more like Nicolas Cage than himself, is also plainly enjoying himself as the brutish Van Wetter.
Daniels douses the whole garish affair in a glorious soundtrack of songs from the likes of Labelle, Al Wilson, Gladys Knight and The Four Tops which heightens the explosive racial cocktail.
Production companies: Lee Daniels Entertainment, Millenium Films
International sales: Nu Image/Millenium Films
Producers: Hilary Shor, Lee Daniels, Avi Lerner, Ed Cathell III, Cassian Elwes
Executive producers: Danny Dimbort, Trevor Short, John Thompson, Boaz Davidson, Mark Gill, Jan De Bont
Screenplay: Pete Dexter & Lee Daniels, based on the novel by Pete Dexter
Cinematography: Roberto Schaefer
Production design: Daniel T Dorrance
Editor: Joe Klotz
Music: Mario Gregorov
Main cast: Zac Efron, Matthew McConaughey, Nicole Kidman, David Oyelowo, Macy Gray, John Cusack, Scott Glenn