Dir: Carlo Mazzacurati. Italy. 2010. 105mins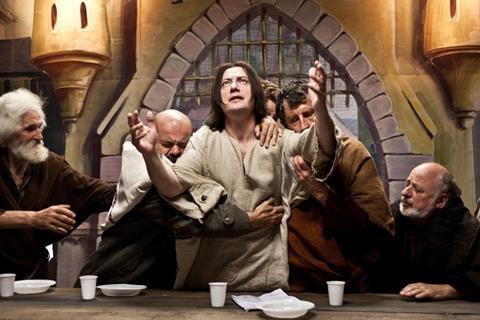 The generous view of Carlo Mazzacurati's new commedia all'italiana is that it good-naturedly illustrates the healing power of Tuscan country life for stressed city dwellers, and alerts its protagonist, a creatively blocked film director, to the value of simple stories told in a simple way – like the village Easter play on which the film hinges. But it's so routinely plotted, so larded with clichés and so awkward in the way it tries to atone for its lack of laughs with a redemptive finale, that it's difficult to be generous.
Imagine Otto e mezzo (8.5) directed by Il Ciclone's Leonardo Pieraccioni and you come close to the spirit of the film.
Italian audiences, and even some local critics, may yet manage the feat: this is an unrefined and almost deliberately provincial comedy that is designed to comfort at home (where La Passione is due to be released on September 24) rather than challenge abroad. And in lead Silvio Orlando, who plays the film's hapless hero, it has an ever-fresh national icon, a character actor whose silent-comedy face is able to express sadness, hope, anxiety and self-doubt in the same moment.
But international audiences will need more than this, and this minor Venice competition entry cannot aspire to the sort of multi-territory distribution achieved by a far more exportable recent Italian social comedy, Fernan Ozpetek's Loose Cannons. The exception could be Christian audiences: given its Capra-esque miracle ending, conveyed through a naif village representation of Christ's Passion, church film circuits might resurrect the film when it goes to DVD.
Imagine Otto e mezzo (8.5) directed by Il Ciclone's Leonardo Pieraccioni and you come close to the spirit of the film. Orlando is Gianni Dubois, an Italian arthouse director who hasn't made a film for five years. Under pressure from his exasperated producer to come up with an idea that works, Gianni's troubles mount up when he is summoned to the pied à terre he rents out in a Tuscan village – because the water pipes have burst and damaged a Renaissance fresco in the church next door.
The mayoress (Stefania Sandrelli, coasting in easy cameo mode) makes il maestro an offer he can't refuse: either he agrees to write and direct the village's Good Friday passion play in less than a week's time, or she will denounce him to the state heritage department. Gianni's woes multiply when his producer sets up a meeting with a bankable but bitchy Italian TV actress (popular diva Cristiana Capotondi, playing to type) who wants to hear his (non-existent) idea.
Meanwhile Ramiro (Giuseppe Battiston), a small-time crook who was turned onto acting by a prison course Gianni had given years before, washes up in the village and is soon helping his mentor direct the play. A flutter of romance is introduced in the form of Polish-immigrant barmaid Caterina (Kasia Smutniak), who becomes the star of a tragic love story that we see fragments from as Gianni makes it up in his head.
The bucolic setting with its oddball characters is milked rather ploddingly for laughs (it says something about the film's target audience that the presence in a Tuscan village of a besuited, briefcase-carrying black guy is supposed to make us smile). The only really inspired moment is a glimpse of a TV weatherman (played by comedian and satirist Corrado Guzzanti) delivering the daily forecast as if he were reciting Dante's Inferno, in a sonorous voice borrowed from Alan Rickman. But when the weatherman enters the story as the Christ of the passion play, his one-note conceited thespian act soon begins to pall. La Passione's Italian film industry jibes are a little more amusing for insiders, and went down well at the film's Venice press screening.
Then comes the passion play – and failure, chaos and disaster are washed away with the redeeming rain in a moment of spiritual transfiguration. That's what's supposed to happen, anyway. But despite Luca Bigazzi's warm, humane photography, an emotion tugging orchestral soundtrack by Carlo Crivelli and some sympathetic performances (particularly by Battiston), the attempt to lead the audience by the lump in our throats feels more than a little forced – at least for this old cynic.
Production companies: Fandango, Rai Cinema
International sales: Fandango Portobello Sales, www.fandangoportobello.com
Producer: Domenico Procacci
Screenplay: Umberto Contarello, Dorianna Leondeff, Marco Pettenello, Carlo Mazzacurati
Cinematography: Luca Bigazzi
Production design: Giancarlo Basili
Editor: Paola Cottignola, Clelio Benevento
Music: Carlo Crivelli
Main cast: Silvio Orlando, Giuseppe Battiston, Kasia Smutniak, Marco Messeri, Cristiana Capotondi, Stefania Sandrelli, Corrado Guzzanti