Dir: Andrew Traucki. Australia. 2010. 94mins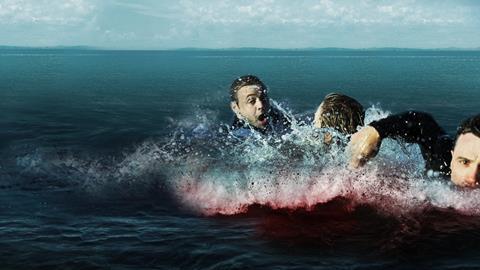 Just when you thought it was safe to go back in the water and what happens? Yes, another killer shark movie crops up to terrify audiences and put you off swimming in the deep blue sea for a few more years. Aussie chiller The Reef may well be heading into waters charted many times before, but it does so with verve, style and a whole lot of waterlogged thrills.
Andrew Traucki does succeed is in instilling a sense of realism in his straightforward characters.
The film – which screened at London's Frightfest Halloween all-nighter recently, and also showed at Hamburg's Fantasy Filmfest – may well be destined for straight to DVD in certain territories, but it has the class to be screen theatrically as well and is likely to be a regular crowd-pleaser at genre festivals.
Director Andrew Traucki (also co-scripter and co-producer) has previous with creature features down under, having made the equally scary Black Water (2007), about a group of vacationers in the swamps of Northern Australia who are stalked by a huge crocodile. The Reef follows vaguely the same format, but this time features a monstrous great white shark stalking the crew of a capsized boat on the Great Barrier Reef.
Naturally enough, the film opens in idyllic style. Seasoned sailor Luke (Damian Walshe-Howling) and fisherman Warren (Kieran Darcy-Smith) are to deliver a plush yacht. They are joined by Luke's friend Matt (Gyton Grantley) and his girlfriend Suzie (Adrienne Pickering), along with Matt's sister Kate (Zoe Naylor), who used to be in a relationship with Luke. Cue simmering passion.
Luke takes Matt, Susie and Kate to a beautiful small island surrounded by a reef for a little snorkeling, but when the tide suddenly turns and leaves the yacht stranded the four friends have to rush back to the boat, accidentally puncturing their inflatable dinghy.
They sail away, but the craft accidentally strikes a hidden reef and overturns (a slightly confused and perfunctory scene, mainly used as a series of scenes of them escaping the overturned craft) and they clamber onto the boat's keel.
Luke proposes that they should swim the 10 miles back to the small island they recently left, but Warren refuses. As he says: "I've fished these waters mate… I know what is out there. I'm not going to get in that water." Wise man. The other four gather masks, wetsuits and whatever is useful to use as floatation devices and head off into the open water.
Initially their swim goes well and there is some nicely judged banter, but before long they find they are being stalked by a rather large great white shark. It is at the 50 minute-mark when the shark finally makes its long-expected appearance, and from then on there are thrills and chills and plenty of blood as they find themselves terrifyingly under attack. Of the original five, only one manages to survive.
Apparently based on a true story, The Reef is closer in structure (and probably budget) to the 2003 shark attack film Open Water, though in truth, every film featuring a shark also has to set itself up against Steven Spielberg's classic Jaws.
Though the story feels very familiar, where director Andrew Traucki does succeed is in instilling a sense of realism in his straightforward characters. Damien Walshe-Howling (surely the best name for a genre film actor) is nicely stoical as the group's pragmatic leader, while Zoe Naylor is probably the most memorable as the capable Kate.
The beautiful Great Barrier Reef locations help create the atmosphere, while Rafael May's subtle score helps build the early sense of tension. Traucki smartly plants his camera in the water and in-between the foursome as the shark begins its initial attack, creating a real sense of being caught within the frightened group in the most exposed of situations.
Production companies: Lightning Entertainment, Prodigy Movies, Mysterious Light, Screen Australia
International sales: Lightning Entertainment, www.lightning-ent.com
Producers: Michael Robertson, Andrew Traucki
Executive producers: Michael Baskin, Janine Pierce
Co-Executive producers: Richard Guardian, Rich Goldberg
Screenplay: Andrew Traucki, James M Vernon
Cinematography: Daniel Ardilley
Editor: Peter Crombie
Production designer: Adam Head
Music: Rafael May
Website: www.reefmovie.com
Main cast: Damien Walshe-Howling, Zoe Naylor, Adrienne Pickering, Gyton Grantley, Kieran Darcy-Smith