Dir/scr: Kim Mordaunt. Australia-Loas-Thailand. 2013. 96mins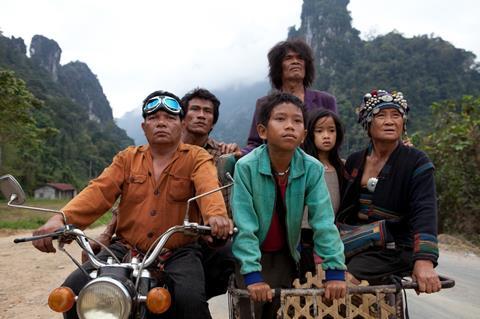 The visually stunning location of Laos provides an enthralling and evocative backdrop for director/screenwriter Kim Mordaunt's engaging film The Rocket, a lush and bruising coming-of-age story about a 10 year-old boy striving to prove his worth to his family. Great visuals and strong performances combine to deliver a gently memorable film about a determined boy struggling against all the life throws at him.
The film works quite profoundly as a thoughtful look at a country ravaged by war as well as being on the brink of change.
The film also offers a fascinating insight into a country rarely seen on screen, as well as tackling issues as diverse as displacement of people, the legacy of war, and the power of poverty, tradition and superstition. The film may strike a chord in certain south-east Asian territories as well as Australia, and is likely to feature at other film festivals. It screened in Generations in Berlin.
Genial Ahlo (played with good-natured enthusiasm by non-professional actor Sitthiphon 'Ki' Disamoe) was thought to be bad-luck when he was born because his twin died at birth. His grandmother Taitok (a force-of-nature performance from Bunsri Yindi, who played Tony Jaa's mother in the martial arts film Ong Bak) says he is bad luck, but he is adored by his doting mother Mali (Alice Keohavong) who encourages and supports him.
His family is forced to relocate due to a new dam being built, and hit by further tragedy as they climb through the mountains, and when they reach the Nan Dee Relocation Camp he manages to incur the wrath of other camp-dwellers, who decide he is bad luck. His only friend is young orphan Kia (Loungnam Kaosainam) and her seriously eccentric father Purple (Thep Phongam), an ex-soldier in a purple suit (due to his obsession with James Brown) and an over-fondness for rice-wine.
The two families head off into the Laotian outback where they come across a rocket (a massive, rather dangerous, firework essentially) festival. Ahlo sees this as his chance to show that he is 'lucky' and sets about building a giant rocket (that he names 'the bat') that will offer him his own form of redemption as well as a substantial amount of money for any winner.
To a degree The Rocket offers a familiar – if slightly more physically dangerous – story of a youngster seeking to prove himself to others, especially as he seeks to bond with his father and finally prove his grandmother (who right up until the last few moments calls him an 'evil kid') wrong. Disamoe is a bundle of quirks and energy, and appealing as a youngster whose life has never worked out for him.
The film works quite profoundly as a thoughtful look at a country ravaged by war as well as being on the brink of change. The climactic rocket launch scenes are impressively staged, with the stunning shot of his rocket spiralling towards upwards evocative and beautifully shot as it explodes behind the clouds.
Production companies: Red Lamp Films, Screen Australia, Screen NSW, Curious Film, Level K, Ton Enterprises
International sales: LevelK, www.levelk.dk
Producer: Sylvia Wilczynski
Executive producers: Bridget Ikin, Michael Wrenn, Triphit Rookachat
Associate producer: Pauline Phyayvanh Phoumindr
Cinemstography: Andrew Commis
Editor: Nick Meyers
Music: Caitlin Yeo
Main cast: Sitthiphon Disamoe, Loungnam Kaosainam, Thep Phongam, Bunsri Yindi, Sumrit Warin, Alice Keohavong