Dir: Wayne Blair. Australia. 2012. 100mins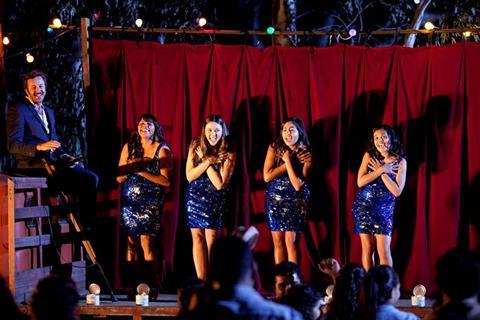 An energetic, amusing and resolutely feel-good-film-with-a-message, 1960s music movie The Sapphires ticks all of the right boxes to click with audiences as well as being a smart advert for Aussie girl power. It is a film with soul at its heart and some great tunes to back up its simple – and rather old-fashioned – story to great effect.
Chris O'Dowd is an increasingly charismatic screen presence.
The film opens in Australia on August 9, and with the Weinstein Company having picked up distribution the film looks set to reach an audience who will embrace its exuberance and breezy nature. The film, which had an out of competition midnight screening in Cannes is a nice mix of music business drama and light comedy, set against the unlikely backdrop of racist Australia and the Vietnam War.
Aboriginal writer-actor Tony Briggs (working with Keith Thompson) has re-worked his 2004 stage production that he based on his mother and three aunts, who in real-life made the unlikely journey from amateur singers at an Australian mission through to entertaining American troops in Vietnam. Politics and prejudice may lurk behind the scenes, but their inspirational tale provides a tasty structure on which to add a layer of comedy and romance.
Irish comedian Chris O'Dowd (well-known in the UK for his TV work and who made an impact on last year's comedy smash Bridesmaids as a genial cop) makes a strong impression here, playing boozy wannabe impresario Dave, who discovers sisters Gail (Mailman), Cynthia (Tapsell) and Julie (Mauboy) in a local talent contest.
He convinces them they should leave country music behind and switch to soul, and they convince him to help them at an audition in Melbourne with the US Military for the chance to go and entertain the troops in Vietnam. While there they also recruit the girls' cousin Kay (Sebbens), and before you can say 'soul man' they are bound for war-ravaged Vietnam.
Their journey of discovery offers them a chance to brush up their music skills as well as find romance; heal family wounds and grow as women. If the four women are there to provide a moving core to the film as they belt out soul-classics from the likes of Otis Redding and Marvin Gaye, then Chris O'Dowd helps give the film an edginess, spontaneity and some real laugh-out-loud moments. He is an increasingly charismatic screen presence and here even gets the chance to prove he has a good voice as he belts out a couple of songs.
Of the foursome, Australian Idol contestant and platinum-selling recording artist Jessica Mauboy is clearly the real-deal in terms, while Deborah Mailman and Miranda Tapsell provide the dramatic moments as they bicker and battle their way to the stage. Shari Sebbens as the sisters' estranged half-caste cousin and fourth member is there mainly to help give the film a political focus (she was taken as a child to live to a white family) but her character is not really fully developed.
The film's structure is straightforward and conventional, though debut director Wayne Blair keeps the film breezily accessible and does a pretty good job in recreating the era – with the Vietnam scenes especially strong – thanks to top-notch production design and costumes.
Production companies: Goalpost Film, Screen Australia, Screen NSW
International sales: Goalpost Film, www.goalpostfilm.com
Producers: Rosemary Blair, Kylie du Fresne
Executive producers: Bob Weinstein, Harvey Weinstein, Ben Grant, Tristan Whalley, Lee Soon Kie, John Sim
Screenplay: Keith Thompson, Tony Briggs, based on the stageplay The Sapphires by Tony Briggs
Cinematography: Warwick Thompson
Editor: Dany Cooper
Production designer: Melinda Doring
Choreographer: Stephen Page
Music: Cezary Skubiszewski
Main cast: Chris O'Dowd, Deborah Mailman, Jessica Mauboy, Shari Sebbens, Miranda Tapsell, Tory Kittles, Eka Darville