Dir: Juan Jose Campanella. Spain/Argentina. 2009. 129 mins.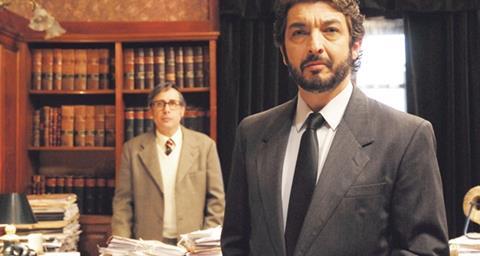 Juan Jose Campanella's first film since 2004's Moon Of Avellaneda is an unusual combination of frustrated love story and police procedural thriller which packs an emotional punch, despite a rambling mid-section and leisurely pacing throughout. Campanella edited the film himself and, with some tightening, it could attract international arthouse buyers who are otherwise bound to cite its length as a problem.
Campanella's refusal to follow crime thriller conventions of tension and momentum is sometimes refreshing
Chief among its pleasures are the lead performances of Campanella regulars Ricardo Darin and Soledad Villamil as the couple involved in an unconsummated love over the course of 25 years. Both age convincingly and share a warm chemistry which keeps the film afloat through its more tedious patches.
As with previous Campanella/Darin outings, the film has topped the Argentine box office for its first two weeks of release and will have its best chance of success there and in other Spanish-speaking territories. Buyers from other territories will be sure to analyse whether it will appeal to the same older audiences who enjoyed 2001 hit Son Of The Bride, especially since it bears many of the same hallmarks.
The story starts in the late 1990s. Benjamin Esposito (Darin) is a recently retired man who has spent his life as a criminal court investigator and decides to try his hand at writing a novel based on an old case from 1974 in which a beautiful woman was brutally raped and beaten to death.
The case has haunted him for 25 years. At the time, he, his boss Irene (Villamil) and junior Sandoval (Francella) quickly identified that the killer must be an old friend of the victim who had always harboured a sinister crush on her. Esposito is particularly moved by the devastation of her husband Ricardo Morales (Rago) and determines to find the killer.
He and Irene, meanwhile, are palpably attracted to each other but neither will own up to it. While she gives him plenty of opportunities to declare himself, he never steps up and eventually she gets engaged to another man. He visits her in the present day to show her copies of the chapters he is writing and the two rekindle some of their attraction.
Campanella's refusal to follow crime thriller conventions of tension and momentum is sometimes refreshing, sometimes irksome. His scenes are long, his dialogue often repetitive and convoluted and his commitment to plot sometimes unfocused.
But then again, Campanella allows us to spend time with his characters and the relationship between Esposito, Irene and Sandoval is developed with a loving attention to detail and human dynamics which is rarely indulged in contemporary movies.
To sign up for Screen's weekly Reviews Newsletter with all the week's new releases, internationalopenings and full festival reviews delivered free to your mailbox every Friday, please click HERE
Production companies
Tornasol Films
Haddock Films
100 Bares Producciones
El Secreto De Sus Ojos (AIE)

Worldwide sales
Latido Films
+ 34 635431270

Producers
Gerardo Herrero
Mariela Besuievsky
Juan Jose Campanella

Screenplay
Eduardo Sacheri
Juan Jose Campenella
Based on the book La Pregunta

Cinematography
Felix Monti

Production designer
Muriel Cabeza

Editor
Juan Jose Campanella

Music
Federico Jusid

Main cast
Ricardo Darin
Soledad Villamil
Pablo Rago
Javier Godino
Guillermo Francella