Dir: Ben Stiller. US. 2013. 114mins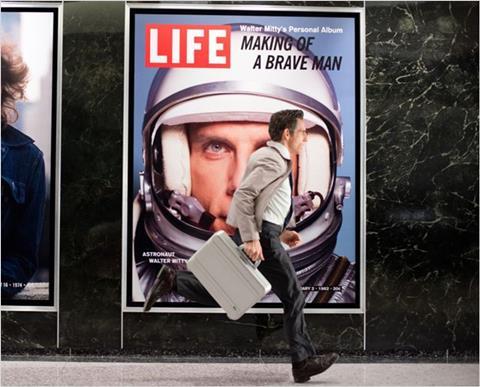 Ben Stiller's retelling of The Secret Life Of Walter Mitty is a far cry from the James Thurber 1939 story and from the 1947 film adaptation with Danny Kaye. And while the film, which premiered at the New York Film Festival, is a less than classic treatment of a classic fable, it's a wholesome holiday tent-pole entertainment about an Every(little)man's triumph.
Mitty has an honorable core to its comedy as an homage to characters who work hard and stay true to themselves and their dreams in world that, as we witness, is lurching from analog to digital for all the wrong bottom-line reasons.
Long in the planning, with an evolving series of directors and stars attached (Jim Carrey and Sacha Baron Cohen included), Mitty - as it's now being promoted - is a nerd's-revenge repackaging of a story that the audience it targets probably didn't know before.
The labours of a clerk facing downsizing to get the girl of his dreams - while escaping into delusions - is a warm-hearted natural for a Christmas release. Yet the young adult public is by no means certain for what, in screenwriter Steven Conrad's update, is a sexless ode to honesty, hard work and wish fulfillment. Audiences outside the US could also be a reach for the gentle American romance, despite some swashbuckling adventures in the Arctic Ocean and the Himalayas.
As Mitty, the self-directed Stiller toils in the basement of the Time-Life building in New York as a photo researcher – in Life Magazine's "Negative Assets" office. If his field weren't dead enough, a team of trimly-bearded nastily officious corporate whiz kids are taking the company digital, which means the end to many jobs. Mitty, who habitually tunes out the everyday, earns his new bosses' venom right away. Echoes of a dark Up In The Air are chilling, yet Life's demise is very old news.
On eHarmony - one of the many product placements that make this Mitty re-telling feel like You've Got Mail - Walter pursues his co-worker, sweet single mom Cheryl (Kristen Wiig). When he tries connecting online, a voice on the love-site's customer service line (Patton Oswalt) suggests more "been-there-done-that" material. It's tough for a guy whose adventures are restricted to moving mother (Shirley MacLaine) and her grand piano to a retirement home.
Steven Conrad's script dispenses with the episodic vaudeville pyrotechnics of the 1947 Walter Mitty, directed by Norman Z. McLeod. He sets the film in Manhattan, like the 1947 version, but a Mitty mishap – misplacing a crucial negative for the last printed issue of Life – sets the meek fellow off on a pilgrimage to find another endangered species, a gonzo photographer (Sean Penn) in Afghanistan. Conrad earns his fee here with a plot that keeps the audience at a genuine loss as to how he'll resolve it.
Stiller, not a physical comic like Danny Kaye, plays Mitty as an anxious timid innocent waiting for the corporate axe to fall, daydreaming uncontrollably, while engineering awkwardly to get closer to Cheryl. In those fantasies, he tends to re-emerge as an improbable hunk, echoing his own self-involved Zoolander. Dreaming conjures up some great laughs – a doll-sized Mitty cradled by an aging Cheryl in a Benjamin Button spoof and an encounter with a mammoth karaoke singer groaning out Human League's Don't You Want Me in a Greenland bar (a Star Wars quote). Still, Mitty's photographic pilgrimage, culminating in lots of high altitude trekking tracked by helicopter shots, can feel like an Outward Bound course for comedians.
Alongside the earnest Stiller and Wiig, Adam Scott as the digital "transition manager" has found his inner devil, with a lethal wit to match. If most pretentious beard were an Oscar category, Scott would win hands-down. He's a key reason why viewers under 25 may watch Mitty a second and third time, just to memorise his zinger lines and repeat them.
Cinematographer Stuart Dryburgh captures the dense grey of New York, indoors and out, differentiating that urban texture with the spectacular starkness of the Arctic north and the Himalayas. The look of this Mitty turns panoramic, but it's generic compared to the 1947 Technicolor version, in which colour and Kaye bounce out from the screen in a then-novel product.
Mitty has an honorable core to its comedy as an homage to characters who work hard and stay true to themselves and their dreams in world that, as we witness, is lurching from analog to digital for all the wrong bottom-line reasons. Its heart is in the right place. It's too bad that the ingredients don't always add up.
Production companies: Samuel Goldwyn Films, Red Hour Films, in association with New Line Cinema
Distribution: 20th Century Fox
Producers: Samuel Goldwyn, Jr., John Goldwyn, Stuart Cornfeld, Ben Stiller
Executive producers: Gore Verbinski, Meyer Gottlieb, G. Mac Brown.
Co-producers: Jeff Mann, Kurt Williams.
Screenplay: Steven Conrad, based on the short story by James Thurber
Cinematography: Stuart Dryburgh
Editor: Greg Hayden
Production designer: Jeff Mann
Music: Theodore Shapiro
Main cast: Ben Stiller, Kristen Wiig, Shirley MacLaine, Sean Penn, Adam Scott, Kathryn Hahn, Patton Oswalt, Adrian Martinez